In the case of a device with or without an optional mains connection, the battery life or battery life describes the usage time after which the battery must be recharged. In contrast to the service life of the rechargeable battery, which is usually specified in charging cycles, this specification describes a variable penalty for the device battery. You can find below 11 Tips to Extend MacBook Battery Life. So if you want to improve the battery life of the Apple MacBook as well as the Air and Pro models in order to also reduce the number of necessary charging cycles in a certain period of time, then you've come to the right place!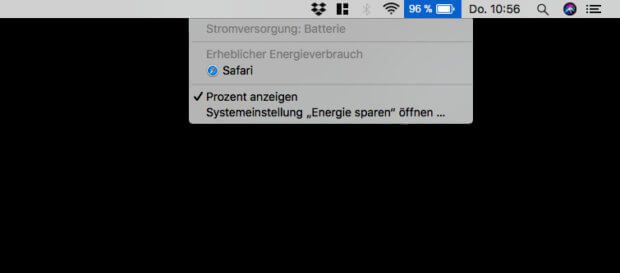 Use the latest software
Especially with regard to the Mac OS X / macOS operating system and the other software from the manufacturer Apple, you should regularly update or automatically search for updates and have them installed. If you have a current macOS on your MacBook, then not only security measures and patches are covered, but the system is also ideally matched to the hardware and thus the battery. In addition, actions and processes in the system are optimized or shortened with updates so that they can be implemented more quickly and logically consume less battery power.
Pay attention to the ambient temperature
As with the iPhone, Apple Watch, iPad and Co., there are certain temperature ranges in which the MacBook (Pro / Air) works best. The Apple laptop is designed for an ambient temperature of 10°C to 35°C, with the storage temperature ranging from -20°C to 45°C. However, you should avoid extreme ambient temperatures when using it and not work in sub-zero temperatures or in extreme summer heat or expose the Apple MacBook to direct sunlight. At borderline temperatures you can take a laptop cooler with you Fans for the bottom of the notebook to extend the MacBook battery life.
Storage at 50% battery charge
You probably want to extend the Apple MacBook battery life to turn off the mobile computer Cupertino to be able to use it longer in everyday life without a charger and mains connection. However, storage also plays a part. So if you intend to leave the MacBook unused for a long period of time, it is best not to leave it with a fully charged or discharged battery. The optimum is 50% capacity; if stored for more than half a year, charging to 50% every 6 months is recommended.
Optimize general settings
Does the screen really have to be that bright? Do I have to play music on my MacBook or can I turn on a radio? Do I need WiFi and / or Bluetooth right now? Do I need to charge my iPhone via USB on the MacBook or operate other peripherals? You should ask yourself these questions and make appropriate adjustments if the answer is no. Adjusts the brightness down, pulls out unnecessary cables and hubs, etc. This way you can also improve the MacBook Pro / Air battery life.
Remove programs from the autostart
If you want a really efficient Mac or a MacBook with extended battery life, the measures basically start when you start macOS. As in Windows, there is the autostart, in which, in addition to system programs, apps such as Spotify, Dropbox, Mail, Calendar and so on can be inserted. Not only the start, but also the execution of the applications in the background consumes the battery. You can usually specify in the settings of the individual programs whether they should start automatically. There are also general autostart menus. A guide to this you can find here.
Monitor network access and data usage
Do programs often access the network or the Internet connection? Then you might want to curb them to reduce power consumption in the system as well. This is usually only possible manually if you close individual programs such as Safari, Mail, Dropbox and Co.; automatic solutions are available in App-Shape. For example, I can you Trip mode 2 recommend, which - as the name suggests - creates a kind of travel mode for the Apple MacBook with macOS or the laptop with Windows. In a menu you can allow or deny individual programs network access.
Use the "save energy" options
You can use the drop-down menu that appears when you click on the battery symbol in the menu bar, as well as the system settings, to access the settings for saving energy. Here you can assign various things such as the sleep mode, the darkening of the display and other adjustments to the battery operation of the Apple MacBook.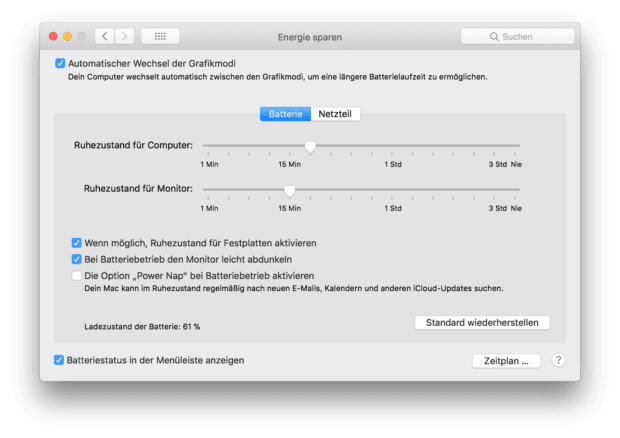 Muck out the Mac
Duplicate files, caches and other junk are basically inevitable when the computer is used for a long time. With updates through the connection of iPhone, iPad, iPod, Apple Watch and Co. as well as through the iCloud, Dropbox and other services, updates are made again and again, files copied, deleted, changed and, and, and - this happens automatically as well as in the Background. So you should first pay attention to peripherals and network activities (as already mentioned above), but also muck out the Mac from time to time. The best way to do this is with CleanMyMac, an app that you can access can read here.
Monitor battery life and lifespan with FruitJuice
FruitJuice is another app that you can use to monitor your MacBook battery and use it more efficiently. The 4MB little software shows you a wide variety of information and assistance directly via the menu bar. In the current version 2.3.3, it is also optimized for macOS High Sierra, which is why it is also good for newer MacBooks (2016, 2017, 2018) and their batteries.
[appbox app store id671736912]
Never fully discharge or charge
Like a smartphone battery, a fully charged or discharged battery can lead to a loss of capacity, even with a laptop. For example, the energy sources for mobile devices should be charged between 45% and 75%. A charge to 100% as well as a charge below 15% can lead to a loss of total capacity again and again, so that the battery gradually provides mobile power for less and less. So if you want to extend the MacBook battery life, think about charging properly.
Remove SD cards
Of course, this tip only applies to older devices that still have a slot for SDmemory Cards to have. However, since these also draw power for the exchange of data and files, the removal as a drive helps at least a little to be able to extend the MacBook battery life. Of course, this tip is contrary to the recommendation to use such memory cards as memory expansion instead of a new internal or external hard drive: Permanent memory expansion for MacBook with SD card slot without modification.
Tips to extend MacBook battery life
There are various measures to improve the battery life of the Apple MacBook; some have to do with hardware, some with software. And there you can also approach different areas again. Hopefully you have found a good mix that will really help you with this guide. If you want to share more tips and tricks, please leave a comment;)
Apple batteries: Maximize performance
After graduating from high school, Johannes completed an apprenticeship as a business assistant specializing in foreign languages. But then he decided to research and write, which resulted in his independence. For several years he has been working for Sir Apfelot, among others. His articles include product introductions, news, manuals, video games, consoles, and more. He follows Apple keynotes live via stream.