Sometimes there are some issues with newer iPhone models too, such as the 3D Touch does not work or the function on the display only reacts poorly. If you are looking for a solution for the iPhone 6s, iPhone 6s Plus, iPhone 7, iPhone 7 Plus and the newer models, then the goal is now in sight. Here I have you guys some solutions for one 3D Touch function not working properly collected.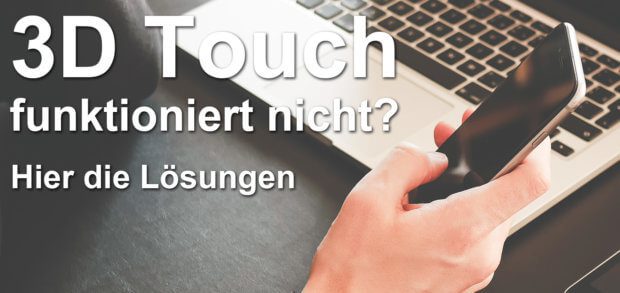 3D Touch does not work properly
If you bought a new iPhone or a used iPhone added have and with the feature called Touch 3D are not satisfied, one thing above all helps: patience. As with any new system function, the pressure-sensitive display of Apple smartphones from model 6s onwards also requires you to warm up first. If you find that even after a certain acclimatization phase, no satisfactory results can be seen, then the other tips and tricks in this guide can help you.
Is the function really activated?
Due to an upgrade, a repair, a backup or other reasons, the 3D Touch function on your iPhone may have been deactivated. Or you haven't activated it after purchasing it. To be on the safe side, she calls Settings on, tap on General, then up Accessibility and then on Touch 3D. Now you can see whether the problem was the deactivation or the lack of activation of 3D Touch.
Is the sensitivity also set correctly?
The sensitivity of the iOS operating aid can also be calibrated in the same menu item. Try out the different levels of 3D touch sensitivity and then adjust them to suit your usage behavior. It is also helpful to practice the various peek and pop gestures. It is recommended to place the iPhone on a hard, flat surface so that you get a feel for the right pressure and the right movements.
Any more problems with the iPhone display? Apple knows what to do!
Is the selected app compatible at all?
Maybe the problem with the operation of the iPhone does not lie in the iOS function called 3D Touch itself, but in the App, which you want to serve with it. Not all apps support this feature. And if you have an app that is supposed to support 3D Touch, but in which it absolutely does not want to work, then an update of the program might help. Maybe you have an outdated or buggy version on the iPhone. In the Apple operating system iOS, however, the feature should work in the appropriate places.
Last 3D Touch tip: reset settings
Are your standard settings for iPhone 6s (Plus), iPhone 7 (Plus) or newer models adjusted and it may be that 3D Touch does not work because of this, then you can also postpone the modifications of the system. Choose to Settings, in it then General, subsequently Reset to default and there All settings. Then try your previous steps again and see if 3D Touch works or not.
After graduating from high school, Johannes completed an apprenticeship as a business assistant specializing in foreign languages. But then he decided to research and write, which resulted in his independence. For several years he has been working for Sir Apfelot, among others. His articles include product introductions, news, manuals, video games, consoles, and more. He follows Apple keynotes live via stream.