Downloading pictures or videos from Instagram and saving them on the Mac or PC is actually not possible by default; with the 4K Stogram App from the software forge 4K download Saving Instagram content is no longer a problem. I took a look at the program and would like to give you the use of the app as well as a few tips and tricks in this little test or guide. In addition, the creators of the 4K Stogram app have made three license keys available for the program, which will be raffled off among all of you who share this post on Twitter or Facebook;)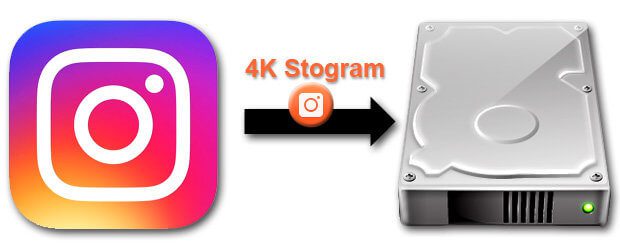 Preview: why do you need an app to save Instagram pictures?
Let's go to Instagram first, for example this Sir Apfelot's profile and see how we can get pictures there. In the overview, the preview images are shown as links and are also superimposed when the cursor is skimmed over. If we select an Instagram picture, it will be displayed larger; save by right-clicking but still does not work. So the fastest way to save Instagram pictures would probably be just a screenshot. But you have to edit it, at least cut out the picture ... With many pictures of your favorite photographer or photos that you uploaded to Insta as a backup copy while on vacation, this becomes tedious.
4K Stogram App Test: Step 1 is to download the software
And that's exactly what the 4K Stogram software is made for: for backing up your own account or for private downloading and saving of photos, videos, images, drawings and graphics on Instagram. If you want to use them offline, for example as a desktop background, as a background on iPhone and iPad, in a digital picture frame or elsewhere, then you need them on the local memory. So I have the program downloaded at 4K download and installed on the computer.
I was also convinced by the statement "No toolbar, no adware, no malware. Best of all, the Instagram downloader is FREE. Check out her pictures anywhere, anytime. And then you can use the 4K Slideshow Maker to create a slideshow!"On the download page. There are a few comments below about the other 4K Download programs. You can download the Instagram Downloader for Apple computers with OS X or macOS as well as for Windows and Linux PCs.
Instagram Downloader in action: save pictures from Insta on your computer
After downloading the 4K Stogram installation file, you can start the program directly and search for profiles, hashtags or regions. So you can either go to certain profiles and download specific pictures and videos from Instagram or get inspiration and save them locally on your computer. Here is my test run with the Sir Apfelot profile on Instagram:
Downloading videos in the test: Download moving images from Instagram
Videos can also be downloaded from Instagram using 4K Stogram. So you choose your favorite profile or one on which you found funny or interesting videos, and call it up with the program. For this test, I quickly checked which profile had almost only videos online - I then called it up with the Instagram Downloader from 4K Download and had the videos saved on my hard drive:
Download private content from Instagram
With the Instagram Downloader 4K Stogram you can also download private content. You can do this from your own profile if you log in to the app with your Instagram login details. You also have to register if you want other profiles or their users to add them as contacts with permission to view private content. So it is possible to download private content from Instagram, but not as easily as with freely accessible content.
4K Stogram for free or with a license key - what's the difference?
You can download and install the program for Mac, Windows and Linux free of charge. It is also free to use, there are no restrictions on the images or videos; That means: not only thumbnails and the first few seconds of the videos are downloaded, but all content as it is available on Instagram. However - and this is the crux of the matter - you can only follow a limited number of profiles or download their content with the free version. If you want to download and save unlimited videos and images with the Instagram Downloader, you need a license key. To do this, go to the menu of the program Tools -> Enable.
4K Stogram license key: Promotion until March 15, 2017 and raffle
The license keys for the Instagram Downloader from 15K Download are available at half price until March 2017, 4. The key, which is valid on up to 3 computers but only for 4k Stograms, costs 9,95 euros instead of 19,95 euros. If you want to use the 4K Video Downloader, the 4K YouTube to MP3 app and 4K Stogram unlimitedly, it actually costs 29,95 euros - until next Wednesday, you'll only pay 14,95 euros. Payments can be made by PayPal and credit card.
I am also giving away three license keys to all readers who are interested in the 4K Stogram program for Mac, Windows or Linux and want to use it indefinitely. All you have to do is share this article on Facebook and / or Twitter and ideally that Sir Apfelot's Facebook profile or that Sir Apfelot's Twitter profile link in the corresponding post. So it is easier to find you;) The contact for the transmission of the license key (for 4K Stogram on up to 3 computers) will take place towards the end of next week.
Besides all the positive: criticism of 4K Stogram
There are many advantages to this program for OS X, macOS, Windows, and Linux. I think the text up to this point has already produced many positive aspects of the easy-to-use app. However, there is one major criticism I would like to make: the automatic download. If you only want to download individual content, just want to download a picture of this or that profile, then there is no way to do so. The automatic download of content cannot be deactivated beforehand; you can only pause it manually. If, on the other hand, you could proceed a little more individually, then the app would be perfect! Until then it means: delete excess downloads from the target folder ...
What do you think of this Instagram downloader?
The Instagram downloader 4K Stogram sowie den 4K Video Downloader, which 4K YouTube to MP3 App that 4K video to MP3 App and the 4K slideshow maker you can ask for free on the side of 4K download download. In order to be able to use all features of the programs, however, you need a license key. In addition, the automatic downloads of 4K Stogram can only be deactivated manually after calling up the profile, hashtags or similar and cannot be switched off by default. So there are some advantages and few disadvantages. What's your conclusion? Do you use the program? Did you share this test to take part in the raffle for the three license keys? Feel free to leave a comment with your opinion or message! :)
This article was created in cooperation with 4K Download.
-

After graduating from high school, Johannes completed an apprenticeship as a business assistant specializing in foreign languages. But then he decided to research and write, which resulted in his independence. For several years he has been working for Sir Apfelot, among others. His articles include product introductions, news, manuals, video games, consoles, and more. He follows Apple keynotes live via stream.