It must have been decades since I last held a real billiard cue. On the other hand, I played billiards on the iPad just yesterday. The reason for my renewed enthusiasm for billiards is Miniclip's app "8 Ball Pool", which in my opinion is the best billiards app on the App Store. In principle, it also works on the iPhone and iPod Touch, but to be able to aim properly, an iPad is a better choice.
[appbox app store id543186831]
Advertising and in-app purchases
I would like to start off by saying that I am a bit difficult with the recommendation of 8 Ball Pool, because the game itself is free, but you can really advertise the purchase of in-app currency, equipment (better cues) and the like is faced. That usually scares me off so much that I delete the games straight away and don't make a recommendation.
With 8 ball pool this is halfway within the framework. It's not a pay-to-win system that won't get you anywhere if you don't invest money at some point. You also get the better queues if you gradually play in different venues with a higher use of in-app currency. And if you do go broke (you almost always play for money), there are very cheap billiards locations (London Pub) and the opportunity to get enough free money every day for some games, in which you then win something can.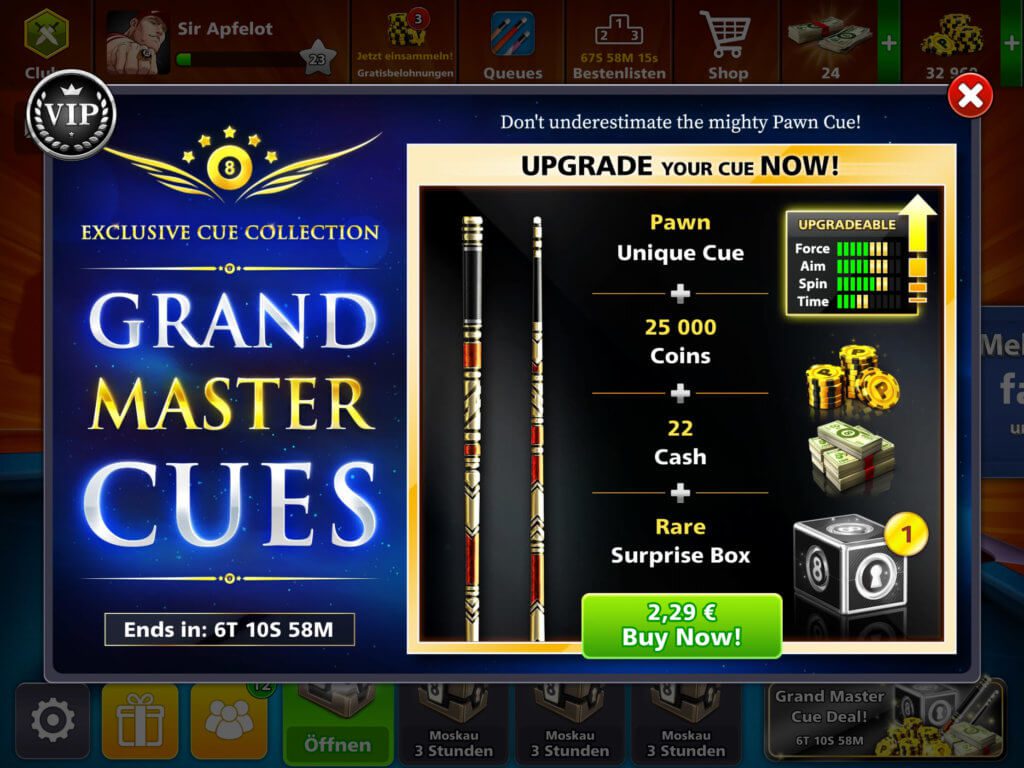 The advertising that you get only revolves around things that you can use yourself in 8 Ball Pool and it does not interrupt a running game, but only comes when you start the game, switch between locations or get one is looking for a new opponent. You also don't get films that you have to watch finished. So it is reasonably bearable and does not detract from the fun of the game.
Play billiards for time, for money and against online players
If you start with 8 Ball Pool, you can either start as a guest or create a mini-clip ID with email address and password. I created a mini clip ID and have not received a single advertising email to date (for over 4 weeks).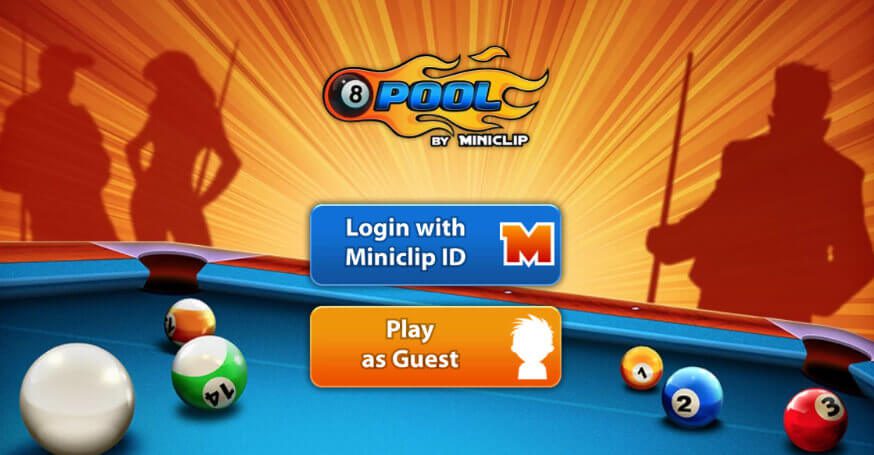 If you have started the game with an ID or as a guest, you will first see the different locations where you can play. The first free location is "London Pub". There you play for victory with a bet of 50 credits. If you choose a location, the app searches for another player in the world who also wants to play in this location and starts the game in a matter of seconds.
Every player has a little green line around their profile icon that runs slowly. If the time is up and you haven't made a move, it's your opponent's turn. Even if you have violated the rules (for example, if you hit a player's ball first), it's your opponent's turn. The approximate time you have per move is about 20 seconds. Depending on the queue, this can also be longer, because each queue has its special features and some extend this period of time.
In-app currency makes it more exciting
If you have now won the match, the 100 credits that you have thrown into the pot together go into your own credit and you can gradually earn a little capital in order to have enough to participate in other locations. The participation fees at other venues are for example 250 credits, 500 credits, 1000 credits or more. I've even seen games on the list that require a stake of 25 million credits, but I'm still a long way from even owning a million. There are even locations where you can gamble away or double your entire assets. But that seems to be something for real gamblers ... I'm more of a fan of safe investments.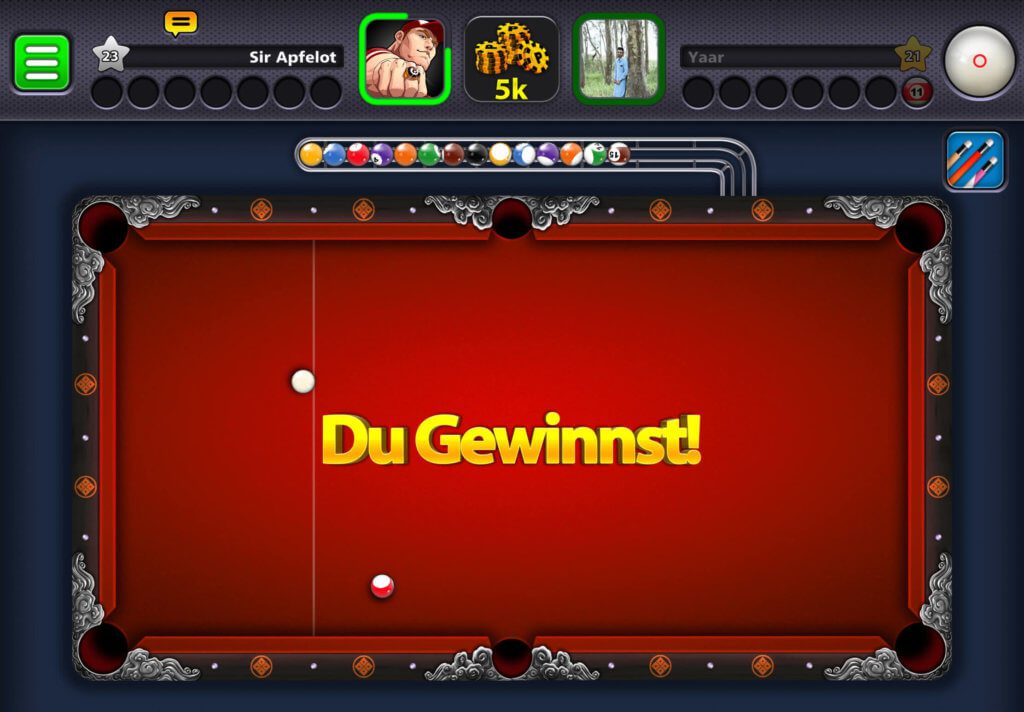 I have to admit: Although I usually don't like the concept of in-app currency, it ensures that you have more fun playing against other players because you are playing for something. Even if you don't really lose a lot when you have little money left, you are still excited when something comes up. However, if you have gambled yourself heavily, you can play very cheaply in the London Pub and then slowly build up your fortune again.
Different venues, different rules
At the London Pub, the rules of the game are the least restrictive. You can sink the black ball wherever you want and you don't have to announce a pocket. In the more expensive venues you sometimes have to announce the hole for the black eight and in some even the pocket for every single ball that you want to sink.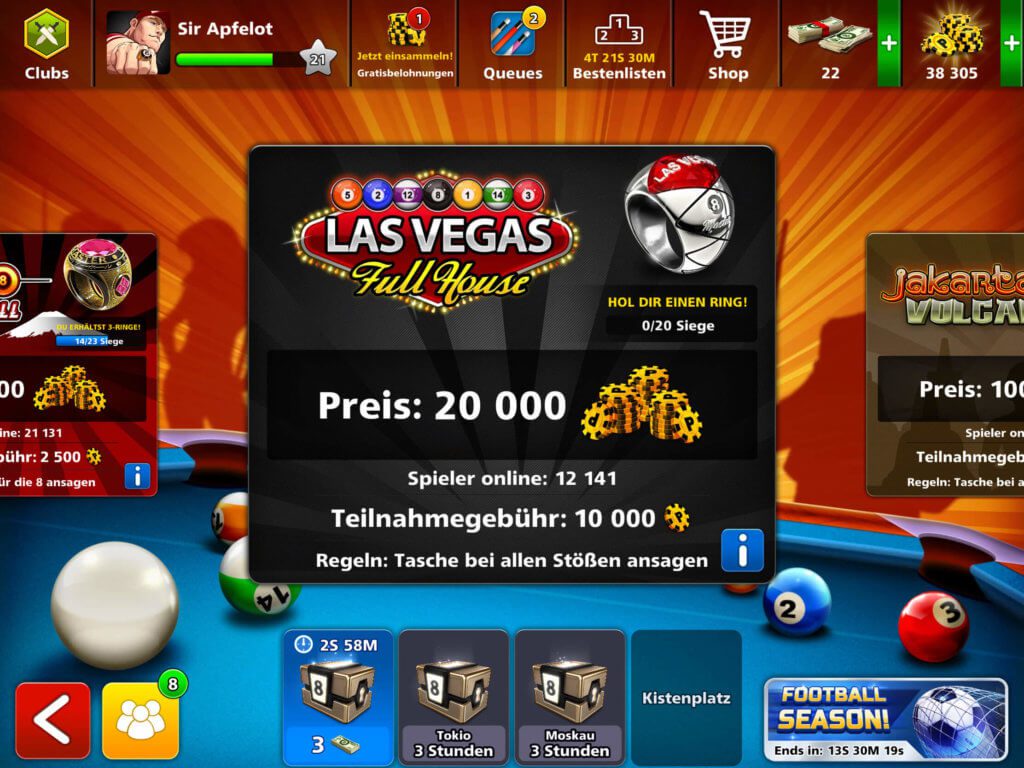 In addition to the "normal billiards" there is also a "9-ball billiards" in which you play with nine balls and sink them according to the increasing number on the ball and with announcements of the pocket. This is also an interesting game variant once you've settled in a bit. If you have to sink a certain ball, the options are quite limited and you automatically see how you can place the cue ball through a spin after the shot so that you can get to the next number.
Speaking of spin: If you are not quite sure what effect the spin of the white ball has, then I can recommend this video (unfortunately in English):
Play with or without guides
Aiming in 8 Ball Billiards works with guidelines that show how the white ball rolls and how it deflects the ball that has been hit. The line that emanates from the hit ball is only a few pixels long, however, and so it remains difficult to use this line to estimate whether you will hit a pocket or not.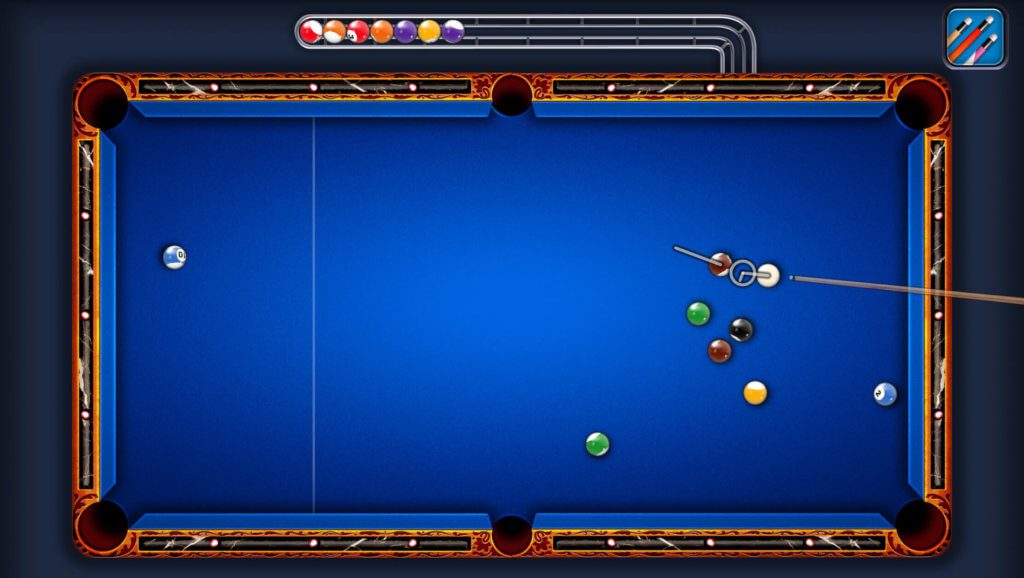 Some cues have more bars on the "Aim" property, making the guide lines slightly longer and making it easier to see if you're hitting the intended target or not. So it's worth playing in more expensive venues from time to time, as there you can get boxes that contain parts of better cues in addition to game money. Little by little you can revamp your equipment.
I saw that there are also locations where you play completely without these guidelines. Personally, however, I still find that a bit difficult. For this reason I switched back to a pool table after a game, which shows guide lines.
If you need a little help with trick shots, you can find it on YouTube some tutorialsdealing specifically with 8 Ball Pool. Here is just a video as an example. It explains basic techniques that have helped me a bit:
8 ball pool hacks and tricks
There are some videos on the internet that show you how to garner huge sums of money at 8 ball billiards. For the sake of interest, I looked at the videos and saw that you have to leave your mobile phone number on some dubious Internet site.
Apart from the fact that the fun of the game suffers massively through such hacks, I would advise against such things, especially because of the specification of the mobile phone number.
I still have a little tip or a "hack" ready for you: If you have problems aiming, it sometimes helps to have a ruler at hand. This allows you to "extend" the help line a little and see more easily whether you hit a pocket or not with a heavy hit.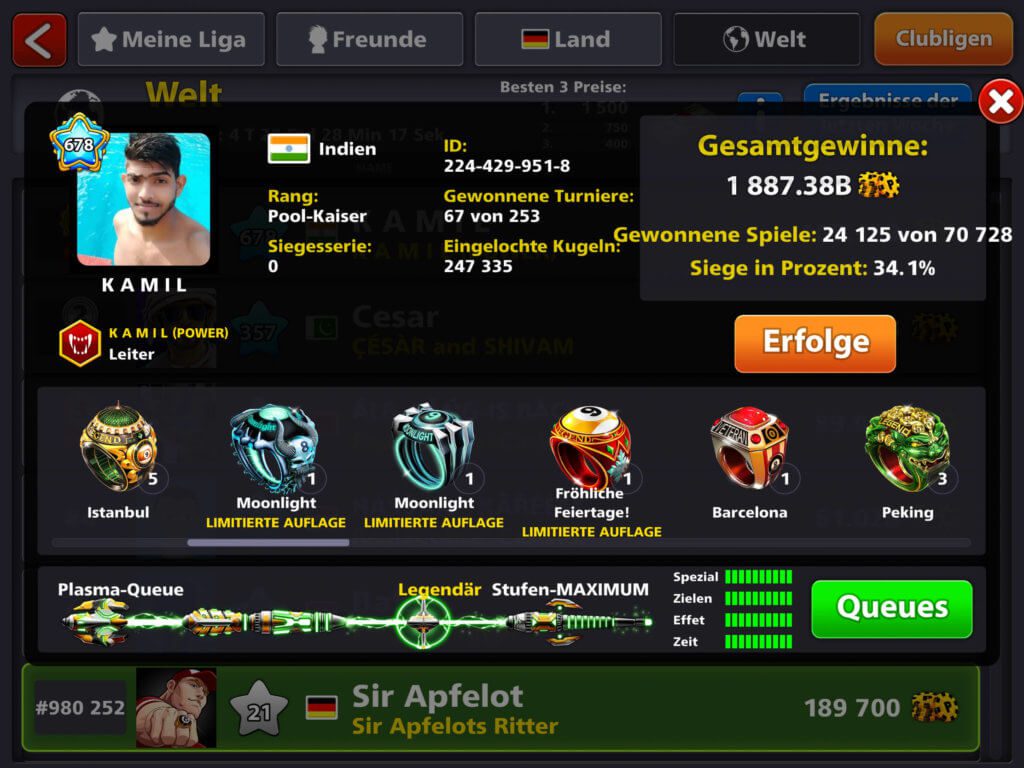 Rudimentary, but multilingual chat function
What I particularly like about 8 Ball Pool is the chat function, which you can use to talk to your fellow players. Whereby "entertainment" is perhaps a bit of an exaggeration, since one talks about ready-made messages. This means you can't converse "freely", but it has the advantage that - since you're playing for time - you can quickly praise the other player's game or regret your own botched shot.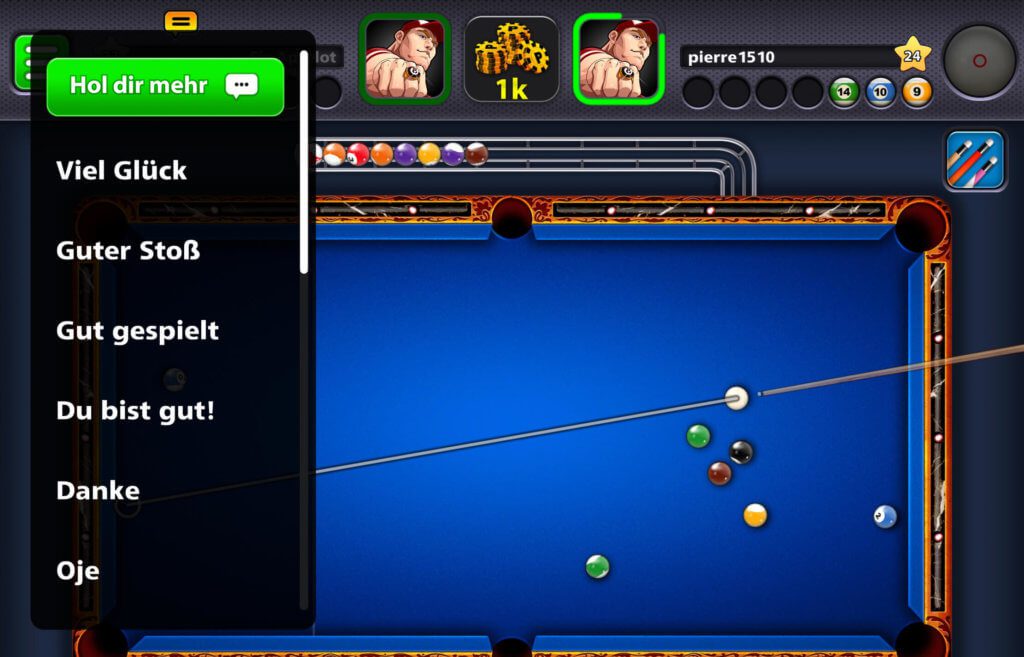 The messages appear in German for German players, but they are displayed directly in the respective player's language. In this way, one can converse even if one does not have a common language. The system "translates" practically all text modules internally.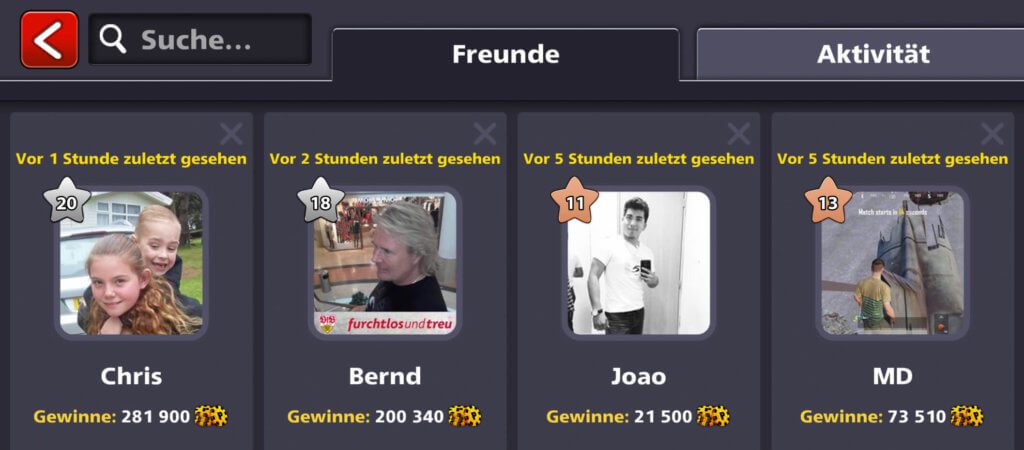 And I have to say: You meet a lot of nice players who wish you good luck or say that you are playing well. That surprised me positively and leaves a feeling of fair play. There are very few players who, for example, abandon the game when they see that they can no longer win. But in that case you also win, so they actually only show that they are bad losers.
The Sir Apfelot's Knights Club
As with most online games, 8 Ball Pool also offers the option of joining a "clan" or, in this case, a "club". I still don't understand the benefit of this, but I once set up a club called Sir Apfelot's Knights. Anyone who wants to join is very welcome! I think you can actually chat on the club subpage. ;-)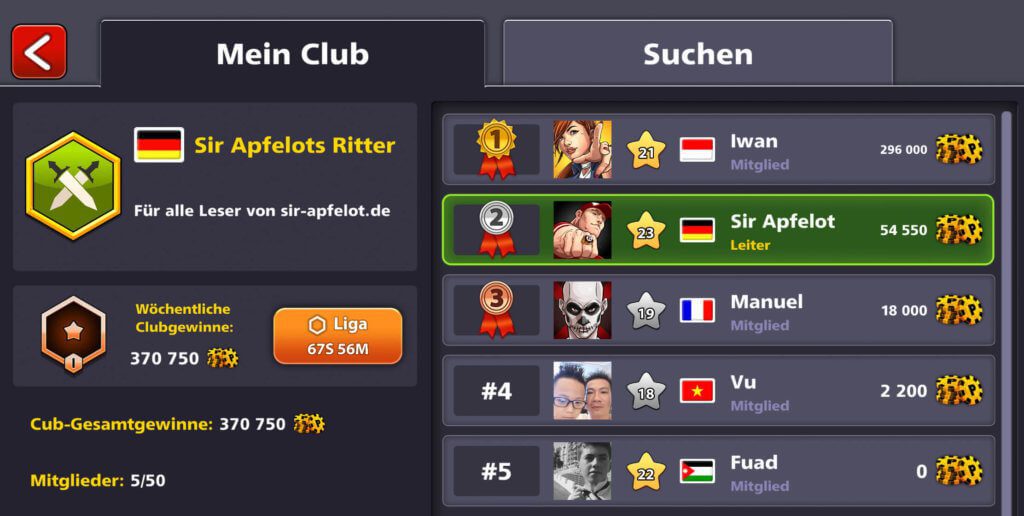 Conclusion: good billiards game with a bit of advertising
Personally, I would have no problem throwing in a tenner for 8 ball pool billiards if the advertising would disappear permanently. Unfortunately, this option does not exist, which is why you have to live with advertising. This is not so invasive that you are really disturbed by it, but every now and then you have to click away one or the other intermediate window with offers.
For the developers, an option for removing ads would have been worthwhile, as some players would have used it. However, I'm tough on in-app purchases that only involve currency and equipment. I will certainly not throw in any money there. So Miniclip doesn't earn a cent on me, although theoretically they could have had 10 euros.
Otherwise you can definitely recommend 8 Ball Pool. The game mechanics are very good. You can play with spins, cut balls and otherwise the game looks very realistic as far as the physics of the game are concerned. An essential difference to "real" billiards, however, is that the cue ball - no matter what effect you give it - does not show any changes in the course before it comes into contact with the next ball. In reality, of course, the spin has an impact on the trajectory of the cue ball immediately after the shot.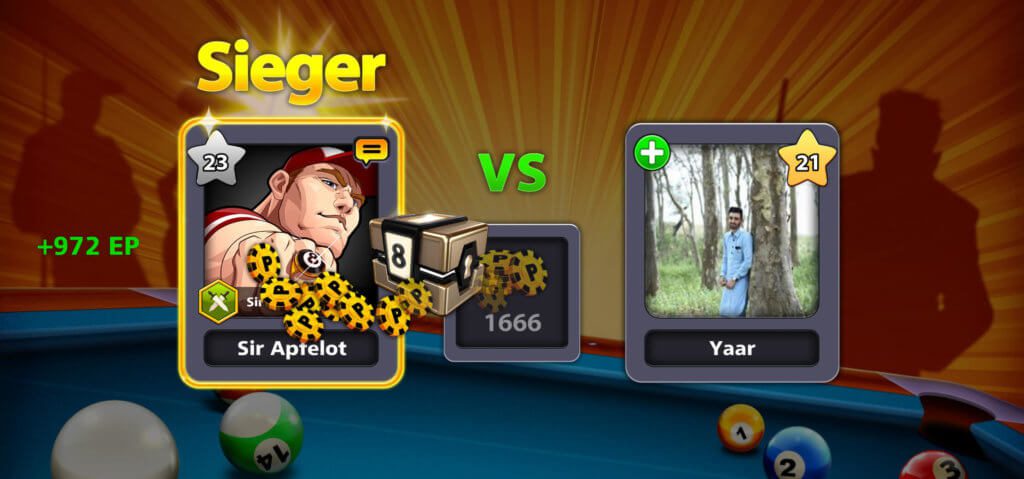 One thing I like about 8 Ball Pool: You can always see the table from above. These 3D views, which can be found in other pool billiard apps, are only visual, but not helpful when playing on an iPad.
If you would like to play pool again, but can't bring yourself to go to a pub, then 8 Ball Pool should be just the thing for you. ;-)
[appbox app store id543186831]
By the way, you can also go directly to the 8 ball pool via the Miniclip website play. However, I am not sure whether you can continue to use the guest account on the iPad. I got the iPad version straight away and created a Miniclip ID. You can then use it to log into the website and use 8 Ball Pool as a browser game.
Have fun playing billiards and maybe we'll see each other sometime. I'm in 8 Ball Pool as "Sir Apfelot".
Jens has been running the blog since 2012. He appears as Sir Apfelot for his readers and helps them with problems of a technical nature. In his free time he drives electric unicycles, takes photos (preferably with his iPhone, of course), climbs around in the Hessian mountains or hikes with the family. His articles deal with Apple products, news from the world of drones or solutions for current bugs.