An iCloud email address usually ends with @ icloud.com - older users may still know @ mobileme.com or @ me.com, but these are hardly used anymore. In fact, even Apple Support advises against using anything other than @ icloud.com.
iCloud email aliases - they're useful for that
An e-mail alias is basically a type of e-mail forwarding, since technically it is not a separate mail account. The prerequisite for an iCloud alias is therefore always an iCloud account, which, as an Apple user, has usually already set up.
An email alias is usually set up for two reasons:
one would like to have an e-mail address that is easy to remember
you want to hide your real iCloud address
But no matter why you want an iCloud alias, here you will find instructions on how to set it up and delete it again.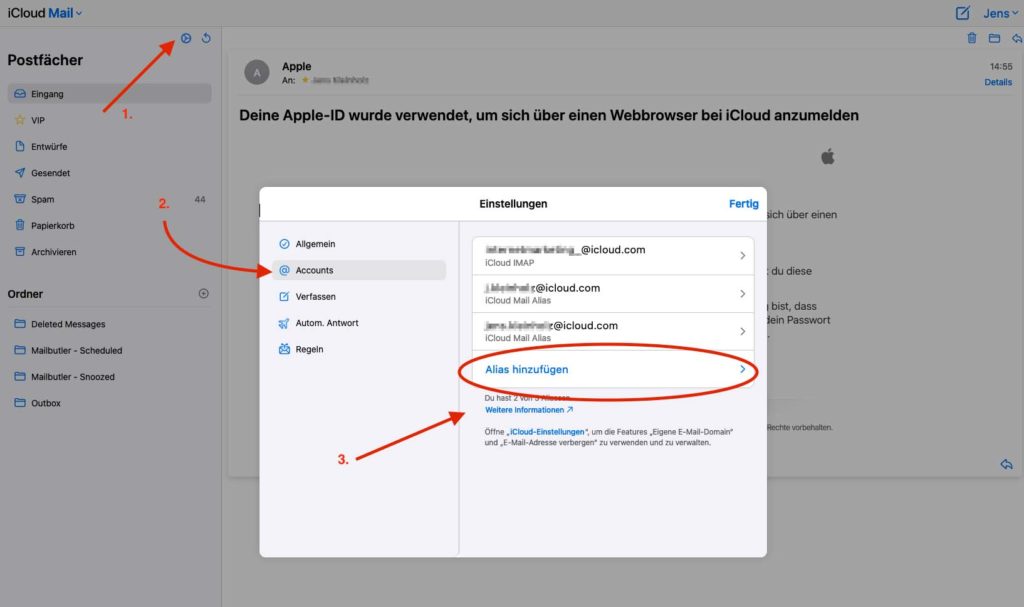 Set up iCloud alias mail address
To set up an alias for your current iCloud email address, go as follows:
in icloud.com log in
Select "Mail"
Click on the gear (Settings) at the top left
"Accounts" menu item
"Add alias"
You can add up to three aliases. If there are already three, the "Add Alias" button is no longer available.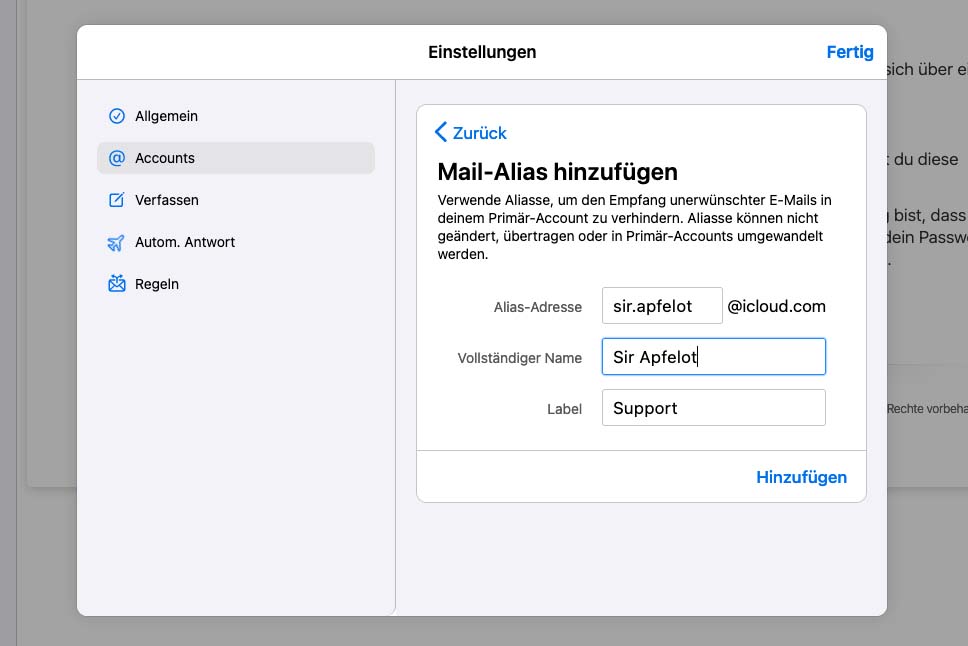 Delete or deactivate iCloud alias
If you no longer want to use an iCloud Mail alias, you have the option of deleting it or deactivating it (for temporary non-use). This also works via the "Accounts" menu, as described above:
in icloud.com log in
Select "Mail"
Click on the gear (Settings) at the top left
"Accounts" menu item
Click on the relevant alias and then select "Deactivate alias" or "Delete alias"
If you still have problems with iCloud mail or an alias, please let me know. I like to try to help. Alternatively, you can get help from other readers in the Sir Apfelot forum - and of course from me.
And if you want to read a little more about iCloud, you will find the book "iCloud & Apple ID"From Anton Ochsenkühn a good companion.
Jens has been running the blog since 2012. He appears as Sir Apfelot for his readers and helps them with problems of a technical nature. In his free time he drives electric unicycles, takes photos (preferably with his iPhone, of course), climbs around in the Hessian mountains or hikes with the family. His articles deal with Apple products, news from the world of drones or solutions for current bugs.