Don't worry, my blog will not mutate into a "collection of grandma's home remedies" and I will not report on the coronavirus (COVID-19) on a daily basis either. In my opinion, the podcast "Corona virus update" with Christian Drosten the best place to go. Christian Drosten is the head of virology at the Berlin Charité and the leading virus researcher in Germany. In the podcast, he and the science editors Korinna Hennig and Anja Martini from NDR report 30 minutes a day on the latest developments on the corona virus.
But I have learned a practical everyday tip on the subject of Corona that I would like to share with you. For this reason, please excuse me if, for once, I report about it apart from Apple and smartphone.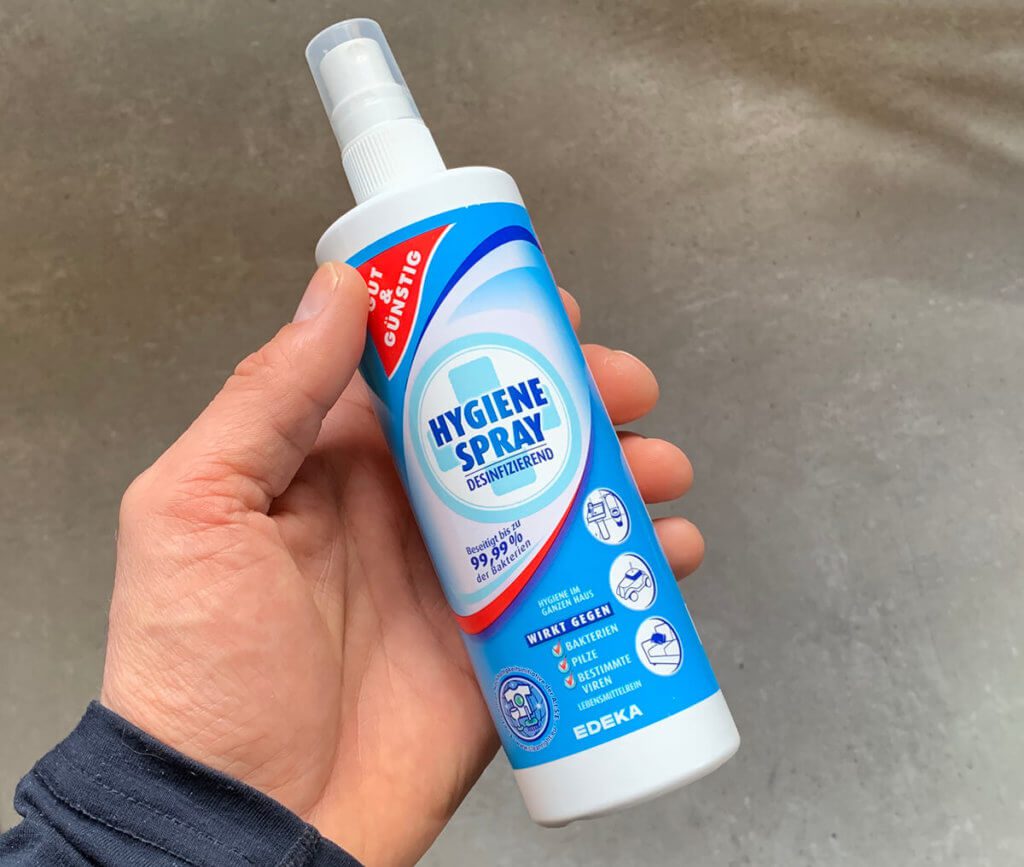 Necessity is the mother of invention…
We live here in the north Hessian mountains and despite the Corona crisis we still have a modest selection of toilet paper available in retail. With disinfectants, however, things are completely different. Here you will only find empty shelves and so we were left as a fairly large family with a single half-empty bottle of hand sanitizer that we had been sitting in the bathroom cabinet for ages. You can calculate how long this lasted with the current "threat".
DIY idea: make disinfectants yourself
My wife finally came up with the idea that you could perhaps mix your own hand disinfectant from a canister of isopropyl alcohol (also known as isopropanol or 2-propanol for short) that we had bought to degrease oiled wood before painting.
The instructions that she followed can be found here in English. The author describes how she turned isopropyl alcohol and aloe vera gel into a reasonably skin-friendly disinfectant for the hands.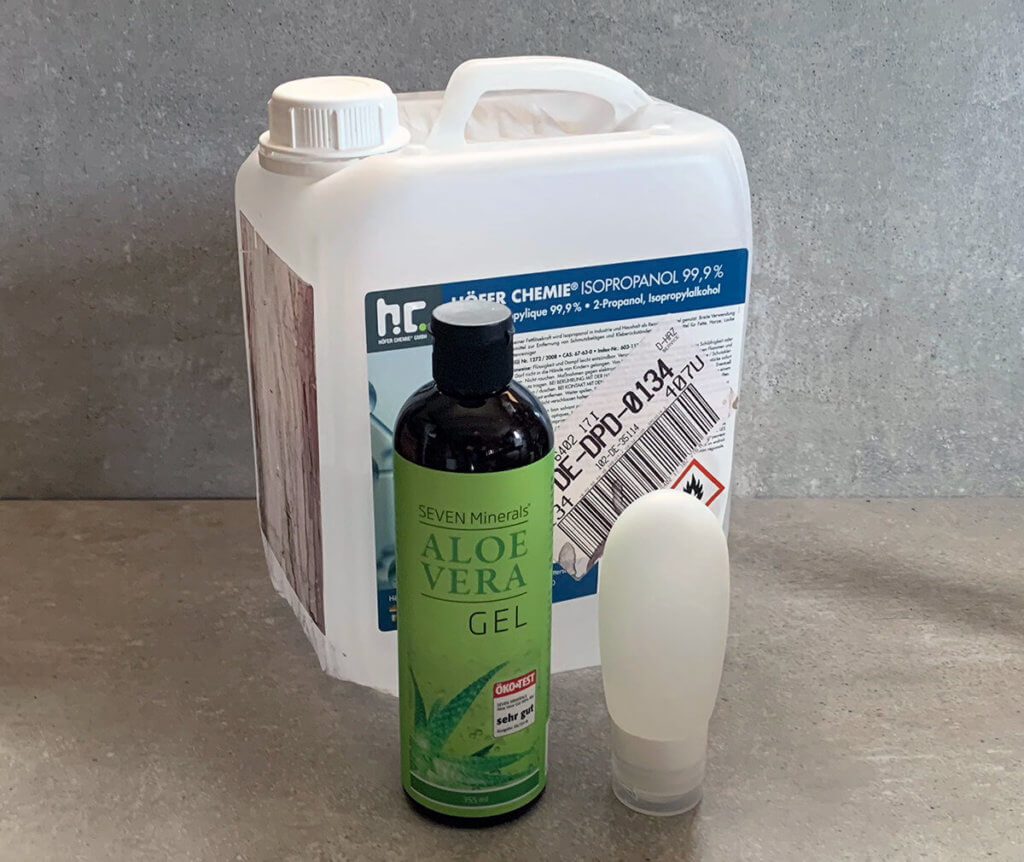 Liability
I am not a doctor and I do not want to offer medical advice. Real, medical skin disinfectants are certainly better and tested, but unfortunately they are in short supply in Germany. For this reason, I would just like to give you an incentive here on how you can perhaps help yourself out in an emergency. However, it is by no means to be understood as medical advice.
And another tip that is generally given by medical professionals: extensive hand washing with soap is always preferable to hand disinfection at home. So when you're at home, go to the sink instead of rubbing isopropanol on yourself - your skin will thank you for it.
Information from the DIY Hand Sanitiser guide
The basic guide sounds simple:
Mix 7 parts of pure alcohol with 3 parts of aloe vera gel.
But you have to pay attention to the details. For this reason, I have put together some interesting points from the English article that you should keep in mind:
Mix 7 parts of alcohol with 3 parts of aloe vera gel.
The aloe vera gel should be as pure as possible and without pieces (you will find such gels here at Amazon or here on eBay).
The alcohol can be either ethyl alcohol or isopropanol. Both should be at least 99% pure. You can find offers here and here on eBay (there is currently nothing on Amazon).
Please do not order 70% isopropanol, as this is too diluted!
There isn't a huge difference between the two types of alcohol, ethanol and isopropanol. As far as I understand, both work against microbes (including bacteria, viruses and fungi).
For the hand sanitizer to be effective against microbes, the final mixture must contain at least 60 to 70% alcohol.
Instead of aloe vera you could also use water, but the aloe vera gel counteracts the dehydration of the skin caused by the alcohol and ensures that the mixture adheres to the skin even better than water. However, it is absorbed after a minute and does not stick.
DIY disinfection more effective against viruses than hygiene spray?
Interesting side discovery: The contents of the hygiene products we bought include: 40g ethanol and 19g propan-2-ol per 100g. According to my calculation, I get 59% while scientific sources say you need at least 60% alcohol in the mix to kill viruses. Seen in this way, our self-build mixture with approx. 66% isopropanol should be more effective than the "hygiene spray", which one would perhaps rather rely on from the feeling. Maybe that's why it's not called "disinfectant spray" but "hygiene spray".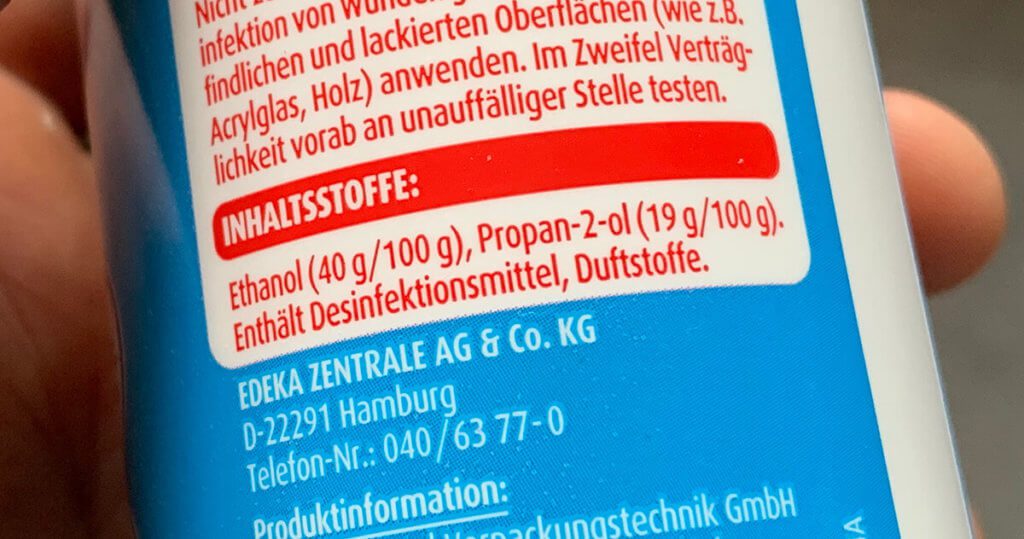 Safe storage of the DIY disinfectant
You don't think there is much to consider when it comes to storage, but the mixture is relatively fluid and has a tendency to volatilize. We once filled isopropanol in a spray bottle without a lid (only with a spray attachment). The next day the bottle was empty because all of the contents dissolved into thin air overnight.
My wife did some research on this and a Set with silicone bottles (89 ml and 60 ml content) found that are suitable for air travel. They are leak-proof and close almost 100%. As a test, I even made a mark on a bottle to see whether the content here becomes independent, but even after 24 hours I could not detect any change in the fill level.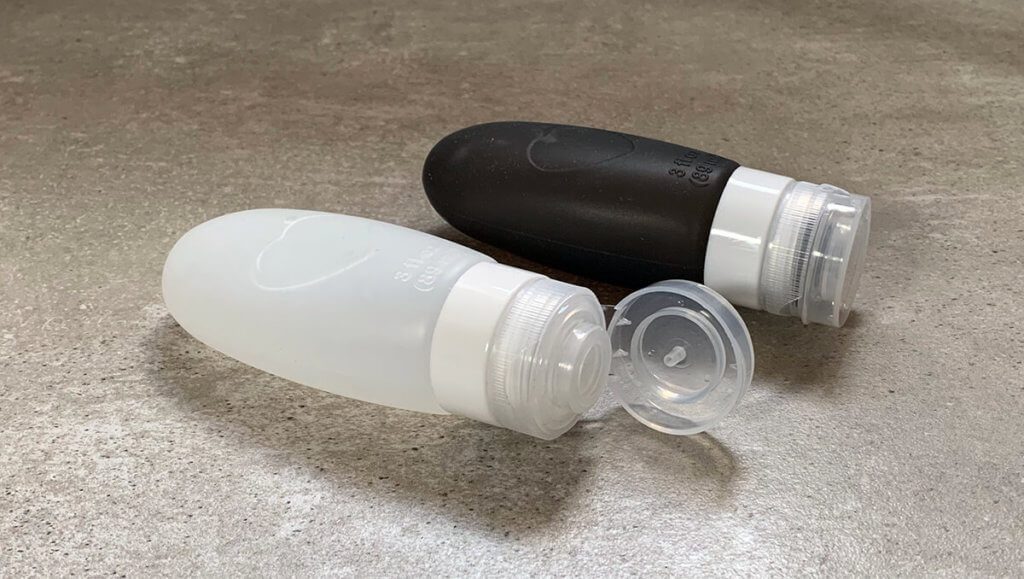 Our conclusion on the homemade disinfectant
We are of course aware that the self-brewed remedies are more of a stopgap solution and they are probably no comparison to real, medical products. Nevertheless, we are happy to have at least something on hand when we do have to go shopping and want to disinfect our hands, cash or the door handle on the car afterwards.
Due to the addition of the aloe vera gel, the skin feels very pleasant after use and is not as brittle as after using pure alcohol. We reordered both ingredients today because we don't think that we can actually cover the coming weeks and months with the current amount.
Shopping list for 3 liters of hand disinfectant
To make things as easy as possible for you, I have linked the "ingredients" to specific products so that you can easily order them and don't have to compare them for a long time:
I would also recommend the aloe vera gel mentioned above, as it is really gel-like and so the mixture does not become so thin afterwards. With cheap aloe vera you often have very liquid products that do not give the mixture any firmness.
We have now distributed these small silicone bottles with hand sanitizers in the cars and at home so that you always have them to hand when you need to disinfect your hands.
By the way: We tried a mixture with inexpensive aloe vera, but it was difficult to dose with the silicone tubes because it was far too liquid. The Aloe Vera tested "very good" (Ökotest), provides a viscous result that is easier to squeeze out of the tube. As a result, there is significantly less sauté and less of the disinfectant wasted.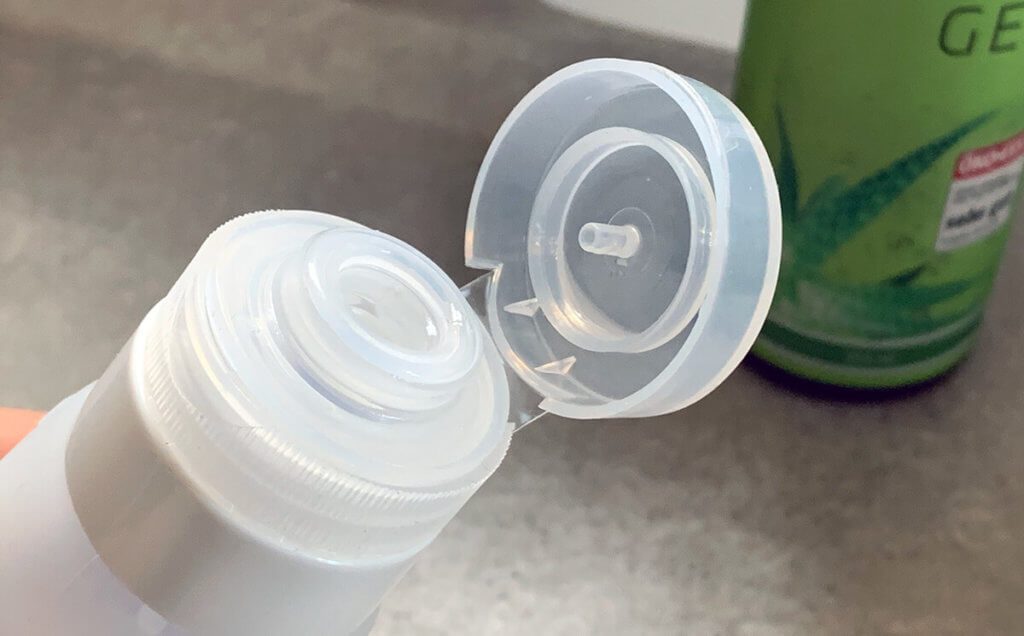 Appendix: Interesting FAQ on alcohol, viruses and hand disinfection
When researching I did an interesting site found, which actually discussed the question of whether you can disinfect yourself with vodka. The short answer is no, as the alcohol concentration in vodka is well below 60%.
In addition to this finding, there were other - sometimes surprising - facts:
While alcohol is effective against the coronavirus and some other viruses, it is less effective at killing certain viruses that do not have a viral envelope.
If 60% alcohol is good, one would think that 100% alcohol might be maximally effective. In fact, this is not the case with hand disinfection, as protein denaturation works faster if a little water is added. Likewise, pure alcohol would evaporate too quickly and not stay on the skin long enough to work properly.
Are hand sanitizers always the best choice against coronavirus? No, if you have the opportunity to wash your hands extensively with soap and water (30 seconds!), Then this is more effective than homemade disinfectants.
With hand disinfectants, the alcohol naturally evaporates faster than the other ingredients. This reduces the concentration of alcohol and at some point the mean falls below the 60% concentration. You should keep this in mind and possibly refill alcohol from time to time or make the mixture completely new.
If you have tips on how to deal with Corona or ideas on how to improve this disinfectant recipe, please leave a comment.
And above all: stay healthy!
Update March 2021: How are you doing in the corona pandemic?
A year has passed since the first version of this article. Have you prepared the mixture suggested above? How do you get through everyday life with the coronavirus in general? Or have you even been vaccinated? Feel free to leave a comment on the topic, because I'm always interested in what you have to say about the topics presented here!
I have also just checked the links to the suggested products given in this post - and they still work. The articles are still available. If you like hand disinfection with aloe vera, you can continue to do it yourself at home.
In addition, stays healthy; and hopefully we will all have the pandemic behind us in a year (March 2022 at the latest) ...
Jens has been running the blog since 2012. He appears as Sir Apfelot for his readers and helps them with problems of a technical nature. In his free time he drives electric unicycles, takes photos (preferably with his iPhone, of course), climbs around in the Hessian mountains or hikes with the family. His articles deal with Apple products, news from the world of drones or solutions for current bugs.