In addition to the Phantom 4Pro has the Chinese manufacturer of quadrocopters DJI also the new one DJI Inspire 2 presented - a long-awaited model, which I have here with the DJI Inspire 1 v2 want to compare. So you can find out at a glance whether the new purchase is worthwhile for you, or whether you should take the now cheaper Inspire 1. If neither of the two models seems suitable for you, you can read the article linked above DJI Phantom 4 Pro drop by. But this is about the DJI Inspire 2;)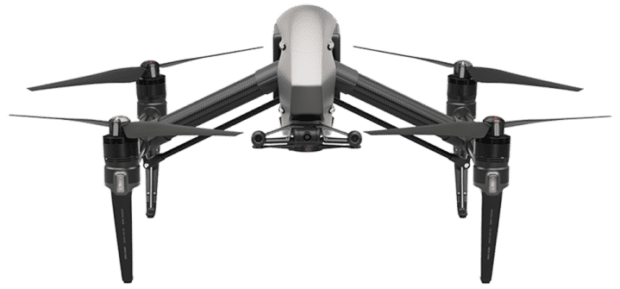 DJI Inspire 2 data sheet: technical details of the drone
As in the article on the new Phantom 4 Pro, I would like to briefly highlight the outstanding specs of the new DJI Inspire 2. Then there are further considerations and the comparison to model 1 version 2:
Recordings with 5,2K and 4K resolution (including Adobe CinemaDNG RAW and Apple ProRes)
Transmission in 1080p over up to 7 km
Use of the 4G (LTE) radio standard for control over long distances and video transmission to servers possible; Latency around 500 ms
25 to 27 minutes of flight time thanks to the revised battery
108 km / h speed
The sensors have a range of 30 meters to the front
Obstacle detection also upwards
New 5,5 "and 7,85" displays available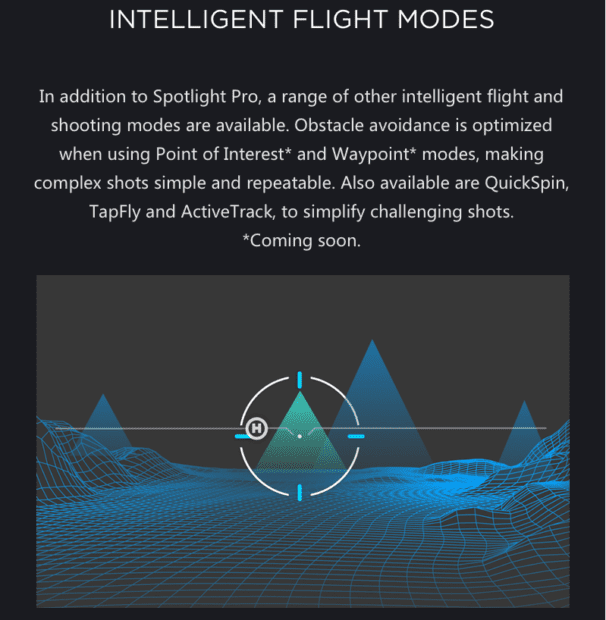 Inset - more interesting posts on the blog:
New cameras and camera systems for the DJI Inspire 2
The DJI Inspire 1 came with the innovative cameras Zenmuse X3, Zenmuse X5 and Zenmuse X5R. For more specific shots, there was the Zenmuse XT (thermal imaging camera) and the Zenmuse Z3 (optical zoom). These cameras are also compatible with the DJI Inspire 2. There is no question that, in addition to the new X4S and X5S cameras, even more innovative models with new functions will be added.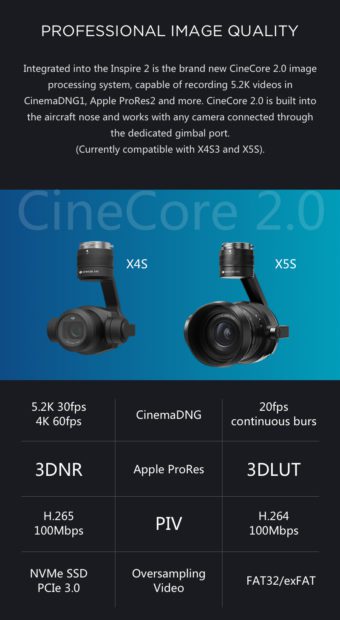 In addition, DJI has announced a handheld gimbal for the Zenmuse cameras. This should then also enable recordings on land and by hand - strong competition for them Recalled GoPro Karma drone with "Karma Grip". The competition is really very intense.
Intelligent flight modes for professional recordings
"The Inspire 2 takes everything that was good about the Inspire 1 and does it better. "Says DJI about the new drone. This can be seen, among other things, in the drone's innovative flight modes. For example, it is used Spotlight Pro, that is, the fixation of an object, person or animal during the flight and while it is moving - made possible for a single pilot.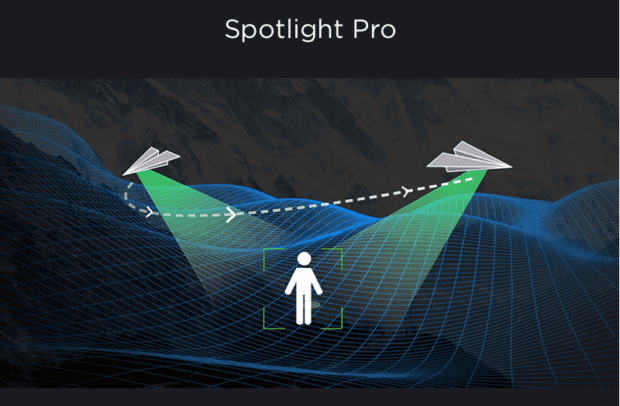 Then there are the modes Point of interest and Waypoint, for which the improved obstacle detection is also important. As with other DJI models, ActiveTrack, TAPFLO and QuickSpin usable. Finally, of course, operation via two units (flight and video recording separately) is also possible. The pilot and cameraman can stand up to 100 meters apart.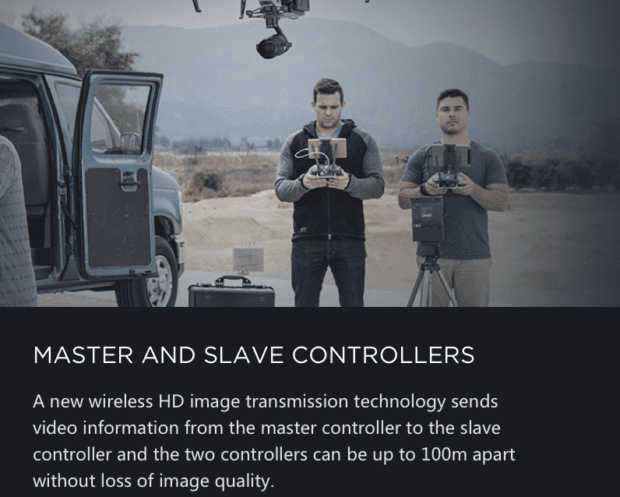 Comparison of DJI Inspire 1 v2 and DJI Inspire 2
| | | |
| --- | --- | --- |
| | DJI Inspire 1 v2 | DJI Inspire 2 |
| Weight | 2.935 g | 3.290 g |
| Diagonal size (without propeller) | ? cm | ? cm |
| control unit | 2,4 GHz to 2,483 GHz and 5,725 GHz to 5,825 GHz | 2,4 GHz to 2,483 GHz and 5,725 GHz to 5,825 GHz |
| Camera sensor | Standard: 1 / 2,3 inch; 12,4 MP (different and can be improved depending on the Zenmuse model) | 1 inch with 20 MP (Zenmuse X4S), "Micro Four Thirds" with 20,8 MP (Zenmuse X5S) etc. |
| battery performance | 4.500 mAh (standard), 5.700 mAh (optional) | 4.280 mAh; Use of two batteries at the same time possible (= 8.560 mAh) |
| Battery life in flight | About 18 to 20 minutes | Up to 27 minutes |
| Flight range | 2 km | 7 km |
| Max. speed | 79 km/h | 108 km/h |
| Operation by 2 people | ja | ja |
| obstacle detection | Particularly suitable for indoor areas, also for outdoor terrain | Suitable for indoor use, improved for outdoor use |
| Current price | 2.299 Euros | 3.399 Euros |
| More info and purchase | DJI shop | DJI shop |
Video introducing the DJI Inspire 2
Conclusion on the comparison of the two DJI Inspire drones
A larger transmission range, new cameras, a higher maximum speed, new flight modes and so on - the DJI Inspire 2 is actually a completely innovative model and not a disguised third version of the DJI Inspire 1. Both drones do not really help private people addressed, but rather filmmakers, cameramen, directors and all those who want to become one. The innovations will pay off, especially for professional users who regularly use multicopters.
After graduating from high school, Johannes completed an apprenticeship as a business assistant specializing in foreign languages. But then he decided to research and write, which resulted in his independence. For several years he has been working for Sir Apfelot, among others. His articles include product introductions, news, manuals, video games, consoles, and more. He follows Apple keynotes live via stream.