Thanks to the APFS file system, it is very easy on the Apple Mac to install two operating systems in parallel on one hard drive - and that without partitions. In the past, hard disks had to be broken down into individual virtual parts (partitions), today it is sufficient to set up a so-called APFS volume. How you do it, how you can use it to install macOS Big Sur and Catalina in parallel, and how you choose which operating system should boot when the Apple Mac starts, you will find out everything in this guide.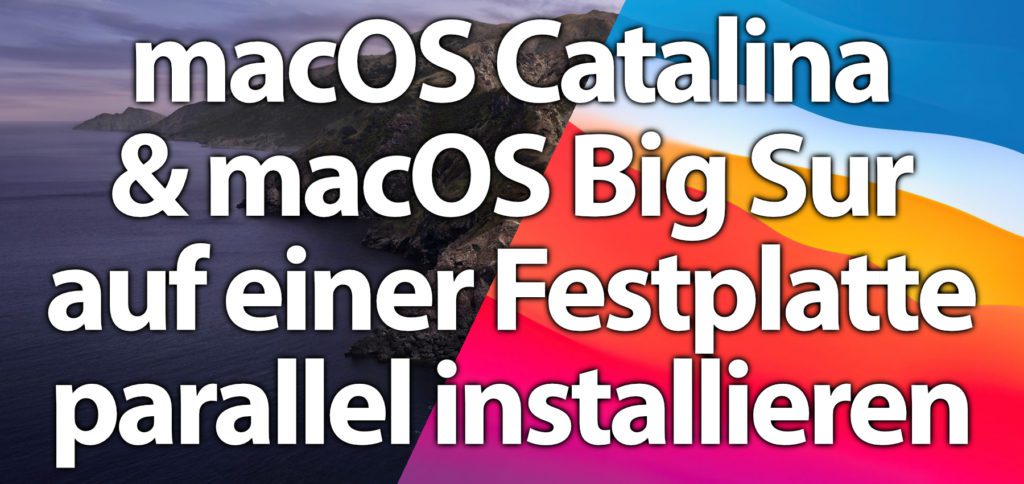 Same procedure as with macOS Mojave and Catalina
Last year I already gave you instructions on how to use the APFS file system on the Mac's startup volume for the parallel installation of two operating systems. You can find them under this title: Install macOS Catalina without a partition parallel to Mojave. If, instead of macOS 10.14 and 10.15, you plan to double use the Mac hard drive with macOS 10.15 and macOS 11.0, you basically proceed in the same way as a year ago. The advantages are very clear: In contrast to a partition, an APFS volume simply has to be added to the existing list. No storage space has to be reserved for this, as it grows dynamically and only uses the storage space that it really needs.
Install macOS Big Sur and Catalina in parallel
So if you want to install macOS Big Sur and Catalina in parallel without a partition, then proceed as follows:
Open that Disk Utility (via Utilities folder, Launchpad or Spotlight)
Checks whether your hard drive (probably "Macintosh HD") is an APFS volume
If so, click on the "+" (plus sign) above the term "Volume"
Enter the name for the new volume, for example "Big Sur"
Leave the format at APFS and confirm the creation of the new storage compartment
Once that's done, you've already reserved the storage location for the new operating system. To install macOS 10.15 Big Sur at the same time with an existing macOS 11.0 Catalina, simply work through the following step-by-step instructions:
Start the macOS Big Sur installer from your hard drive
On the overview of the installation locations (at least) the current volume is now displayed
Click on "Show all volumes ..." to also display the newly created volume
If this appears in the overview (or was it seen before), select it as the destination
Install macOS Big Sur on the new APFS volume
Boot selection: Which operating system should the Mac start up with?
So now you have two operating systems on the hard drive of your Apple computer. The question arises as to which one should start with. You can easily set this via the system settings. Simply click on the Mac menu ( symbol) in the top left of the menu bar and then on "System Preferences ...". Then click on "Startup Disk". After the installation described above, you should see a volume with "macOS, 10.15.7" and one with "macOS, 11.0.1" (version status: 16.11.2020). Select one of them and restart your Mac - if necessary or to try it out.
Spontaneous selection: Select the macOS version when the Mac starts up
If you don't want to first select the primary operating system and then start the secondary from it, there is a short shortcut. Appropriately, the so-called option key is used for this. This is also called option or old and may have the symbol ⌥ printed on it. If you hold down this key immediately after turning on the Mac, you will get to the startup disk selection. This avoids the problem that switching from one macOS to another during operation always involves a restart. A virtual execution, such as Windows via Parallels Desktop or Linux via a virtual machine, is not offered by Apple.
More articles on macOS 11.0: Installation, Problems and Solutions
Now you can install macOS 11.0 Big Sur and macOS 10.15 Catalina in parallel without a partition. Thanks to Apple's own file system APFS (Apple File System), this is very easy, which already helped with the Catalina installation next to Mojave last year. If you want to take a closer look at Big Sur, I can recommend these posts here in the blog:
Jens has been running the blog since 2012. He appears as Sir Apfelot for his readers and helps them with problems of a technical nature. In his free time he drives electric unicycles, takes photos (preferably with his iPhone, of course), climbs around in the Hessian mountains or hikes with the family. His articles deal with Apple products, news from the world of drones or solutions for current bugs.