If you want to open a Docx (.docx) or a Doc (.doc) file on the Mac, you have various options - next to Microsoft Word You can also use Apple's own program Pages as well as the free Word alternatives from OpenOffice and LibreOffice to disposal. In this little guide on the subject you will learn all the details and get a few more tips on the future of Microsoft Office under macOS 10.13 High Sierra on the Apple Mac. So you can continue to open Doc files on your Mac in the future;)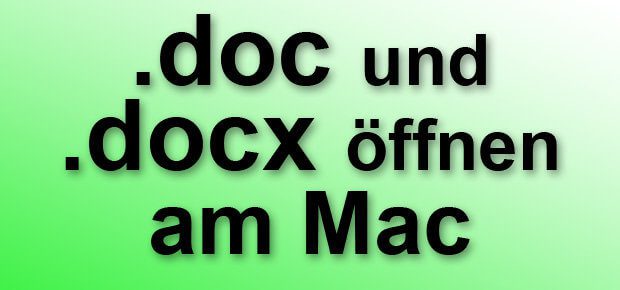 Open Docx and Doc files on the Apple Mac
Opening a Doc file on a Mac or reading and editing a Docx file on macOS is not that difficult. Basically, all you need is the Pages program from Apple. This should be included in the Mac operating system. If you don't have Pages on your Mac, you can download it here:
[appbox app store id409201541]
If Pages is the only word processing program or the only text editor on the Apple computer, then you can simply double-click the file to be opened with links. In addition to files in .doc and .docx formats, this also applies to files in .rtf and .txt formats. If Pages does not open automatically when you call up the file or if you have installed other word processing programs, then simply click with the right mouse button on the file, then in the menu that appears on "Open with ..." and then on "Pages".
Use OpenOffice and LibreOffice
The free office solutions from third-party providers also come with word processing programs, thanks to which you can open Doc and Docx files - under Windows as well as under macOS. Details and the respective download of OpenOffice or LibreOffice can be found here:
OpenOffice brings the program for doc and docx Writer Impulse and Discussion Download page
LibreOffice also offers a Writer: Download page
About Apple Pages for Mac, iOS, and iCloud: Apple support
Information about MS Office under macOS
From September 25, 2017 for current Mac models the upgrade from macOS 10.12 Sierra to macOS 10.13 High Sierra. In addition to the many positive changes, this change can also result in a few negative points. You can read what you need to know about the Microsoft Office programs to upgrade to High Sierra here .
Questions and annotations
Do you have any questions or comments about opening Word files on your Mac? How do you open doc and docx files under macOS? Please leave your experiences, hints and questions on the topic as comments!
After graduating from high school, Johannes completed an apprenticeship as a business assistant specializing in foreign languages. But then he decided to research and write, which resulted in his independence. For several years he has been working for Sir Apfelot, among others. His articles include product introductions, news, manuals, video games, consoles, and more. He follows Apple keynotes live via stream.