A combination of USB stick and voice recorder, too USB voice recorder stick called, can help you organize a meeting, a lecture or class, a conversation or an interview and other things Record audio. The advantage: after the recording, the device can be connected directly to the PC, Mac, MacBook or similar and the recordings can be evaluated. Of course, such an inconspicuous device can also be used for secret recordings, although the legal framework must be complied with.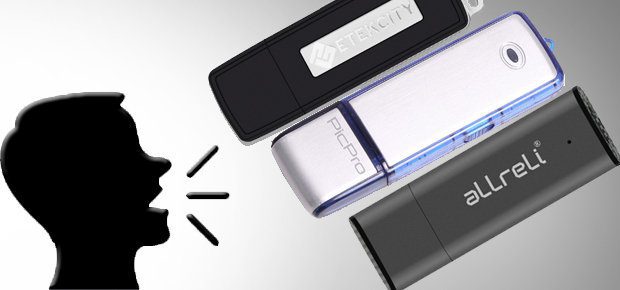 USB stick with dictation function: inconspicuous recording and dictation device
Usually, a USB voice recorder, as the name suggests, comes in the form of an inconspicuous USB stick with a built-in microphone. Neither in a meeting, in the classroom or the meeting in the conference room, the device is noticeable. In many situations, however, it should / must be pointed out that what is said is recorded. But not only the recording of the statements of others is possible with a combined USB stick dictation machine, but the use as such. If you don't want to carry around a large dictation machine or the like all the time, you can use the small USB stick alternative.
Buy cheap USB stick dictation machines at Amazon
In the following I have picked out some models for you on Amazon. In addition to the simple mention, I would like to say a few explanatory words about every USB stick with a microphone. Because if you read the customer opinions on each USB audio recording device, you can find weaknesses or special tips for using the devices here and there.
aLLreLi CP00341: USB memory stick with dictation function
For just under 20 euros you can get a USB stick that should be recognized by both Windows PC and Mac via plug and play. According to the manufacturer, the internal battery is charged in 2 to 3 hours, and recordings of up to 13 hours are possible. The recording starts about 10 seconds after activating the dictation function. Note from the comments: "Not a stranger[n] Save files under the "RECORDER" directory and do not rename recordings under "VOICE". This renders the stick unusable."
aLLreLi digital dictation machine CP00341 [2-in-1] 8GB mini USB memory stick, digital voice recorder ...
【USB AND RECORDER】 Good recording quality, clear recording, no noise, quick and easy connection with PC.
【MORE MINIATURE】 6,4 x 2,1 x 0,7 cm, 18g, easy to carry. Boot recording, shutdown save recording, one ...
【MORE DURABLE】 When fully charged, discharges up to 13 hours, charging time 2 to 3 hours.
Tammano USB recording device (Spy USB Sound Recorder) with 8 GB
This spying USB stick costs around 25 euros. Here, too, the battery should be fully charged after around 2 hours. The 8 GB storage capacity should be enough for up to 96 hours of audio recordings; one battery charge lasts for around 17 hours of recording. The comments show that it takes around 12 seconds from the activation of the recording function to the actual recording - this must be taken into account.
PicPro USB voice recorder with 8 GB storage space and 12 hours of recording
Long meetings, two full days of school, several lectures or a heated debate in the city council - with this USB stick, which also has a microphone, you have 12 hours of recording time per battery charge, according to the manufacturer. With the 8 GB, which are of course also available for other data, up to 96 hours are possible. However, even with good reviews, it is noted that the workmanship should not be so great.
Etekcity USB Voice and Audio Recorder for allegedly up to 150 hours of audio
Nevertheless, even with this USB stick with voice recorder function for around 16 euros in WAV format and that with 128 bit / s, up to 150 hours of audio should fit. One charge promises 15 hours at a time. However, this USB stick with audio recording function only has 8 GB of storage capacity. The stick is recommended in the reviews for close-up shots in a quiet environment.
My favorite for recordings, dictations, recordings, interviews, etc.
I have not yet been able to test USB sticks with a dictation machine or spy function. However, I also use other devices in case of audio recording. Years ago, I used this for recording conversations and for the audio track in videos ZOOM H1 stereo recorder increased. It works flawlessly to this day. There is also an extensive one Accessory setI can recommend. So if the audio recording is supposed to be more professional or of higher quality and doesn't have to be so "secret", then I would use such a tool. In addition, many settings can be made there (sensitivity, MP3 or WAV, suppression of overload, etc.)
Further information and areas of application
As noted above, the USB dictation machines save in WAV format. In some product descriptions, Mac users will therefore use the Download the VLC player suggested. Jens aka sir appleot by the way: "Certainly also fun for parents, so that they can always record funny conversations with the children when the children are talking to each other and think that they are not being heard ... I would have loved to have recorded the conversations in the past! But the iPhone is just too conspicuous and we don't activate such an audio USB stick as quickly. "
Your opinion and experiences
I once had an MP3 player that could be used as a USB stick and dictation machine. The audio recordings at that time, it must have been around 2006, were in the lower mid-range in terms of quality. A lot has certainly happened since then. What do you think about the topic or what experiences have you had with a USB dictation machine? Feel free to leave a comment :)
After graduating from high school, Johannes completed an apprenticeship as a business assistant specializing in foreign languages. But then he decided to research and write, which resulted in his independence. For several years he has been working for Sir Apfelot, among others. His articles include product introductions, news, manuals, video games, consoles, and more. He follows Apple keynotes live via stream.
The page contains affiliate links / images: Amazon.de