The AEG Lavatherm TÖKO +++ IH heat pump dryer with the energy efficiency class A +++ is one of the Amazon products listed by Stiftung Warentest found to be good offered dryer. The AEG heat pump dryer should be described here in more detail so that you can get an idea. The comparatively price-neutral device in white is a front loader with numerous programs for different clothes and textiles. The AEG Lavatherm TÖKO +++ IH heat pump dryer holds 8 kg and has an average consumption of 177 kWh / year.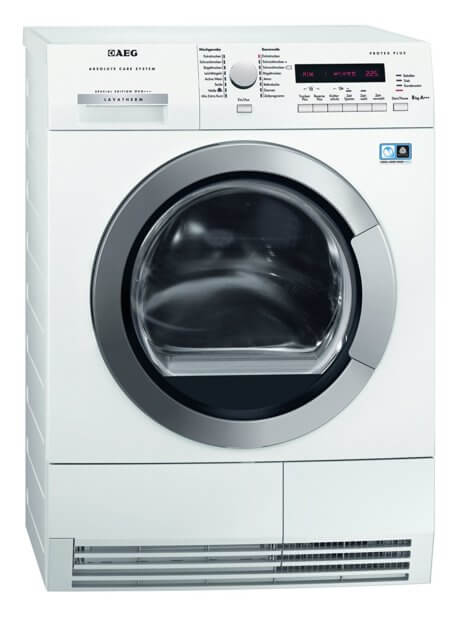 Stiftung Warentest says well: AEG heat pump dryer
The fact that Stiftung Warentest recommends this dryer already shows that you are bringing a usable heat pump dryer into your home with the AEG device. The recommendation is underpinned by the total of 60 customer reviews, of which 32 are very good and 7 are good. Among other things, it says in a 5-star review: "The dryer meets my expectations, I am very satisfied! Previously had a Siemens heat pump dryer in which I had to let the beaver bed linen and blankets run through twice in the drying cycle and still there was residual moisture. This dryer does not have this problem. Can recommend him."
Buy AEG Lavatherm TÖKO +++ IH heat pump dryer
If you order directly from Amazon, you will be offered additional services in addition to the heat pump dryer. For example, you can have your old device disposed of directly for free. You can also choose a desired date for the delivery - because nothing is worse with a large electrical device weighing 50,5 kg for the delivery service than when the recipient is not at home! ;)
Recommended heat pump dryer
The AEG Lavatherm TÖKO +++ IH heat pump dryer with energy efficiency class A +++ holds up to 8 kg of laundry and, according to users and Stiftung Warentest, dries extremely well. It is a front loader in white.
Technical data of the dryer
The AEG Lavatherm TÖKO +++ IH dryer includes these values ​​on the data sheet:
Dimensions: 60 x 60 x 85 cm
Weight: 50,5 kg
Weight with packaging: 55 kg
Laundry capacity: 8 kg
Noise emission: 65 dB
Functions / settings: Acoustic signal, load detection, display, moisture sensor, child lock, anti-crease, short programs, remaining time display, honeycomb drum, special programs, start delay, drum lighting
Here is an overview of the dryer test winners
Your dryer recommendation
Which heat pump dryer can you recommend? Do you have the AEG Lavatherm TÖKO +++ IH in use and can you contribute your own experiences? Feel free to leave a comment;)
After graduating from high school, Johannes completed an apprenticeship as a business assistant specializing in foreign languages. But then he decided to research and write, which resulted in his independence. For several years he has been working for Sir Apfelot, among others. His articles include product introductions, news, manuals, video games, consoles, and more. He follows Apple keynotes live via stream.
The page contains affiliate links / images: Amazon.de