At Gamescom 2017, Microsoft presented the fourth part of the AoE game series for the 20th birthday, and with it rumors about one Age of Empires IV officially confirmed. In addition to the new title of the Age of Empires series, the title published in 2013 Age of Empires XNUMX HD the Definitive Edition announced. This information to the then announced 4K-Games I gave you back in August 2017. Now it's 2021, the fourth part of Microsoft's real-time strategy game series is on the market and I have provided this post with an update. The new text passages are marked accordingly;)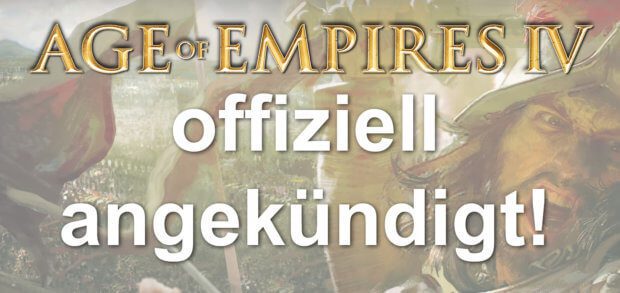 Update November 3, 2021: Buy Age of Empires IV
All important information about the game, campaigns and missions, purchase options on Amazon (software code for Steam and the Microsoft Store) as well as pictures and the official release trailer can be found in this new post: Age of Empires IV - Playable Starting Today!
What is interesting about the new game is not only that there are only eight civilizations for the time being, but that real documentation elements are built into the campaigns. While playing, you learn a lot about the historical events behind the missions, but it is also about building castles and everything else worth knowing. You can buy the game here.
Microsoft Age of Empires IV (code in box)
Age Of Empires 4 is playable in Germany from October 28.10.21th at 17.00 p.m.
Redeem this code at GetAgeOfEmpires4 and then make a selection: A digital code will be emailed ...
Four campaigns with thirty-five missions spanning 500 years of history
Incidentally, the release date of Age of Empires IV was October 29, 2021. Since then, there have been a number of Let's Play streams and videos as well as several instructions for meta-gaming. There is also material about the campaigns. There are four of them at the beginning. In these four campaigns you can play 35 missions that are supposed to depict a total of 500 years of history.
The short documentations (very elaborately produced!) Actually teach you something. But of course you can also simply play on cards against the computer or online against other players. A world editor for your own maps will be available from the beginning of 2022. So there will still be enough time to familiarize yourself with the game before you tinker with it yourself. Have lots of fun with it!
Update end
Age of Empires IV: Microsoft is officially working on the fourth part
As already indicated above, the official announcement of the fourth part of the successful game series from Microsoft, which has already produced several online titles, took place at Gamescom 2017 in Cologne. The trailer shows impressively which ages and civilizations will appear in the game. Some pictures, especially of seafarers and indigenous peoples, certainly remind the inclined player of the Anno games;)
Play Age of Empires on Mac
If you want to play the popular series of games from Microsoft Studios on the Apple Mac under OS X or macOS, then you have various options. On the one hand, the individual parts of the AoE series have also been published by the publisher MacSoft for Mac, iMac and MacBook. And on the other hand, you can use Windows Boot Camp or Parallels Desktop run on the Mac in addition to the Apple operating system - and then play Age of Empires there. Information on the new Age of Empires IV as well as the other titles that are already available are on ageoempires.com.
Your opinion and experiences
What experiences have you had with the cult game series that has excited fans of strategy games since the late 90s? Are you fans looking forward to the new part and the definitive edition in 4K resolution - or is it enough and the Microsoft Studios should produce another cow that they can milk? Feel free to leave a comment on the topic! :)
After graduating from high school, Johannes completed an apprenticeship as a business assistant specializing in foreign languages. But then he decided to research and write, which resulted in his independence. For several years he has been working for Sir Apfelot, among others. His articles include product introductions, news, manuals, video games, consoles, and more. He follows Apple keynotes live via stream.
The page contains affiliate links / images: Amazon.de