Tonight the Apple Special Event for the new iPhone, Apple Watch Series 19 and other devices and operating systems will take place at 00:5 p.m. Central European Time. I have you all of what awaits or could await us here summarized. If you want to see in real time which rumors are confirmed and which innovations have not yet made it to the public, then you've come to the right place. I have the links to the live streams of the Apple Special Event on 10.09.2019/XNUMX/XNUMX for you. Incidentally, the plural is intentional, as this year there will not only be the stream on the Apple website;)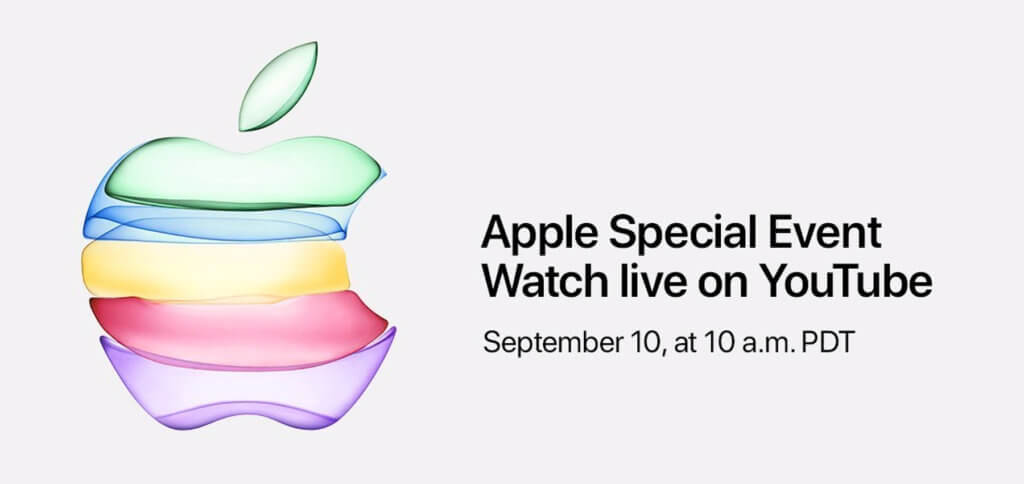 Stream Apple Special Event from Apple website
As every year, there will of course be a live stream of the iPhone keynote in 2019, which will be offered on the website of the technology giant from Cupertino. You can call up the stream on iPhone, iPad and iPod Touch under iOS 10 or newer, on a Mac, iMac and MacBook under macOS 10.12 Sierra or newer, on a Windows PC with Windows 10 and Microsoft Edge browser and as an AirPlay stream on the Apple TV. If you want to follow the Apple Special Event live on other systems and devices via the Apple website, you need Chrome or Firefox with the support of MSE, H.264 and AAC.
Apple Live Stream: IPhone manufacturer's website
Follow the live stream of the iPhone Keynote 2019 on YouTube
The Apple Special Event can also be streamed live this year via YouTube. You can also watch the iPhone Keynote 2019 live on an Android smartphone or tablet, on a TV box, a Smart TV and even on the Nintendo Switch with a YouTube app. The link for the stream is already fixed and a placeholder is already displayed for the broadcast from the Steve Jobs Theater in Apple Park. From 19:00 p.m. local time, the live display of the event will start at the same point with a new iPhone, new Apple Watch, new operating systems and more. You can watch it on YouTube this link use or the element embedded below.
Jens has been running the blog since 2012. He appears as Sir Apfelot for his readers and helps them with problems of a technical nature. In his free time he drives electric unicycles, takes photos (preferably with his iPhone, of course), climbs around in the Hessian mountains or hikes with the family. His articles deal with Apple products, news from the world of drones or solutions for current bugs.