Appropriate for the Christmas season, of course, nice people are busy, but the fraudsters on the Internet are also busy and send e-mails with which they want to collect your access data for certain portals or your bank details. This type of scam is called "phishing" - and that's exactly what landed in my inbox. So today I received an e-mail that at first glance looked a lot like Amazon. At second glance, however, the address "Dear Sir or Madam" struck me as odd, because Amazon has my personal data and would certainly address me by my name.
My second look then always goes to the button that is mandatory in the phishing mails. Here you should click on it and then you will usually get to a website that looks like Amazon, but runs on a completely different server. There you should of course log in with the Amazon access data and the fraudsters already have the Amazon password and login of the victims.
Detection of fraudulent phishing mails
In Apple Mail on the Mac, you can quickly identify such emails from scammers by moving the mouse pointer over the button. After a second, a small information window opens with the URL hidden behind the button. At the URL you can quickly see that there is no www.amazon.de behind it, but some strange .com domain.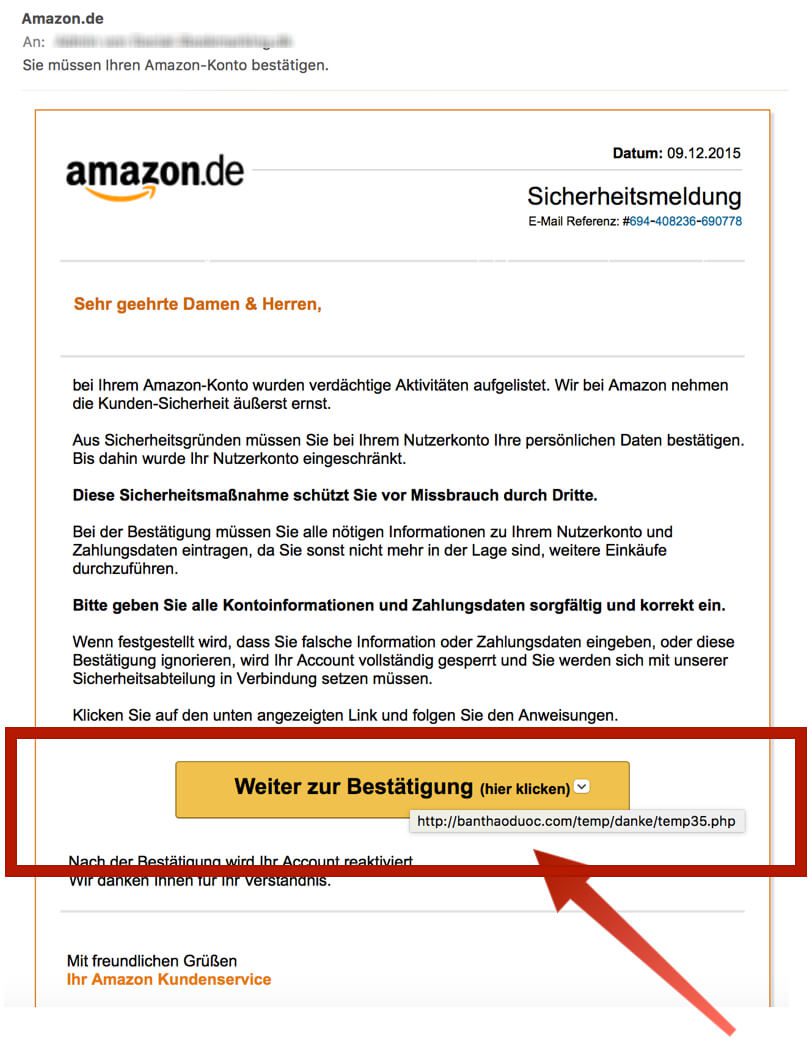 White text on a white background - not a trustworthy signal either
While preparing the article, I wanted to copy the text from the email into this post. However, when I marked the text in Apple Mail, I noticed that there are other lines of text hidden between the lines, which were made invisible with white letters. What the reason for this is not immediately obvious to me, especially since there are words in the text that will certainly ring the alarm bells for most spam filters, but I think the phishing email designers will have already given some thought.
But important for us: If you highlight the e-mail text, you can see the hidden writing, which only contains meaninglessly thrown together words. If something like this is hidden in the mail, you can be relatively sure that the sender is not a trustworthy person.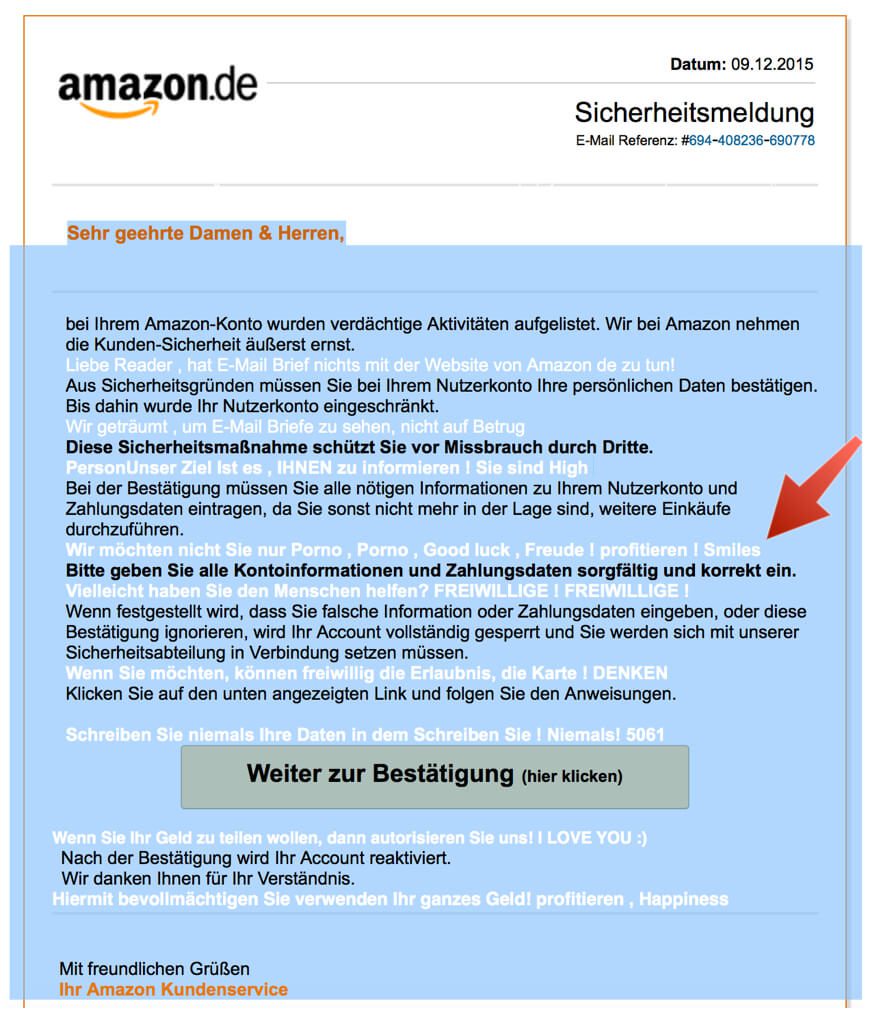 If you read through the hidden lines, you can almost get the idea that the senders of the e-mail still have a sense of humor. On the one hand you get the tip "Never write your data in the Write! Never!" and they even openly point out that they are fraudulently "Dear reader, E-Mail Brief has nothing to do with the Amazon de website!".
The complete text of the Amazon phishing email (the lines in white letters have been deleted) can be found here:
Ladies and Gentlemen,

Suspicious activity has been listed on your Amazon account. At Amazon, we take customer security very seriously.

For security reasons, you must confirm your personal data in your user account. Until then, your user account has been restricted.

This security measure protects you from misuse by third parties.

When confirming, you must enter all the necessary information about your user account and payment details, otherwise you will no longer be able to make any further purchases.

Please enter all account information and payment details carefully and correctly.

If it is found that you have entered incorrect information or payment details, or ignored this confirmation, your account will be completely blocked and you will have to contact our security department.

Click the link below and follow the instructions.

Continue to confirm (click here)

After confirmation, your account will be reactivated.
We thank you for your understanding.
Report phishing and spoofing emails to Amazon
Anyone who receives such emails can also report them directly to Amazon. Amazon strives to take action against such fraudsters and has set up an email address to which such fake emails can be sent. On the Amazon website you can find a support article about it. The e-mail address is stop-spoofing@amazon.com.
Jens has been running the blog since 2012. He appears as Sir Apfelot for his readers and helps them with problems of a technical nature. In his free time he drives electric unicycles, takes photos (preferably with his iPhone, of course), climbs around in the Hessian mountains or hikes with the family. His articles deal with Apple products, news from the world of drones or solutions for current bugs.