Air quality contributes a lot to well-being and general health. It can therefore be beneficial to keep various factors in mind. The quality of the air is not only made up of temperature and humidity, but should also be considered with regard to fine dust and carbon monoxide or carbon dioxide content. The Amazon Smart Air Quality Monitor with Alexa connection goes even further. Because this also provides information about volatile organic compounds (VOC). For accessories for the smart home, which you can order with Prime shipping, you come with this link.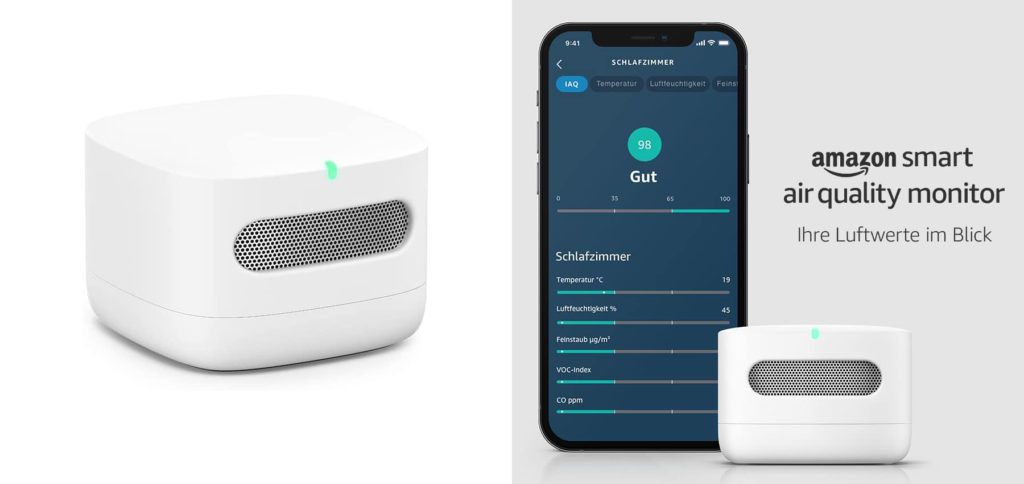 Measure air quality with the Amazon Smart Air Quality Monitor
The Amazon Smart Air Quality Monitor is a small accessory device that provides an overview of various factors in the room air via an echo speaker and/or app on the smartphone. This includes temperature, humidity, particulate matter, VOC index and CO in ppm (parts per million). In addition to the individual data, a general air standard from 0 to 100 is also displayed, with 100 being the best value. An LED on the device itself uses the colors green, yellow and red to show the values ​​between 100 and 65, 65 and 55 or 55 and 0. So you always have an eye on the air quality in the living room, bedroom, home office and / or children's room.
Monitor air quality with HomeKit devices
If you don't use Amazon's Echo devices, but rely on Apple's HomeKit network, then there are of course also measuring devices for air quality. The is in a similar price range to the accessories shown above Qingping Air Monitor Lite, which provides information about particulate matter (PM10 and PM2.5), CO2, temperature and humidity. Limit values ​​can be set in the Home app, from which the air filter activated, windows opened or air humidification started. The can be used in a similar way Eve Room indoor air quality sensor, which, however, only measures temperature, humidity and VOC. Which device do you use? Feel free to leave a comment on the topic!
2,96 EUR
After graduating from high school, Johannes completed an apprenticeship as a business assistant specializing in foreign languages. But then he decided to research and write, which resulted in his independence. For several years he has been working for Sir Apfelot, among others. His articles include product introductions, news, manuals, video games, consoles, and more. He follows Apple keynotes live via stream.
The page contains affiliate links / images: Amazon.de