The manufacturer Anker is also involved in the large selection of iPad stands and USB-C hubs for the Apple tablet. The model Anchor 551 can definitely be called a dock, although it can also be used individually as a tablet stand or as a dongle. It can be used flexibly and with the USB-C cable connected, the accessory provides the Apple iPad (Pro / Mini / Air) with a few usable connections: SD and microSD slot with UHS-I, two USB-A ports, HDMI for up to 4K resolution with 60 fps, a 3,5 mm jack connection for headphones and a USB-C PowerDelivery power connection. Go to the offer with Prime shipping you come with this link.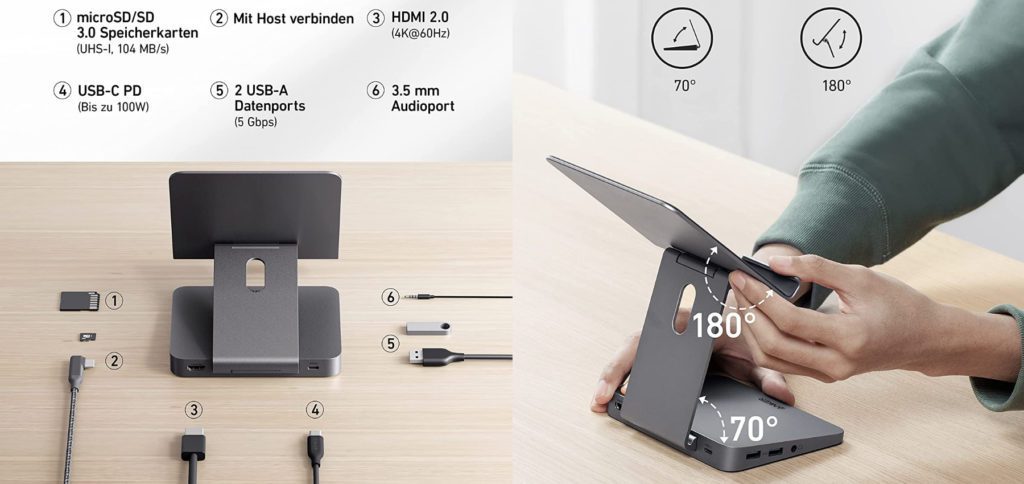 Anker 551 as an 8-in-1 hub with USB-C connection for the Apple iPad
Including the connection to the Apple iPad via USB-C cable the Anker 551 Hub has eight connections. You can connect storage media such as USB sticks or external hard drives via USB-A, but you can also use a mouse and keyboard on the tablet. Of the HDMIport is ideal for using iPad apps and media on larger screens. By means of the slots for SD memory cards and microSD cards, e.g. B. Photos and videos from the digital camera or drone can be transmitted. You can also use headphones, speakers and other audio output devices via the jack connection. And the iPad is elevated for more ergonomic work.
10,00 EUR
Alternatives: Various stands and hubs for the Apple iPad
Here in the Sir Apfelot blog we have already introduced you to one and the other iPad dock, various hubs and tablet stands for the Apple model. Anker is not the first or only manufacturer to try to provide extensive connectivity with peripherals and storage media. Similar equipment at a lower price offers something like this BYEASY iPad Pro Dock. Another combination of stand aid and dongle is available in the form of the Satechi iPad Pro Dock. If you are looking for a multifunctional dongle for MacBook Pro/Air as well as iPad models, then you could the Twelve South StayGo be something for you. Have fun comparing :)
10,00 EUR
After graduating from high school, Johannes completed an apprenticeship as a business assistant specializing in foreign languages. But then he decided to research and write, which resulted in his independence. For several years he has been working for Sir Apfelot, among others. His articles include product introductions, news, manuals, video games, consoles, and more. He follows Apple keynotes live via stream.
The page contains affiliate links / images: Amazon.de