This week the technology and accessories manufacturer Anker is again offering numerous products at lower prices. In addition to daily offers that are only valid on Monday, there are also weekly offers that ensure bargains until Sunday. In addition to anchor products themselves, items from the Soundcore, eufy and Nebula brands are also included. Discount or voucher codes are not required this time. The discounts of up to 44% are granted directly on the product pages.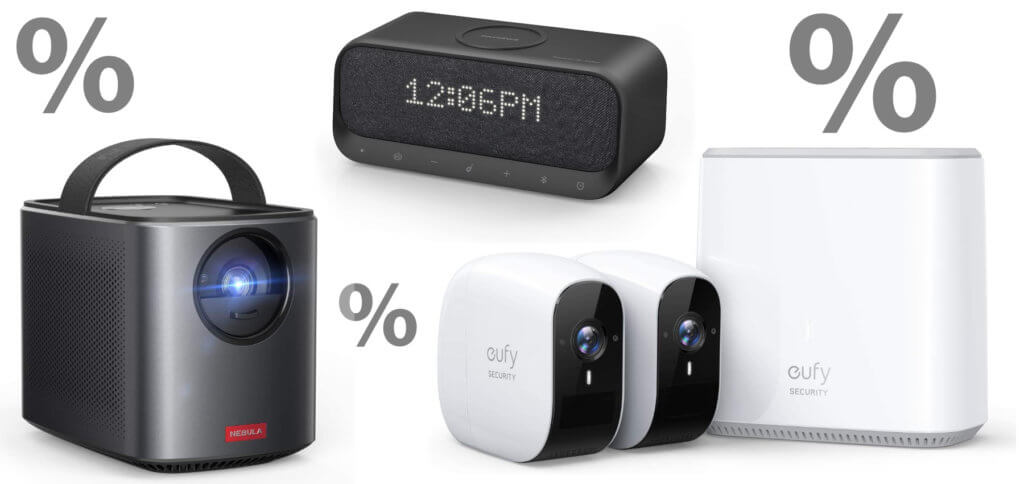 Anchor daily offers on Amazon for Monday, July 20.07.2020th, XNUMX
Only today are the five products listed below cheaper. As mentioned above, the price discount will be displayed and calculated directly on the product page until the end of the day. So you don't have to enter a voucher code during the payment process and you can see directly the value of your shopping cart. The daily specials also include the Soundcore Wakey, a radio alarm clock speaker with a Qi charging area, for which you can find a review here.
Here are the daily offers:
Anchor weekly offers on Amazon until Sunday, July 26.07.2020th, XNUMX
The weekly offers, which are also valid today and also until Sunday, consist of six items. These have also been given a discount directly on the product page so that you do not have to enter any voucher codes or the like. Also included is the Nebula Mars II Pro Beamer, which was made cheaper by 110 euros.
Here are the weekly offers:
Information provided without guarantee; Changes possible
Jens has been running the blog since 2012. He appears as Sir Apfelot for his readers and helps them with problems of a technical nature. In his free time he drives electric unicycles, takes photos (preferably with his iPhone, of course), climbs around in the Hessian mountains or hikes with the family. His articles deal with Apple products, news from the world of drones or solutions for current bugs.