At the start of the new week there are a few new offers from the technology manufacturer Anker. Three of them are only valid on Monday, June 15.06.2020, 21.06.2020. There are further deals until June 8, 1. In addition to several devices for the smart home, there are also two projectors from the Nebula brand. In addition, at the end of the article I have another new Anker product for you: the Anker PowerExpand 100-in-XNUMX USB-C hub for the MacBook, which, in addition to charging the battery with XNUMXW, also enables various devices and cables to be connected.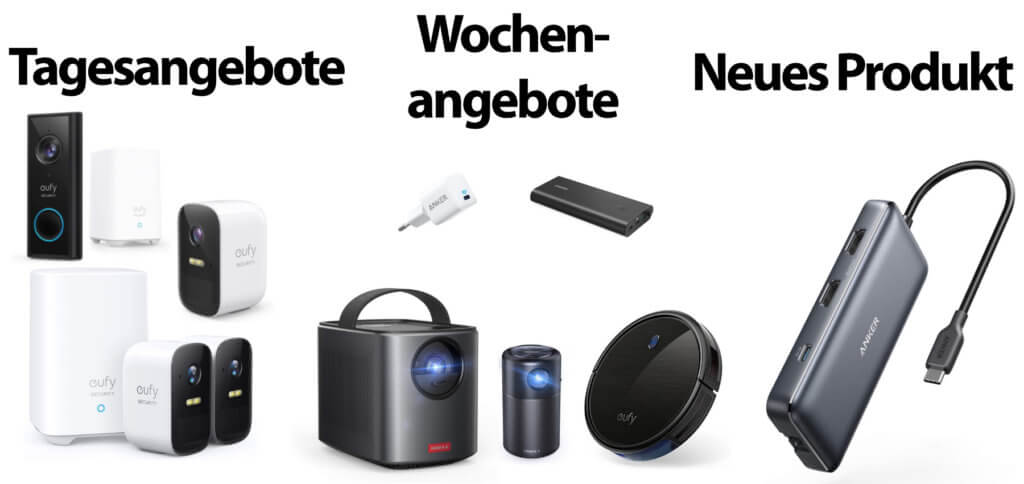 Anker daily offers: discounts on June 15.06.2020, XNUMX
A total of three products are only available today with a discount of up to 25%: the wireless surveillance camera "eufyCam 2", the matching additional camera "eufyCam 2C" and a video doorbell, which is also sold under the eufy brand from Anker . You don't need a discount code for this today; For the Amazon daily offer, the individual discounts are deducted directly from the product pages:
Anchor weekly offers: Discount until June 21.06.2020st, XNUMX
There are a total of five deals that are still valid until Sunday. Including the eufy RoboVac 11S vacuum robot, but also the mini projector "Nebula Capsule" and the also quite compact projector "Nebula Mars II Pro". There is also a power bank with 26.800 mAh and a charger with 18W via USB-C. No discount codes are necessary for these offers either, you can see and take advantage of the lower price directly on the individual Amazon pages:
Anchor innovation: PowerExpand 8-in-1 USB-C Media Hub
You can easily plug this USB-C hub into the appropriate ports with a cable; for example to a Thunderbolt 3 connection on the Apple MacBook (Pro). The ports that are then available to you are: 2 x HDMI, 1 x USB-C, 1 x Ethernet (LAN), 1 x SD card, 1 x microSD card and 2 x USB-A 3.0. In addition to use on an Apple Mac, iMac or MacBook, use on a Windows computer is also possible. For more details, pictures and the option to purchase the new 90g accessory for EUR 45,99, can be found with this link.
Jens has been running the blog since 2012. He appears as Sir Apfelot for his readers and helps them with problems of a technical nature. In his free time he drives electric unicycles, takes photos (preferably with his iPhone, of course), climbs around in the Hessian mountains or hikes with the family. His articles deal with Apple products, news from the world of drones or solutions for current bugs.
The page contains affiliate links / images: Amazon.de