The Nebula Capsule Beverage can format projector from the manufacturer Anchor should offer a high quality pocket cinema for on the go and at home. The device with its own Android system, 360 ° loudspeaker and up to 4 hours of battery life is a delight on Amazon mixed reviews. I looked at this and one and the other test report to give an assessment and a comparison to the Xiaomi Mijia projector I recently tested (Xiaomi TYY01ZM review) to pull. If you can offer an opinion or your own experience with the Anker Nebula Capsule Beamer, please leave a comment!
Update 03.03.2021: Get the Nebula Capsule Max
Anker kindly gave me the Nebula Capsules Max (a larger model than the Nebula Capsule) made available for testing. A real test report is still pending, but I can already tell you: This thing is really great. We regularly have family cinema evenings and you don't even need an external loudspeaker for sound reinforcement, as the little box has impressively good audio.
We are looking at a screen that is about 2 meters wide and the light intensity is more than sufficient. Even if you have a small corner lamp and a fireplace on, the movie experience is hardly spoiled. However, the picture is really good if you make everything nice and dark.
Anker Nebula Capsule Max, mini beamer, pint-sized projector, WiFi, 200 ANSI lumens, 8W...
THE ENTERTAINMENT FOR THE HOME: Nebula Capsule Max with 720p resolution, 200 ANSI lumens and 100 inches transforms your ...
AUTOFOCUS: The projector can be easily repositioned if necessary - with immediate autofocus from any ...
FIRST-CLASS DURABILITY: Treat yourself to a complete film of up to 4 hours in length every day after just one loading process! ...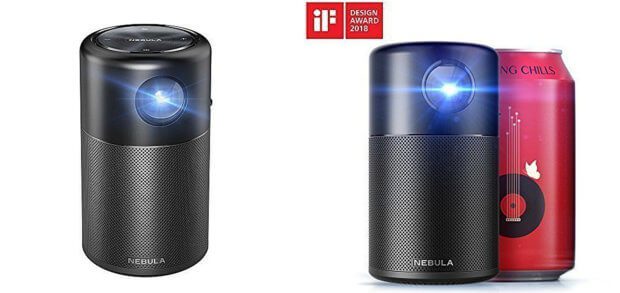 Nebula Capsule data sheet: Technical data of the mini projector
For some, the Nebula Capsule Beamer seems to be the perfect device for films and series in the living room, bedroom, tent, camper and garden - and for others it is at most a nice gimmick. Before I summarize some customer reviews as well as customer questions and answers from Amazon along with a test report and highlight the individual advantages and disadvantages, I would like to present you the technical data of the Nebula Capsule Beamer in a small data sheet:
Dimensions (diameter x height): 6,8 cm x 12 cm
Weight: 420 g
Tripod thread on the bottom

Projection technology: DLP
Screen technology: 0,2 inch FWVGA
Brightness: 100 ANSI lumens (500 standard lumens)
Focus or sharpness setting: manual
Keystone distortion correction up to 40 °: Automatic
Resolution: 854 x 480 pixels
Aspect ratio: 16: 9
Projection size / image size: 40 inches at 1,15 m to 100 inches at 3,08 m
connectivity: HDMI 1.4, Bluetooth, dual band WiFi, micro USB
Hardware, software and performance: Qualcomm 212 Quad Core CPU, Adreno 304 GPU, 1 GB RAM, 8GB ROM, battery with 5.200 mAh / 3,85 V, Android 7.1 derivative, apps from its own app store supported
Use as: projector, bluetooth speaker
Audio formats: AAC, AACv2, MPEG-4, FLAC, MP3, MIDI, WAVE, etc.
Video or codec formats: H.264 BP / MP / HP up to 1080p Full HD, MPEG-4 SP / ASP, DivX, H.263 P0 WVGA, VP8, H.265 MP
Image formats: JPEG, BMP, GIF, PNG, TIF
No mirroring (Bluetooth, AirPlay) of protected content (films, series) via Netflix, Hulu and Co. - the corresponding app must be used directly on the device or the HDMI input
Box contents: Anker Nebula Capsule projector, remote control, user manual (no charger; due to Micro-USB but probably already in the household)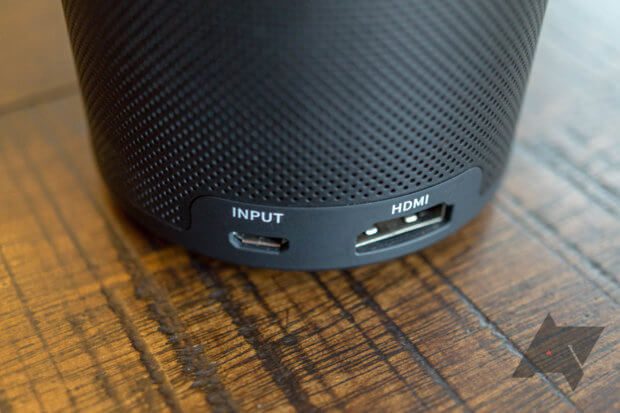 Anker Nebula Capsule Beamer: Opinions from tests / from users
I got a rather extensive Anker Nebula Capsule Review from the author Corbin Davenport androidpolice.com found. There the mini projector for at home and on the go is already referred to in the headline as "The best portable projector" - with reference to the high price. The advantages and disadvantages of the device are also quickly mentioned:
Benefits
Design: feels valuable and is small enough to be taken anywhere
Battery: Four hours of projection on a single charge or up to 30 hours as a Bluetooth speaker
Software: Android 7.1 Nougat with the option of using many apps (Netflix, Android Video, etc.)
Disadvantages
Brightness: Like all mini projectors, the capsule is not very bright and not the ideal choice in daylight
Software: No Google Play Store, and most apps do not work with a TV interface
Price: US $ 349 (at the time of testing) or EUR 499,99 (Amazon Germany) are not little
Image and audio quality
Played media can be fed in with up to 1080p Full HD; via app as well as via HDMI, Bluetooth or as a file on the memory / via USB. However, as already mentioned above, the projection with the Anker Nebula Capsule Beamer only creates 854 x 480 pixels. You have to compromise on performance in terms of the size of the device. However, the individual pictures of the review linked above and on the product page from Amazon show that the picture is quite useful in the dark and with the correct focus setting.
If you are looking for a companion for traveling to watch a film in your motorhome on rainy days, you will certainly not complain about the picture quality. For a high-end home cinema, a larger projector for a similar price is definitely better. I can only recommend the user pictures on Amazon as a reference - some people have really tried to give an impression of their experiences!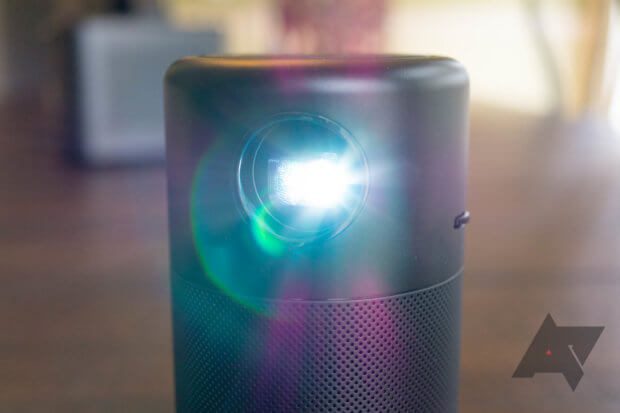 The audio quality, i.e. the sound of the mini projector, is largely praised both in the review and on Amazon. If you use Bluetooth speakers of comparable size for comparison, the Anker Nebula Capsule Beamer can definitely keep up - and at half the maximum volume is already sufficient for a good movie experience. You have to cut back on the bass; the entire lower half of the device serves as a 360 ° speaker.
In the customer reviews on Amazon, the sound is described as useful, good and sufficient. A tip from me: If you connect a MacBook, a PC or a Blu-Ray player via HDMI, for example, you can couple this source with a Bluetooth box or connect a system to get better sound. So you can also realize the audio output directly in front of the projection surface in order to make the film, series or documentary work better;)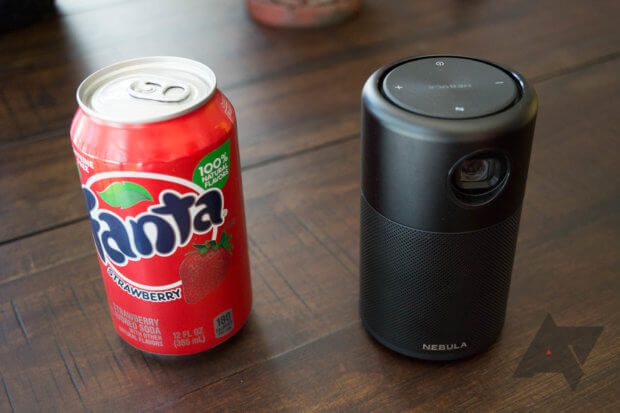 Operating system and app store "Aptoide TV"
The OS is neither a full-fledged Android 7.1 nor an Android TV. It is a modification of the Google operating system, which has its own media player, file manager and an app overview. The App Store is also not the Google App Store, but the Aptoide TV Store, which is designed for TV and projector offers.
But here you get everything from Netflix and YouTube to Hulu and TED to Spotify and Amazon Prime Video, which can each access and stream content directly via the Wi-Fi connection of the Anker Nebula Capsule. According to one user, the VLC player can even be installed. The navigation in the system, in the apps and so on is simplified with the remote control, but is also possible via the app (smartphone as trackpad).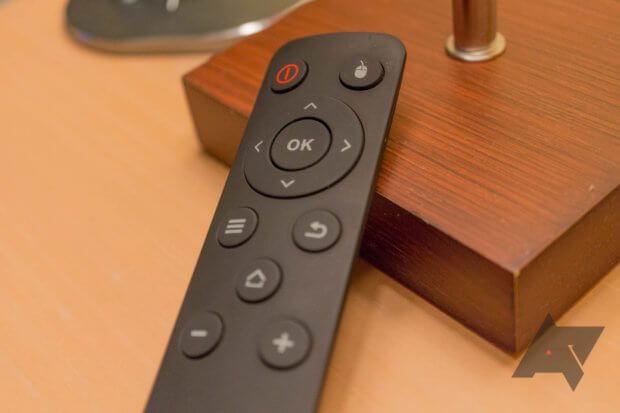 Buy Anker Nebula Capsule (+ accessories)
As an Amazon Prime customer, you can benefit from fast shipping at the world's largest online retailer. If you already like the pocket projector and you like it for movie nights in the dark want to buy, then you can also order the right accessories directly. About a Quick Charge Charger and the one recommended for the use of the device Manfrotto mini tripod.
Mini projector in beverage can design
The Anker Nebula Capsule Mini-Beamer with modified Android 7.1 and its own app store offers streaming options, media players, Bluetooth / AirPlay and an HDMI connection. Projection in daylight is not necessarily recommended, but is possible with some restrictions.
Compared to the Xiaomi TYY01ZM projector
As already mentioned at the beginning and linked to the corresponding test report, I recently took a close look at the Xiaomi TYY01ZM ("Mijia Projector"), which also comes with DLP technology as well as autofocus and manual keystone correction up to 45 °. I would like to briefly compare my experiences from this hands-on as well as the researched knowledge about the Anker Nebula Capsule Beamer in the following:
| | | |
| --- | --- | --- |
| | Anker Nebula Capsules | Xiaomi Mijia projector |
| Size | 6,8 x 6,8 x 12 cm | 21,5 x 11,6 x 21,9 cm |
| Weight | 0,42 kg | 3,4 kg |
| Brightness | 100 ANSI | 800 ANSI |
| Power Supply | Rechargeable battery, micro USB (Quick Charge 2 recommended) | Power supply and socket |
| Image resolution | 854 480 x pixels | 1.920 x 1.080 pixels (Full HD) |
| Image size | up to 100 inches at a distance of around 3 m | up to 150 inches at about 3,66 m away |
| connectivity | HDMI, WiFi, Bluetooth, Micro USB | HDMI, WLAN, Bluetooth, USB-A, jack (audio out) |
| Sound on board | yes, 360 ° audio | yes, 2 x 10W speakers |
| Benefits | Handy, mobile projector with understandable OS, battery and "western" apps for streaming | Reasonably handy, stationary projector with Full HD, bright picture, autofocus and integration into the Xiaomi Smart Home |
| Disadvantages | Weak picture in daylight, no "real" OS and specialized app store, some problems with AirPlay | Chinese OS without a noteworthy App Store and with Mi TV as the only streaming service, latency with AirPlay and console use, picture not "perfect" in daylight |
Conclusion as remote diagnosis
I don't want to allow myself any high-praising recommendation or a devastating criticism as remote diagnosis of the Anker Nebula Capsule Mini-Beamer. After reading extensive reviews and customer ratings on Amazon, this is not possible either - the DLP projector for the pocket and mobile use seems to be quite useful. Only in daylight is it not the best. From dusk as well as in the dark (or in the suspended room / caravan in rainy weather) it also offers good visual entertainment.
Of course, it is too expensive for single use as a Bluetooth speaker. For exclusive use at home, I would also recommend the Xiaomi projector (or a western alternative) from my own experience. If you can offer experience and your own test of the Anker Nebula Capsule Mini-Beamer, please give it as a comment under this post! Recommendations for usable, maybe even cheaper alternatives are welcome;)
After graduating from high school, Johannes completed an apprenticeship as a business assistant specializing in foreign languages. But then he decided to research and write, which resulted in his independence. For several years he has been working for Sir Apfelot, among others. His articles include product introductions, news, manuals, video games, consoles, and more. He follows Apple keynotes live via stream.
The page contains affiliate links / images: Amazon.de