With the Anker 535 USB-C Hub for the Intel and M1 iMac you can equip your Apple computer with additional connections without cable clutter. To do this, you connect the adapter to one of the Thunderbolt ports and clamp it to the housing. This way, you don't have to search for ports on the back of the iMac if you want to use a USB-C port, USB-A ports, or memory card slots. Thanks to USB 3.1 Gen 2, 10 Gbit/s are supported and thanks to SD 4.0 with UHS-II, card content can be transferred at up to 312 MB/s.
Abbreviation: Here you go directly to the accessories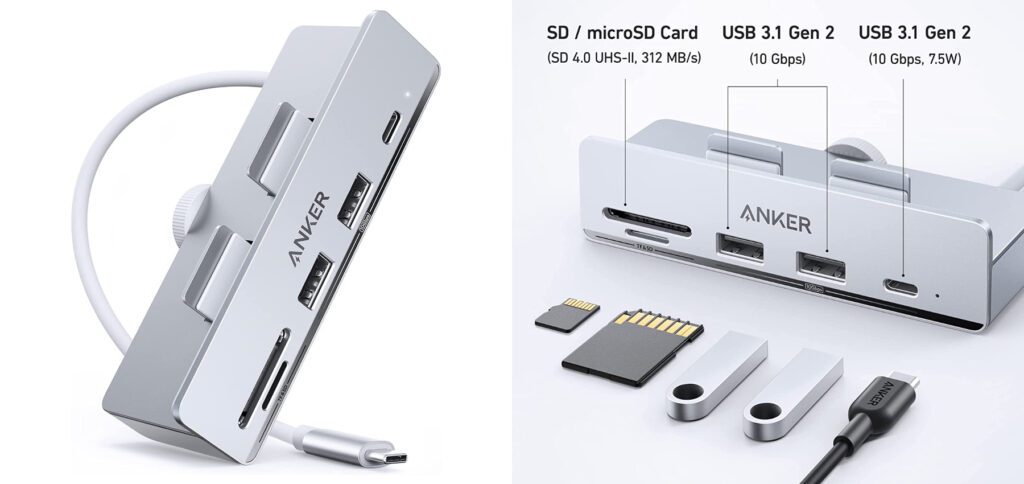 Anker 535 - Thunderbolt hub with USB-C, USB-A, SD and microSD
The Anker 535 Hub is specially made for Apple's iMac and can be used with both the older Intel models (with Thunderbolt connection) and the current M1 model. The different dimensions of the computers are not a problem, because the Anker 535 Thunderbolt Hub can be installed individually using a screw and clamp mechanism. The following five connections are then available on the front:
1 x USB-C with USB 3.1 Gen 2 (10 Gbps; 7,5W power for charging devices)
2 x USB-A with USB 3.1 Gen 2 (10 Gbps; no device charging possible)
1 x SD card reader with SD 4.0 UHS-II and 312 MB/s
1 x microSD card reader with SD 4.0 UHS-II and 312 MB/s
Alternatives and even more connections
Anker isn't the only manufacturer offering USB-C hubs for the Apple iMac. Already in November 2021 I have you a model by Satechi presented. It is intended for the M1 iMac and, in addition to USB-C, SD and microSD, even comes with three USB-A ports - and at a similar price. The same connectors are available for Intel iMacs and the iMac Pro with another accessory from Satechi. This is significantly cheaper. If the connections for peripherals and storage media are not enough for you, then take a look the anchor 563 station at. This offers ten connections, among others HDMI and DisplayPort.
After graduating from high school, Johannes completed an apprenticeship as a business assistant specializing in foreign languages. But then he decided to research and write, which resulted in his independence. For several years he has been working for Sir Apfelot, among others. His articles include product introductions, news, manuals, video games, consoles, and more. He follows Apple keynotes live via stream.
The page contains affiliate links / images: Amazon.de