Anchor 563 docking station can you use your MacBook with Apple Silicon (M1, M1 Pro, M1 Max) extensively. Not only does the 10-in-1 adapter come with several USB-A, one USB-C, one audio and one Ethernet port, but also two HDMI and one DisplayPort socket. Another USB-C port is available for connecting to the laptop and charging its battery. So there are ten ports in total, two of which can be used to charge other devices (iPhone, iPad, AirPods, etc.). But the most exciting thing: up to three monitors with up to 4K resolution can be used.
TL; DR: Here you go directly to the practical accessories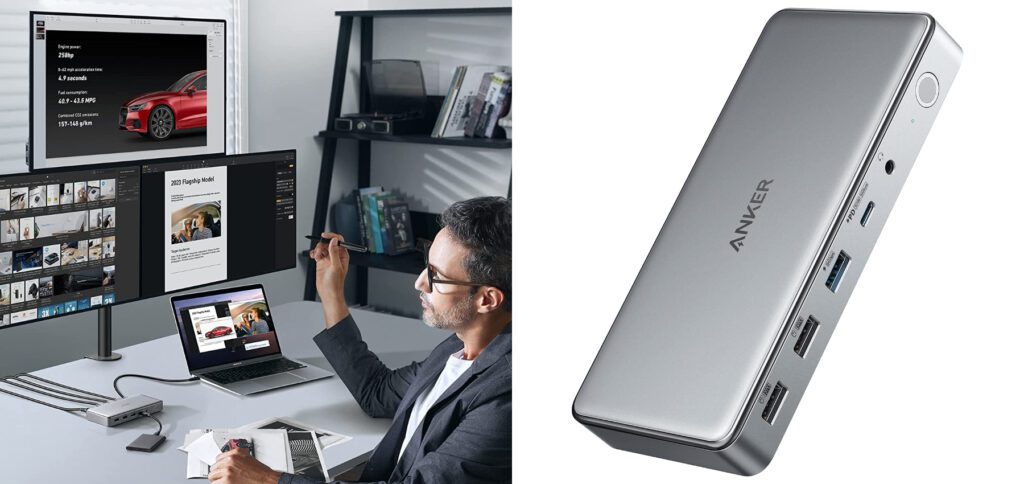 Anker 563 Docking Station Specifications
If you can't figure it out from the introductory paragraph, then that's no problem. Here I have listed all the important technical data of the Anker 563 docking station again. So you can see at a glance whether the accessory is something for you and your Apple MacBook Pro or Apple MacBook Air with M1 chip:
Manufacturer: Anker
Model: 563
Model number: A8395 / A83953A1
Device Type: Adapter Dongle
Connection to the laptop: Thunderbolt 4 with USB-C connection incl. 100W power supply
USB ports: USB-C 3.1 Gen 1 (5 Gbps, 30W PD), USB-A 3.1 Gen 1 (5 Gbps, 7,5W), USB-A 2.0 (480 Mbps, no charging)
Audio connector: 3,5mm jack for audio output and input
Ethernet connection: up to 1 Gbps
Monitor connections: 1x HDMI for 4K, 1x HDMI for 2K and 1x DisplayPort for 2K
Power supply: power supply with 180 watts of power
Scope of delivery: 563 USB-C docking station, 180W power supply, USB-C 3.1 Gen 2 charging cable, user manual, 18-month manufacturer's guarantee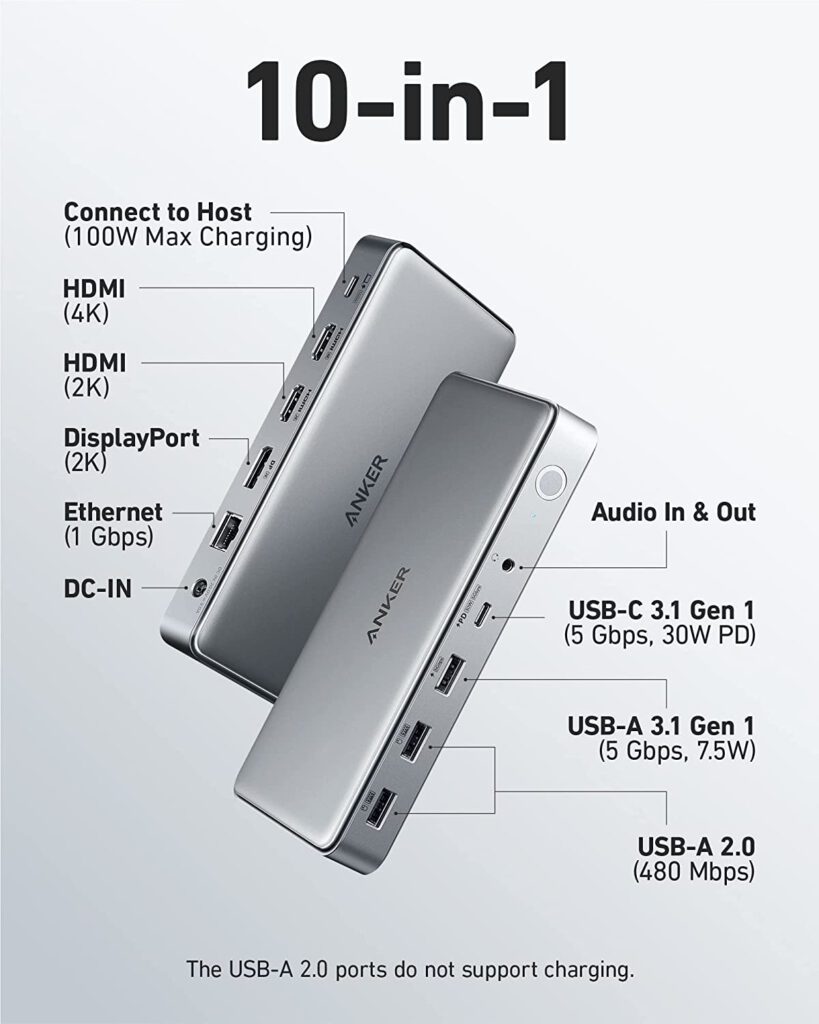 Requirements for using the 10-in-1 adapter
Computers with Thunderbolt 4 ports can make use of this adapter. However, there are a few requirements that must be met so that all connections work as intended. The Anker 563 USB-C station on the Mac can only be used from macOS 10.14 Mojave; but that also includes macOS 10.15 Catalina, 11 Big Sur, and 12 Monterey. Compatibility with Windows 7, 8, 10 and 11 is available on the PC. In order to be able to use the combinations of monitors listed below, the DisplayLink software must also be installed. Details can be found on the Amazon product page as well as on a sticker on the device / in the operating instructions.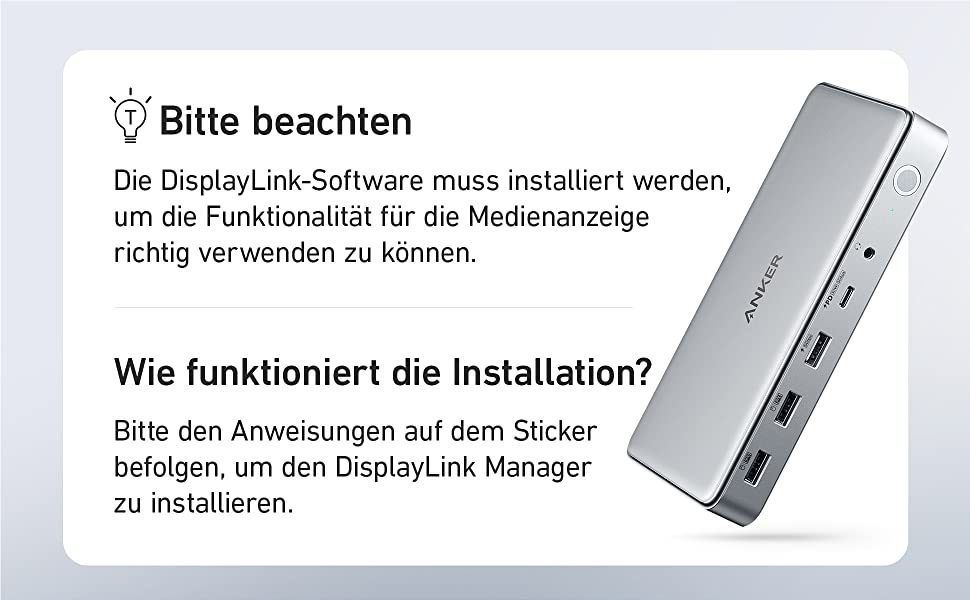 These monitor combinations can be realized
Displays with up to 4K and 30 pixels are supported on the individual connections fps, 2K and 50 fps or 2K and 60 fps. In combination with the display of the Apple laptop, you can use a total of four image outputs at the same time using the Anker 563 USB-C Dock. In the following table you will find the possible combinations of the external screens (according to the manufacturer's information from Anker).
4K HDMI port
2K HDMI port
DisplayPort
1 screen
4K at 30Hz
-
-
-
2K at 50Hz
-
-
-
2K at 60Hz
2 screens
4K at 30Hz
2K at 50Hz
-
4K at 30Hz
-
2K at 60Hz
-
2K at 60Hz
2K at 60Hz
3 screens
4K at 30Hz
2K at 60Hz
2K at 60Hz
What is better: HDMI or DisplayPort?
Buy the Anker 563 USB-C station
You can buy the extensive adapter for storage media, charging accessories, connecting peripherals (mouse, keyboard, printer, etc.), using external displays and charging the MacBook battery from Amazon. The Anker 563 USB-C station currently costs 249,99 euros there. However, over time there may be a price reduction. You can also take advantage of an installment payment if you are not able to make a one-off payment. Further details as well as pictures and data of the product can be found on the relevant Amazon page.
After graduating from high school, Johannes completed an apprenticeship as a business assistant specializing in foreign languages. But then he decided to research and write, which resulted in his independence. For several years he has been working for Sir Apfelot, among others. His articles include product introductions, news, manuals, video games, consoles, and more. He follows Apple keynotes live via stream.
The page contains affiliate links / images: Amazon.de