The software Mac Internet Security X9 Intego has two components: VirusBarrier and NetBarrier. Together, they are designed to protect against viruses and malware on the Apple computer. I have summarized information on installation, use, advantages and more for you in the following. For the test I received a full version of the software from Intego. However, this does not affect my view of the software, of anti-malware in general, nor of the statements in this review.
Note: This article was first published in August 2019, but I added more information as an update in April 2022.
Antivirus on the Mac, when do I need it?
Actually, I am of the opinion that you can use the Apple Mac no antivirus program requiredif you, as a regular user, move sensibly through the web, apps and emails. Incidentally, you can find it on the Intego blog an English-language article, who represents a different point of view on the subject and explains this in a comprehensible way. Accordingly, "normal" users can also catch malware without visiting questionable websites.
If you're concerned about attacks like this, software that detects viruses and malware might not be bad at all. You can also consider the Intego package presented here for (older) users for whom you set up an Apple computer and who you know will click on advertisements, all kinds of links in e-mails, etc. pull.
Intego Mac Internet Security X9
With the combination of the two apps "VirusBarrier" and "NetBarrier", Intego has the package Mac Internet Security X9 created. It is designed to protect against viruses, other types of malware, network attacks and similar threats from the Internet. This should also prevent unknown apps from being smuggled in via malware. A real-time check can be activated to be notified XNUMX/XNUMX when an attack is found. Alternatively, manual scans are also possible. You can choose between a quick scan and a thorough scan. The highlight: iOS, Windows, Linux and Android malware is also detected, so that infected drives can also be cleaned from a PC or smartphone.
VirusBarrier X9 and NetBarrier X9
The VirusBarrier X9 it is the latest Intego antivirus software. It is designed for use on the Mac under macOS, but also detects dangers for Microsoft Windows. This way you can be sure that you don't accidentally pass on data carriers or mail attachments with malware to PC users. In addition to viruses, other malware is also detected.
With NetBarrier X9 The package also includes network protection that protects the Mac from unauthorized access. Unauthorized access via the Internet or via another network is identified and prevented. This should also make the Apple computer more secure; used privately, networked in the company or on the go in mobile use. You can also create white and black lists to always allow certain connections or to block them directly.
What sets Intego apart from other antivirus developers?
I asked Intego what sets them apart from other anti-malware vendors. One of the answers I got was that Intego's software is being developed specifically for macOS on the Apple Mac, and has been for over 20 years. Furthermore, in addition to the consistently well-tested functions against malware, users should also benefit from the following integrated tools:
Washing Machine: A tool for system cleaning and optimization on macOS
Personal Backup: An advanced backup tool for data backup
ContentBarrier: Parental control tools for parents that go beyond Apple's capabilities
Download and prices
A 30-day trial is available for anyone who wants to try Intego's anti-malware suite. This brings all functions and options to the Mac free of charge for one month. Have you already used this option or do you want to buy the full version directly, then you can save 55 euros with a current offer. Mac Internet Security X9 is currently being offered in Intego's "Mac Premium Bundle" for just €29,99 instead of the usual €84,99. Here is the link that will take you to the offer page:
Installation and security settings
Note: The following explanations are from the test report from 2019. Since - as the test 2022 showed - nothing has really changed, I have not made any adjustments.
After the download, of course, the installation follows. The downloaded file opens a window with the selection of various steps: start installation, view the "First Steps" document, read the license agreement or uninstall.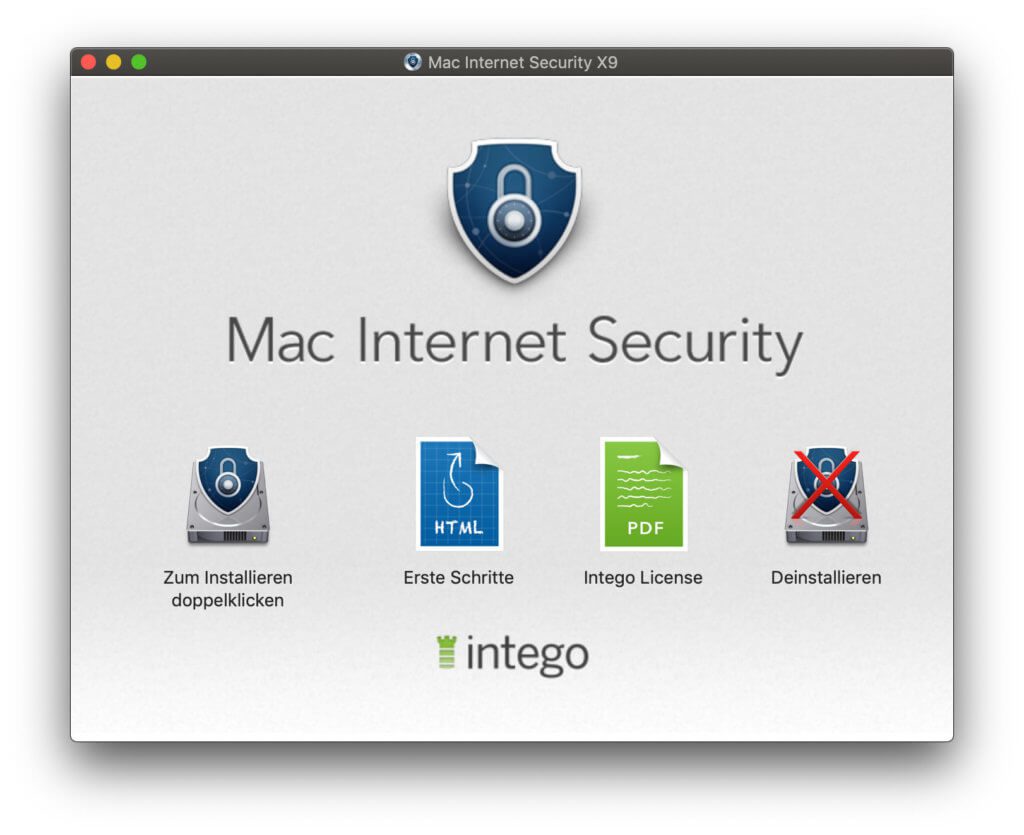 The first option starts the multi-step installation process. Here you will be guided through the license agreement again, you can specify the installation location and type and so on. In the end, the apps described above are then installed as a package on the target drive.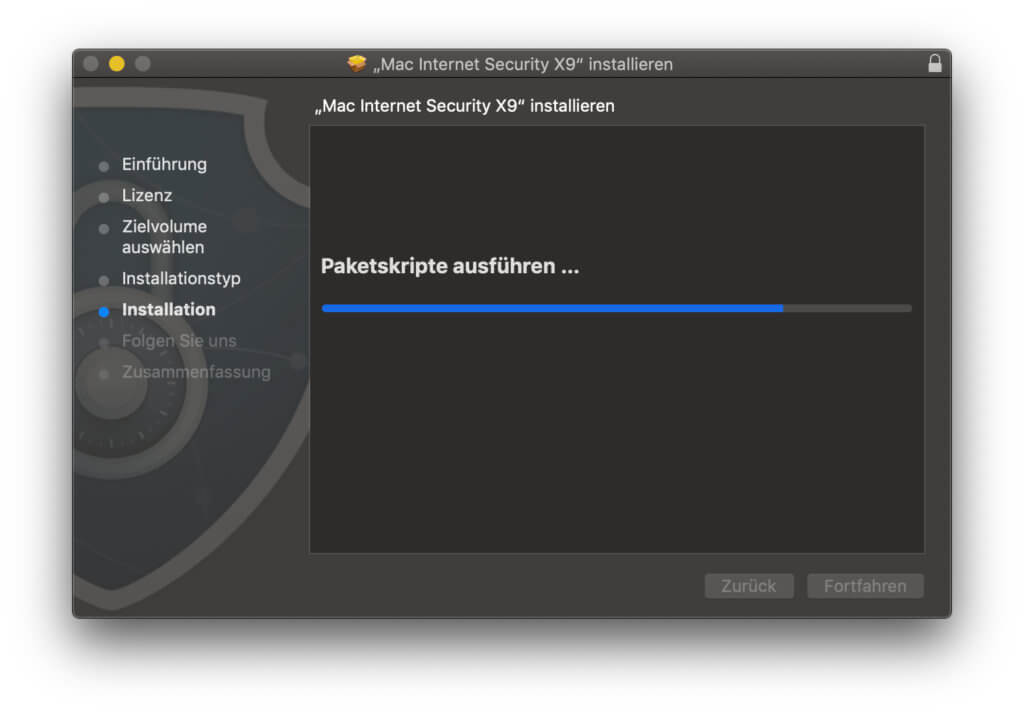 Then the downloading of the "INTEGO" system software and the hard disk access of the apps have to be regulated. In the macOS system settings under "Security" in the "General" tab you will find the "Allow" button after the corresponding message. If this is pressed, the installation is only properly completed.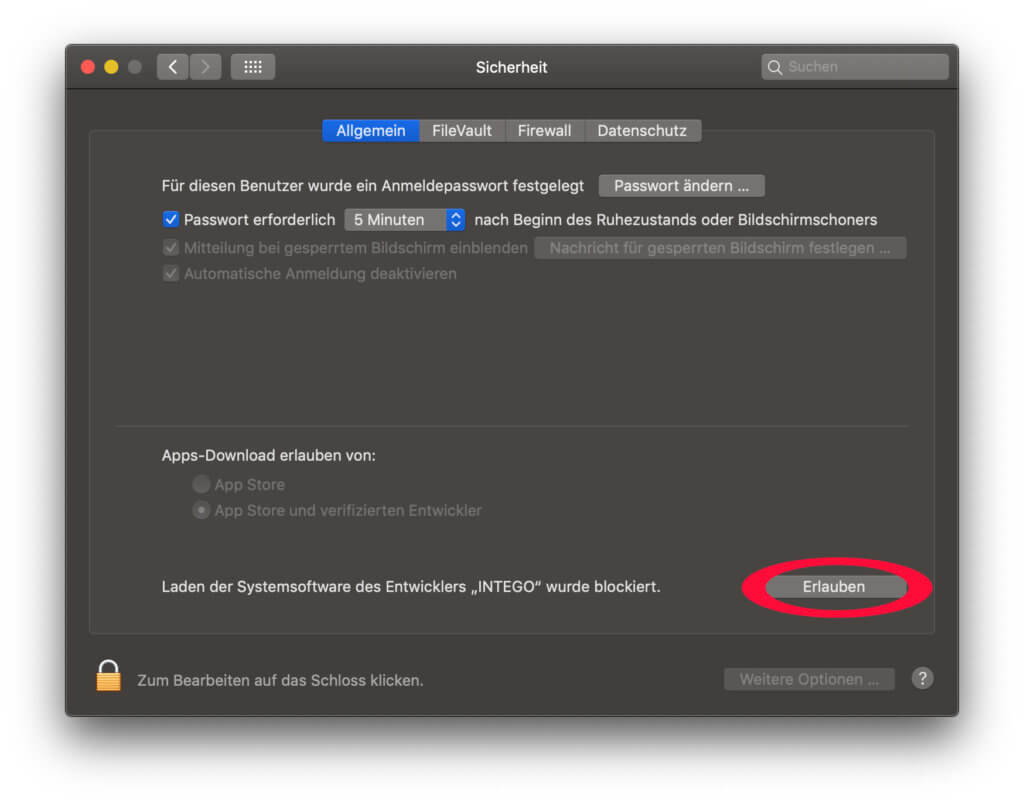 Also in the window mentioned above, but in the "Data Protection" tab, the VirusBarrier app must be added under the "Full hard disk access" menu item. If this is not possible for you right away, first open VirusBarrier (e.g. via the menu bar) and register your purchased version if necessary. A message should then appear automatically indicating that access is required.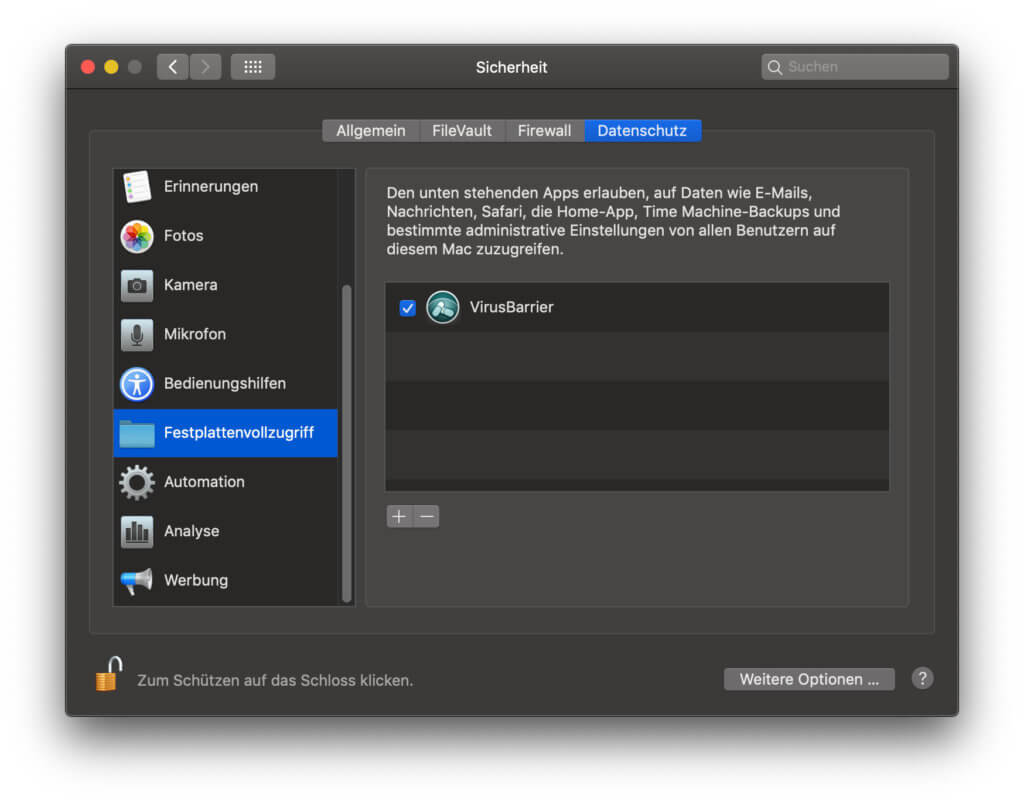 Then there is an overview of the possibilities, functions and options of the software - and everything is up and running.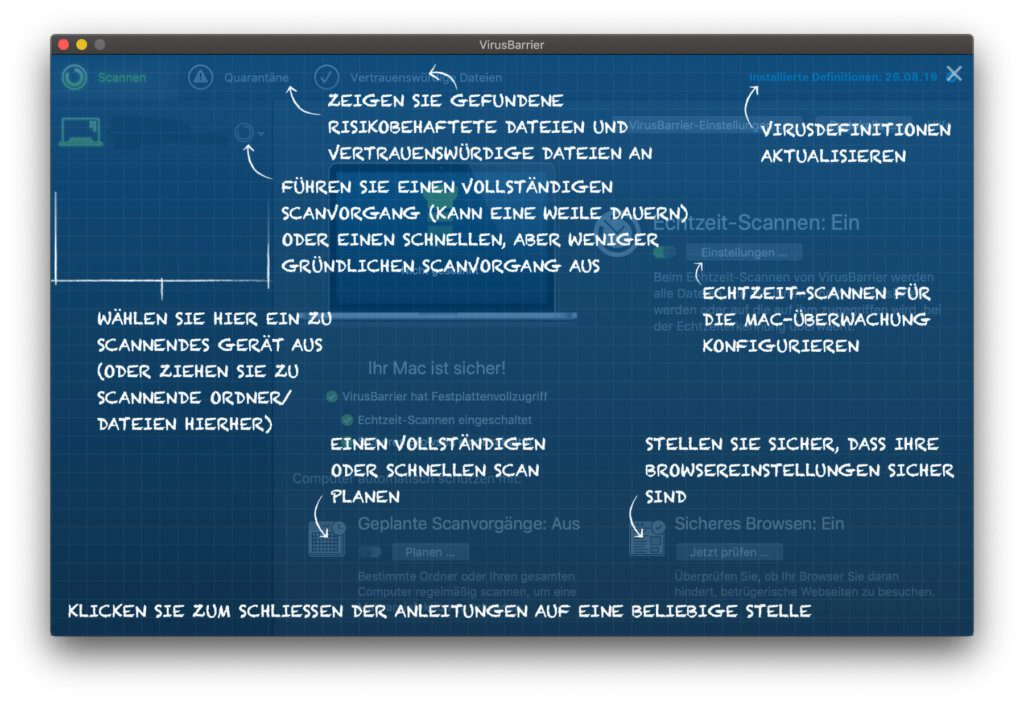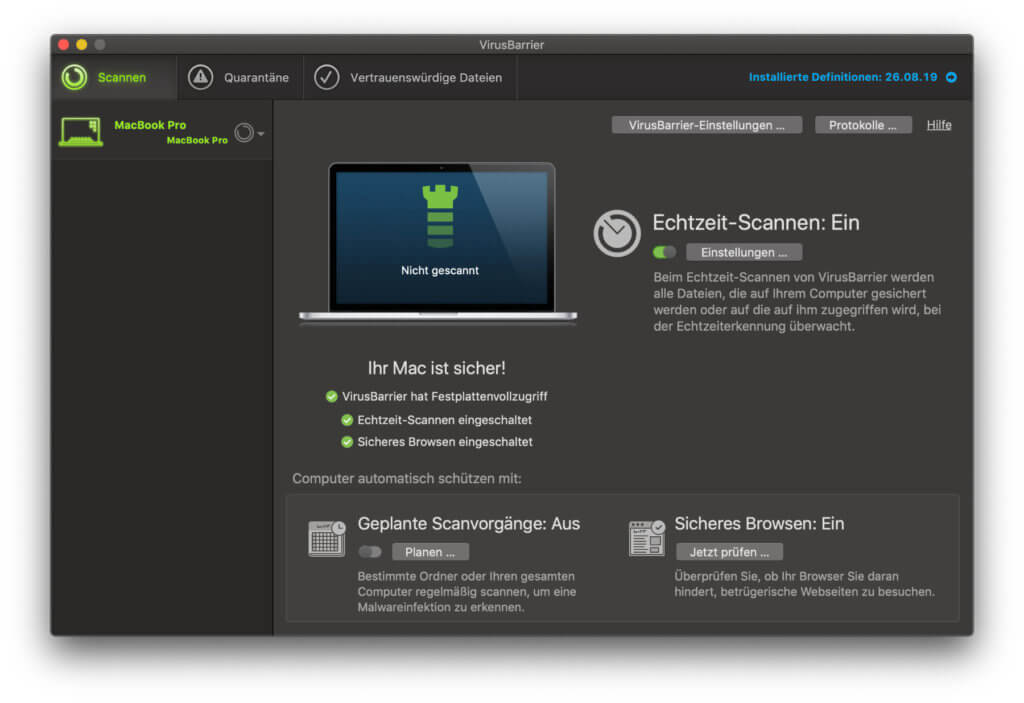 Register software with license key
If you have bought a license key, i.e. a serial number, then simply click on the app symbol (watchtower) in the menu bar and then on VirusBarrier in the drop-down menu (marked with a red dot in unregistered mode). In the window that now opens, enter the user or company name as well as the key or serial number. The scope of protection can then be determined.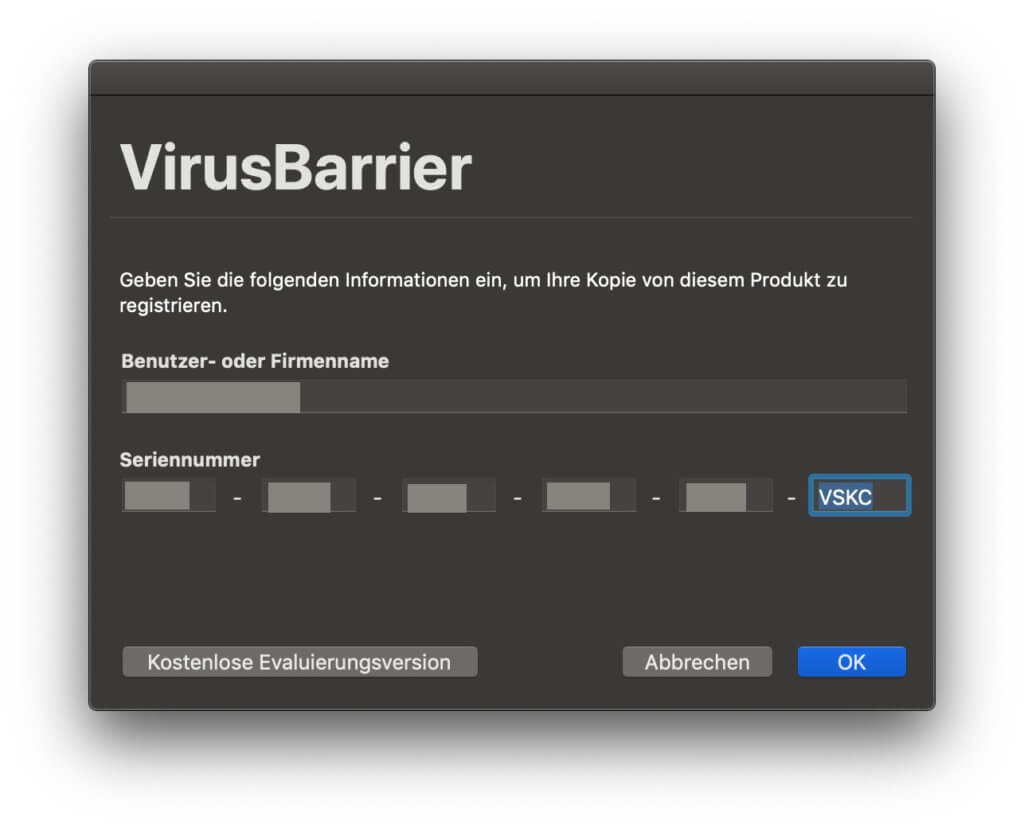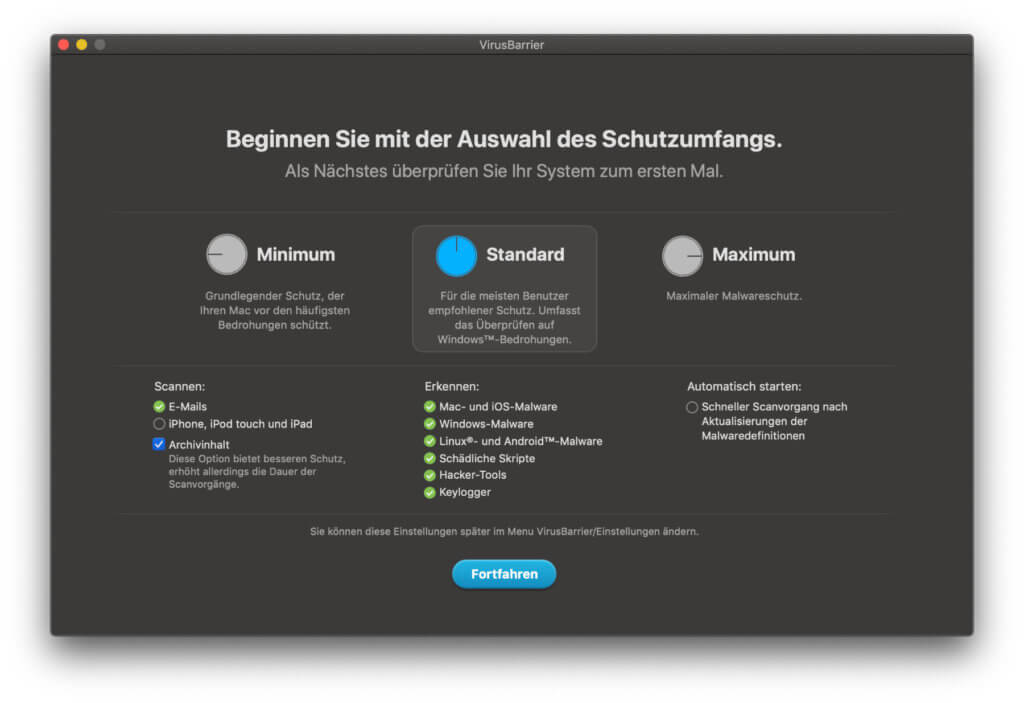 Intego Mac Internet Security X9 - Antivirus for macOS put to the test
My testing of the software so far has shown that download and installation are quite easy and that some security settings have to be made. In addition, I can now say that the tools for Mac security under macOS 10.14 Mojave (new: also macOS 10.15, macOS 11 and macOS 12) run smoothly and do not affect the performance of the computer too negatively. Especially the start of Safari seems slower to me than before. A MacBook Pro from 2012 was used for the test. That's where the Intego Tower sits in the menu bar, looking out.
Of course, for an emergency test, I don't let it depend on it and don't rummage through download portals, the Darknet or the attachments of spam emails. I cannot take the risk of a malware infection to test protection software with this computer. But there are test reports that I refer to or that I can link to. For example at AV Test an overviewshowing that there may be a slowdown in some apps. In return, the scanning performance was rated quite well.
In addition, of course, Intego itself also points out that their software is great. In some cases, it is said to be even better than Apple's integrated XProtect in macOS. At least in terms of the OSX / Linker case. This malware, which is described as "Zero-Day Gatekeeper Bypass", was detected by Intego even before XProtect: Blog post in English. The following overview can also be found on the provider website: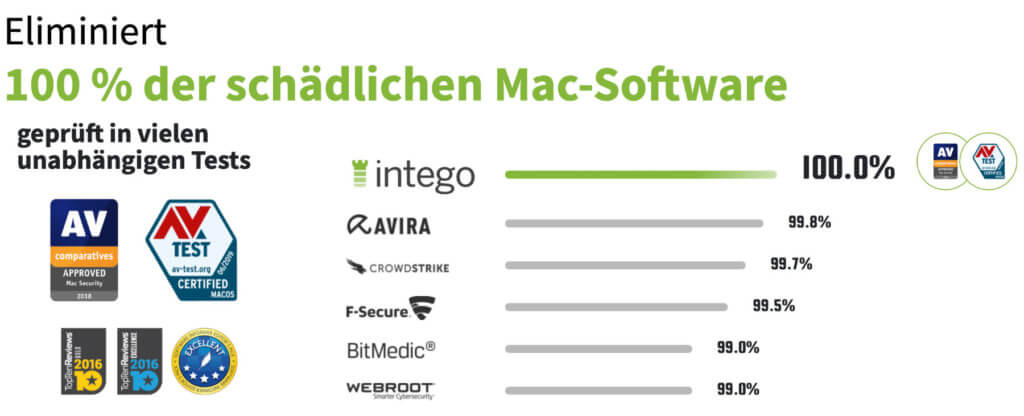 Summary of the AV software for macOS
With the Intego package Mac Internet Security X9 At the current promotional price you get a cheap 2-in-1 solution for macOS on the Apple Mac. In addition to viruses and other malware, network attacks or attempted third-party access in the network are detected and blocked. With a permanent real-time scan it can happen that the start and performance of individual apps slow down. A little tip: the world won't end if you deactivate the real-time scan when running several or hungry apps (go directly via the menu bar menu of the software). After the work is done, you can scan manually;)
Jens has been running the blog since 2012. He appears as Sir Apfelot for his readers and helps them with problems of a technical nature. In his free time he drives electric unicycles, takes photos (preferably with his iPhone, of course), climbs around in the Hessian mountains or hikes with the family. His articles deal with Apple products, news from the world of drones or solutions for current bugs.