Not only is Apple's self-imposed deadline for switching the entire Mac portfolio to "Apple Silicon" chips this year approaching. New iPhone and Apple Watch models are also expected. Furthermore, one or two devices that have not yet been offered could come onto the market. Mark Gurman from Bloomberg recently shared relevant information about Apple's device plans for 2022 in a newsletter. We won't know what's going on in detail until after the last keynotes in October or November. But below are the rumours.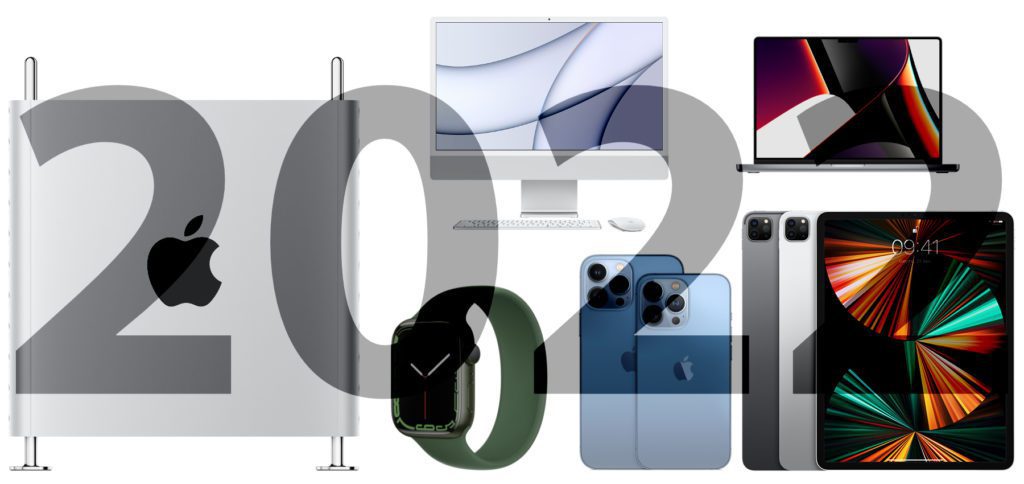 Five iPhone models in 2022
The iPhone SE of the 3rd generation could make the start in terms of mobile communications this year. I have summarized everything that should already be known about this for you here: Apple iPhone SE 3 - Everything We Know So Far. The budget model of the iPhone equipped with 5G should come with a 4,7-inch display and a home button. The A15 Bionic chip is supposed to provide more computing power than its predecessor, and up to 256 GB of memory should offer space for photos, videos, music, multimedia, contacts, documents and more. The iPhone 14 is supposed to come out in autumn – but without the mini model. The four variants would therefore be: iPhone 14, iPhone 14 Max, iPhone 14 Pro and iPhone 14 Pro Max.
Three models of the Apple Watch in 2022
With regard to the Smartwatch from Cupertino, there should also be a larger selection this year. Because in addition to the Apple Watch Series 8, an Apple Watch SE and an Apple Watch Rugged should also be released in 2022. The latter should be particularly robust and aimed at athletes, mountaineers and climbers, among others. It could also find favor in other demanding areas of application - seafaring, crafts, etc. Either for all or only for the main model of the new Apple Watches, i.e. the Series 8, we could also see a new design this year. But there were rumors like that about the Series 7 last year.
MacBook Air, MacBook Pro, Mac mini, Mac Pro, iMac, etc.
As mentioned at the beginning, with the presentation of its own SoC models (currently M1, M1 Pro and Max M1) announced that the Mac product range would be completely converted to these chips within two years. At the end of this year, several rumors about new models of MacBook Air, MacBook Pro, Mac mini, Mac Pro, iMac and Co. are coming up. There are also rumors here and there about an M2 chip. According to Summary According to Mark Gurman's predictions at MacRumors, the following Macs could be coming out this year:
Low-end MacBook Pro
Redesigned MacBook Air
Redesigned iMac with a larger screen
Possibly new Mac mini with M1 Pro chip
Mac Pro with Apple's own chip in a larger version than before
iPad, iPad Pro, AirPods Pro 2, AR/VR Headset and more
As part of various keynotes, from March or April to WWDC22 in June to the traditional September event and the additional keynotes in October and/or November, other new Apple devices could also be presented. For example, a new iPad Pro with an M2 chip and wireless charging function would be possible. Other iPad models could also come out revised. We could also see the 2nd generation AirPods Pro and maybe even the AR/VR headset that has been rumored for a long time. However, some sources say it has been pushed back to 2023. In addition, there is still a soundbar with Apple TV.
After graduating from high school, Johannes completed an apprenticeship as a business assistant specializing in foreign languages. But then he decided to research and write, which resulted in his independence. For several years he has been working for Sir Apfelot, among others. His articles include product introductions, news, manuals, video games, consoles, and more. He follows Apple keynotes live via stream.