Recently I reported on in-ear headphones from Cupertino based on rumors and a patent, now they really exist: Apple AirPods Pro. The earplugs with Active Noise Canceling (ANC) were released yesterday by Apple and placed in the shop for a price of € 279. What you can expect for the price and what is so "Pro" about the new AirPods, I have summarized for you in this article.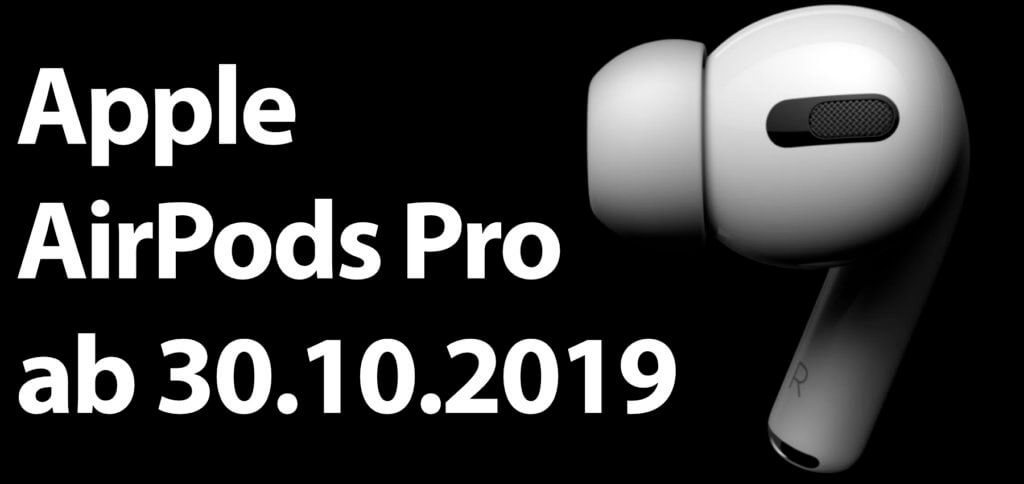 AirPods Pro - This is what magic sounds like
With the words "This is how magic sounds", Apple presented the new AirPods Pro in an email to existing customers yesterday. The new wireless headphones with in-ear function and ANC should offer over 24 hours of running time (when using the charging case) and come with three attachments for an individual fit. The AirPods Pro are also protected from sweat and water, so they can function as sports headphones. Due to the new design, the charging case is wider than that of the previous AirPods; But that helps a lot to differentiate between corresponding offers;)
https://www.youtube.com/watch?v=IC9urbiVp4M
Buy new in-ear headphones from October 30th
From October 30, 2019, the Apple AirPods Pro will also be available in stores so that you can see, try and buy them there. Incidentally, you can secure personalization via the online store – your name, your initials and/or your telephone number will be engraved. Delivery dates are as of November 6, 2019 (as of October 29, 2019). In addition to the earplugs and the charging case, the scope of delivery also includes the three silicone tips, a LightningUSB-C cable and documentation (quick guide) included.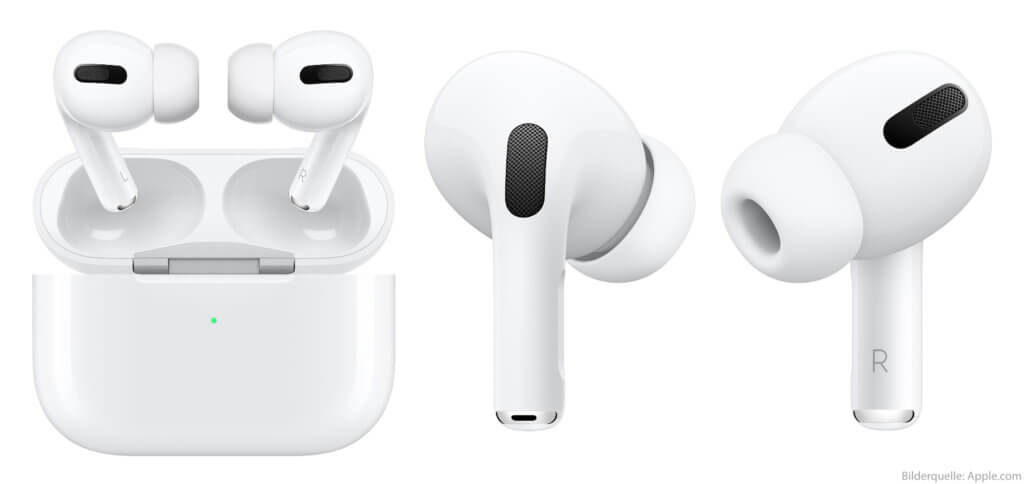 Apple AirPods Pro specifications
Active noise suppression is used to block out ambient noise so that you can concentrate completely on music, audio books, podcasts, etc. However, there is also a transparency mode with which you can hear the surroundings ad hoc - so you don't have to take out the earplugs if you have to go quickly. I have listed further technical data of the Apple AirPods Pro below:
Dimensions per AirPod (H x W): 30,9 x 21,8 mm
Weight per AirPod: 5,4 g
Dimensions charging case (H x W x D): 45,2 x 60,6 x 21,7 mm
Weight of charging case: 45,6 g
Chip: System-in-Package (SiP) based on the Apple H1 chip
Connectivity: Bluetooth 5.0
Charging technologies: Lightning connection or wireless via Qi technology
Audio technology: Active noise cancellation, transparency mode, adaptive EQ, ventilation for pressure equalization, special high-excursion Apple woofer, special amplifier with large dynamic range
Sensors: Two Beamforming Microphones, Inward-facing Microphone, Two Optical Sensors, Accelerometer with Motion Detection, Accelerometer with Speech Recognition, Pressure Sensor
Operation: 1 x press = play, pause, call acceptance; Press twice = next track; Press 2 times = previous track; Hold down = switch between ANC and transparency mode; "Hey Siri" for music selection, calls and directions
Degree of protection: IPX4 for protection against sweat and water (no submersion!)
Battery life: up to 4,5 hours of playback or up to 5 hours without ANC; up to 3,5 hours of telephony
Total running time with case usage: Over 24 hours of music playback; over 18 hours of telephony
Charging time in the case: charge for 5 minutes = approx. 1 hour of use
Compatibility iPhone: 11, 11 Pro, 11 Pro Max, Xs, Xs Max, XR, X, 8, 8 Plus, 7, 7 Plus, 6s, 6s Plus, SE
Compatibility iPod: iPod Touch 7th generation
Compatibility iPad: 12,9 ″ iPad Pro 1st, 2nd and 3rd generation; 11 ″ iPad Pro; 10,5 ″ iPad Pro; 9,7 ″ iPad Pro; iPad 7th, 6th, 5th generation; iPad Air 3rd generation; iPad Air 2, iPad mini 5th generation; iPad mini 4
Compatibility Apple Watch: Series 5, 4, 3, 2, 1
Compatibility Apple TV: Apple TV 4K, Apple TV HD
Compatibility Mac: MacBook 12 ″ Retina 2015-2017; MacBook Air 11 ″ 2012-2015 / 13 ″ 2012-2017 / 13 ″ Retina 2018 & 2019; MacBook Pro 13 "Retina 2012-2015 / 15" Retina 2012-2015 / 15 "2012-2019; iMac 21,5 "2012-2017 / 27" 2012-2013 / 21,5 "Retina 4K 2015-2019 / 27" Retina 5K 2014-2019; iMac Pro 2017; Mac mini 2012-2018; Mac Pro 2013-2019
Source: Apple
Your opinion on the Apple AirPods Pro
What do you think of Apple's new in-ear headphones with active noise cancellation, button operation like on the EarPods cable and ventilation or pressure compensation? Is it THE update for you that the earplug industry needed? Or do you give yourself to everyday life, sport and music enjoyment on the go with cheaper offers like the EasyAcc X100 satisfied? Feel free to leave a comment on the topic;)
Jens has been running the blog since 2012. He appears as Sir Apfelot for his readers and helps them with problems of a technical nature. In his free time he drives electric unicycles, takes photos (preferably with his iPhone, of course), climbs around in the Hessian mountains or hikes with the family. His articles deal with Apple products, news from the world of drones or solutions for current bugs.