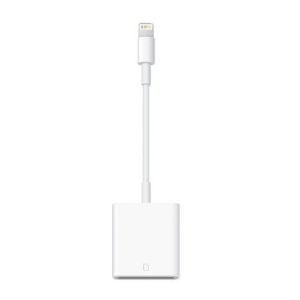 An article in the [Macwelt-> macwelt] made me aware of an interesting adapter today. It's a cable that has a Lightning connector on one side and a slot for an SD card on the other. With this you can, for example, import photos taken on the go directly from the SD card into your iPad mini, iPad or iPhone. With older models of iOS devices, the [Apple Camera Connection Kit-> camera-connection-kit] can be used to connect the [digital camera-> digital camera] directly to the dock connector of the iPad or iPhone via USB.
The SD card reader to Lightning cable from Apple perhaps makes things a little more flexible because you don't have to take an additional USB cable with you and you don't have to depend on the camera connection. I think the SD card adapter is a useful addition to a photographer's equipment if he wants to quickly look at his photos on the iPad while on the move or if, for example, he is backing up his photos from the [SD card-> SD card] would like to have space again.
Jens has been running the blog since 2012. He appears as Sir Apfelot for his readers and helps them with problems of a technical nature. In his free time he drives electric unicycles, takes photos (preferably with his iPhone, of course), climbs around in the Hessian mountains or hikes with the family. His articles deal with Apple products, news from the world of drones or solutions for current bugs.
The page contains affiliate links / images: Amazon.de