During WWDC22 keynote In addition to new operating systems, not only the new Apple silicon generation called M2 was presented, but also the new one MacBook Air with M2. It is the first MacBook Air with a notch. In addition to two Thunderbolt connections, it also has a "MagSafe 3" connection for the power supply and a headphone connection (3,5 mm jack). In this post you will find more technical data of the new MacBook Air with M2, pictures of the laptop as well as the prices depending on the configuration - there are different options for the SoC, the hard disk space, the working memory and the power supply.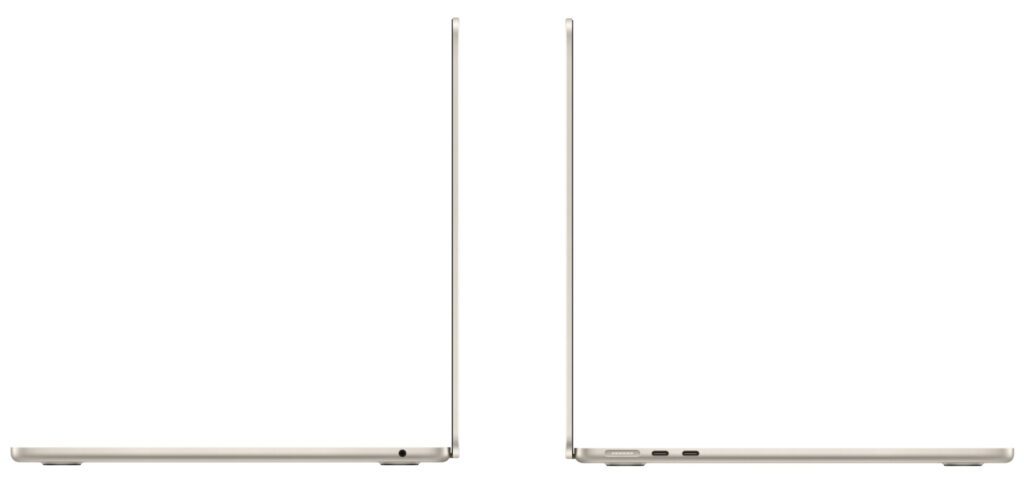 MacBook Air with M2 (mid 2022) Specifications
The choice of 8 GB to 24 GB of RAM or 256 GB to 2 TB of hard disk space is not enough. The new Apple MacBook Air with M2 chip offers many other specifications that can be incorporated into the purchase decision. Therefore, you will find an overview of the most important technical data of the laptop here:
Manufacturer: Apple
Model: MacBook Air, mid 2022
Device type: laptop
Dimensions (H x W x D): 1,13 cm x 30,41 cm x 21,5 cm
Weight: 1,24 kg (may vary depending on the equipment)
Screen diagonal: 13,6 inches (34,46 cm)
Screen resolution: 2.560 x 1.664 pixels at 224 ppi
System on chip: M2
M1 processor (CPU): 8 ‑ core CPU with 4 performance cores and 4 efficiency cores
M1 graphics processor (GPU): 8-core GPU or 10-core GPU
RAM: 8 GB, 16 GB or 24 GB
Internal SSD storage: 256 GB, 512 GB, 1 TB or 2 TB
Operating system: macOS 12 Monterey
Connections: 2 x Thunderbolt with USB 4 (up to 40 GBit/s), 1 x 3,5 mm jack for headphones, 1 x MagSafe 3 for power supply or for charging the battery
Wireless technology: Bluetooth 5.0 and 802.11ax WLAN 6, which is compatible with with IEEE 802.11a / b / g / n / ac
Battery: Lithium polymer battery with 52,6 watt hours
Battery life: up to 15 hours of WLAN surfing or up to 18 hours of video playback in the Apple TV app
Other: 1080p FaceTime camera, support for an external display with up to 6K and 60 Hz, four speakers, three microphones, Touch ID sensor
Colors: Silver, North Star, Space Gray, Midnight
Scope of delivery: MacBook Air, USB-C to MagSafe 3 charging cable, 30W USB-C charger or 35W / 67W dual USB-C charger (details below)
Comparison: MacBook Air with M1 (2020) and MacBook Air with M2 (2022)
Below you will find a comparison of some points that differ between the two 13-inch models of the Apple MacBook Air from 2020 and 2022 can be compared well. You can currently still buy the M1 model. The M2 model can also be ordered from July. It is not yet clear how long both will be sold in parallel.
MacBook Air with M1 (2020)
MacBook Air with M2 (2022)
Size:
1,61 cm x 30,41 cm x 21,24 cm
1,13 cm x 30,41 cm x 21,5 cm
Weight
1,29 kg
1,24 kg
Display diagonal
13,3 inch
13,6 inch
Processor (CPU)
8 cores
Graphics processor (GPU)
7 or 8 cores
8 or 10 cores
Shared Storage
8 GB or 16 GB
8 GB, 16 GB or 24 GB
SSD storage
256GB, 512GB, 1TB or 2TB
FaceTime Camera
720p HD
1080p Full HD
Audio equipment
3 microphones, stereo speakers
3 microphones, 4 speakers with 3D audio
Price
from € 1.199
from € 1.499
MacBook Air mid 2022 – Prices depending on equipment
The pricing of Apple devices depends heavily on the equipment selected. In the case of MacBook models, this now includes the number of cores in the graphics unit of the M chip, the size of the main memory and the size of the SSD memory (hard drive). Below you will find an overview of the individual configurations and their prices. You can order the new Apple MacBook Air with M2 from July 2022.
M2 chip
random access memory
SSD storage
Price
8 GPU cores
8 GB
256 GB
1.499 €
512 GB
1.729 €
1 TB
1.959 €
2 TB
2.419 €
16 GB
256 GB
1.729 €
512 GB
1.959 €
1 TB
2.189 €
2 TB
2.649 €
24 GB
256 GB
1.959 €
512 GB
2.189 €
1 TB
2.419 €
2 TB
2.879 €
10 GPU cores
8 GB
256 GB
1.619 €
512 GB
1.849 €
1 TB
2.079 €
2 TB
2.539 €
16 GB
256 GB
1.849 €
512 GB
2.079 €
1 TB
2.309 €
2 TB
2.769 €
24 GB
256 GB
2.079 €
512 GB
2.309 €
1 TB
2.539 €
2 TB
2.999 €
Another price factor: Charger with 30W, 35W or 67W
Apple offers three different power adapters for the MacBook Air with M2 chip. The 30W model comes standard with models with 256GB of SSD storage. If you want the smallest internal memory, but a charger with 35W or 67W (the latter allows you to use the fast charging function), you will have to pay 20 euros each. A MacBook Air with M2 with a memory size of 512 GB or more includes a 35W or 67W charger. By default, the 35W model is selected. If you want the one with 67W, you have to choose it yourself. A surcharge will not be charged.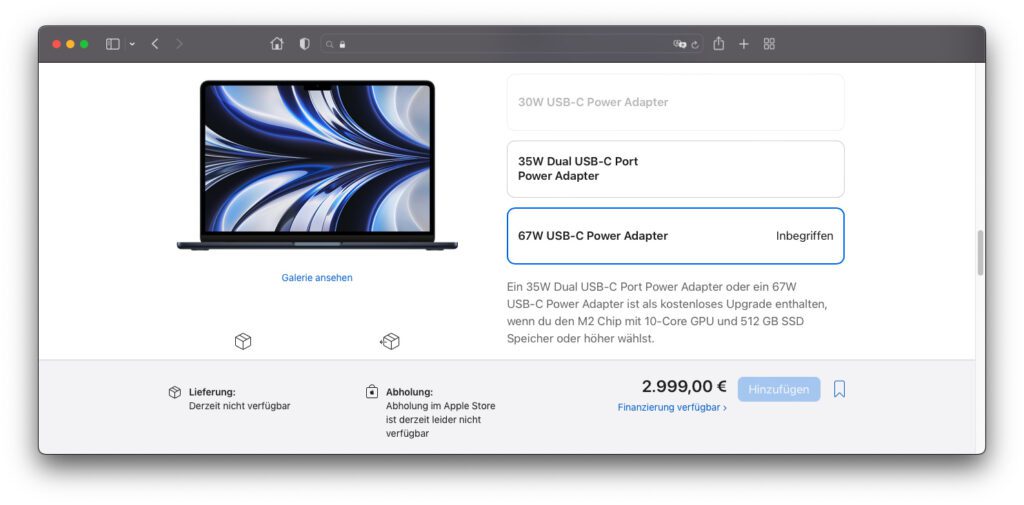 Pre-installed software: Final Cut Pro and/or Logic Pro
You can drive the price even further up if you have the professional applications for video editing (Final Cut Pro) and music production (Logic Pro) preinstalled. At EUR 299,99 and EUR 199,99 respectively, the two apps add up to quite a bit. If you buy the best-equipped laptop model (10 core GPU, 24 GB RAM, 2 TB SSD) with both programs, then the fun costs 3.498,98 euros directly. You can read here whether the named Apple apps are something for you and how you find the 90-day trial versions:
After graduating from high school, Johannes completed an apprenticeship as a business assistant specializing in foreign languages. But then he decided to research and write, which resulted in his independence. For several years he has been working for Sir Apfelot, among others. His articles include product introductions, news, manuals, video games, consoles, and more. He follows Apple keynotes live via stream.