As announced at WWDC 2015, the "Apple Music" streaming service started today (30.06.2015/17/8.4) worldwide. Shortly before XNUMX p.m. there was the update for iOS to version XNUMX in which the "Apple Music" service is then integrated. As an interested Apple nerd, I of course had to carry out the update promptly in order to be able to test Apple Music (thanks Thomas for pointing this out!).
After downloading and installing the update, which is just over 200 megabytes in size, you can immerse yourself in the world of Apple Music. However, before you can test the music streaming here, you need to take a few short steps to set it up, which I would like to briefly explain below ...
How to start the Apple Music trial subscription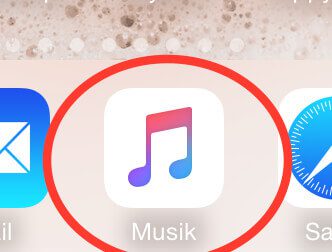 If you have installed the update, you will find a musicApp with a new icon. Click on this to start the trial subscription...
First of all comes the Music app home screen and a notice that audiobooks have been moved to iBooks.
After this hint you have to decide what type of subscription you would like to book in the future: Family subscription (€ 14,99 for up to 6 people) or individual (€ 9,99). I chose the individual here.
"Why do I have to pay for a trial subscription?!?" - that is probably the first question most people ask themselves at this point. I think this "purchase" is necessary so that Apple can present a legally secure purchase to collect the money after the trial period expires. In practice, of course, you don't pay anything in the first few months, even if you confirm it now. (If you don't like the automatic renewal with a paid booking, you can deactivate the automatic renewal immediately after completing the trial subscription - see instructions below.)
Now that this has also been done, it works to the presets so that Apple Music knows which music suits you best and appropriate music suggestions can be made. For this, red balls appear, as one or the other already knows from the Apple Watch. Here you determine the genres of music that you like the most by tapping on it and then you do the same game with some artists.
After all of this is done and you have clicked on "continue" above, you should on the page "For you" you will find suitable music recommendations appear. It worked out pretty well for me!
At the bottom of the app window you can find self-explanatory symbols through the continue browsing Apple Music can.
Switch off automatic renewal of the Apple Music subscription
I'm not a big fan of automatic renewals on trial subscriptions. For this reason, I deactivated the automatic behind it. If I don't do anything after 3 months, the trial period will expire and I will no longer have access to Apple Music. If I then notice that I am "missing" something, then I can still book the streaming service.
Here is a little guide on how to deactivate the automatic subscription on the iPhone or iPad (under iOS of course!):
goes to the App Store app
right there on the start page you scroll down sooooooooooooo much, where you can find a button with the email of your Apple ID under "Everything at a glance"; there you click on it and enter your password
On the following page, under the item "SUBSCRIPTION", there is the "Manage" button - please click on it too
Now you get to the overview, where your existing or canceled subscriptions are listed; underneath you deactivate the option "Extend automatically" with the slider and confirm with "Done" at the top right
Have fun and don't forget: If you don't like Apple Music - deselect the "automatic renewal" option in good time! ;-)
I'm then "listening to the test stream" ...
Jens has been running the blog since 2012. He appears as Sir Apfelot for his readers and helps them with problems of a technical nature. In his free time he drives electric unicycles, takes photos (preferably with his iPhone, of course), climbs around in the Hessian mountains or hikes with the family. His articles deal with Apple products, news from the world of drones or solutions for current bugs.