On October 13th, 2020, Apple held an event to introduce the new iPhone range and the HomePod mini. It was not about other products, but very much about the new 5G cellular standard and its importance for the iPhone and its functions. The new photo and video options that result from the four cameras and the LiDAR scanner in the Pro models of the new iPhones were also highlighted. There are a total of four new Apple smartphones: iPhone 12, iPhone 12 mini, iPhone 12 Pro and iPhone 12 Pro Max. In the following you will find details on all innovations.
Apple HomePod mini officially launched
The new Apple HomePod mini is a small, spherical speaker with a height of 8,4 cm and 360 ° sound. It comes in either white or space gray and works as a stereo system when two devices are combined. The new HomePod mini from Apple not only offers a cheaper version of the Siri loudspeaker (price is currently 96,50 euros), but also introduces new functions.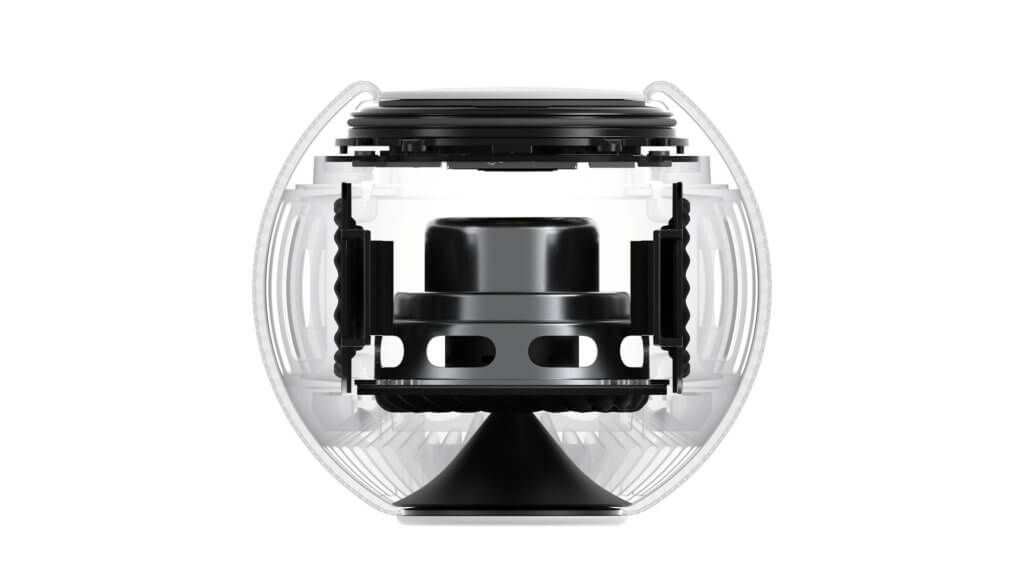 The most important thing is probably "Intercom", ie the use of several Apple HomePod minis in a household as an intercom. From one of the smart speakers, from the iPhone, iPad, from the car (with CarPlay), from the Apple Watch and so on, e.g. B. Voice messages can be sent to all other family members. For example, that the meal is ready or that everyone should be ready to go in five minutes, etc.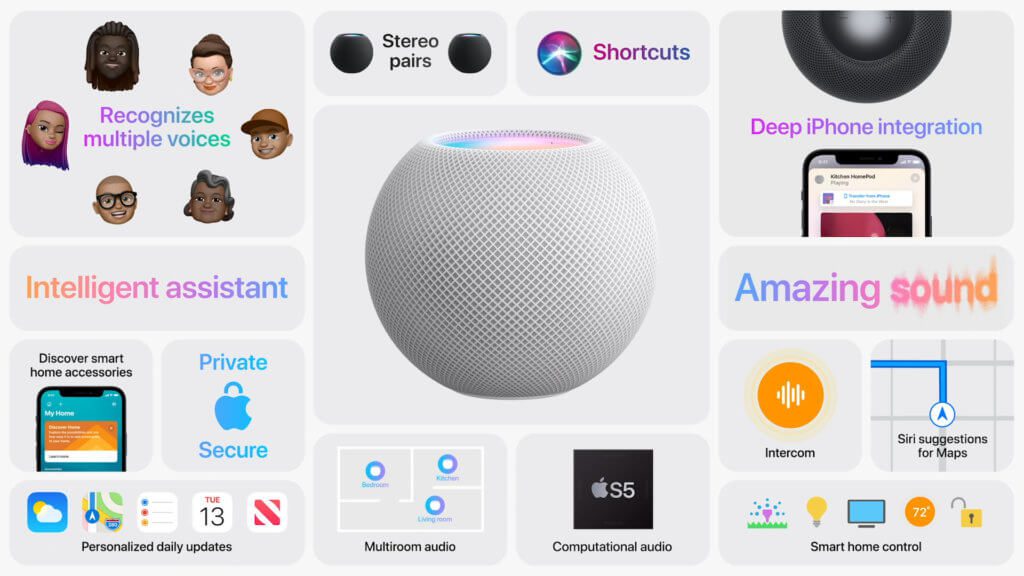 The new smart speaker from Cupertino uses an S5 chip that enables computational audio, for example. This adjusts the audio properties up to 180 times per second in order to achieve the best sound. But also several people in a household can be recognized by their voice. Personal queries (messages, calendar, etc.) are then only possible when the iPhone is also nearby. This is to prevent unauthorized use.
Information in text and picture: Apple press release
Important innovations for all new iPhone models
Before I go into the two new duos among Apple smartphones, I would like to insert two important innovations. These concern the accessories of the iPhone and how to use them. Both points are presented here in a nutshell:
MagSafe for iPhone: the new iPhones have a magnetic ring in the back to which Qi chargers (now supported up to 15 W) or the MagSafe Wallet can be attached
iPhone scope of delivery: From the 12 model onwards, the iPhone will not come with EarPods or a charger; the only accessory will be a USB-C to Lightning cable
iPhone 12 and iPhone 12 mini
This year, the 5G cellular standard is coming to the Apple iPhone, with - according to its own statement - most of the cellular radio bands offered at the same time in a smartphone, in order to enable the greatest possible compatibility around the world. In the US, Verizon is partnering with us to deliver the best 5G experience. In the overview of the partners, however, T-Mobile and Vodafone were also mentioned, which should be important here in Germany.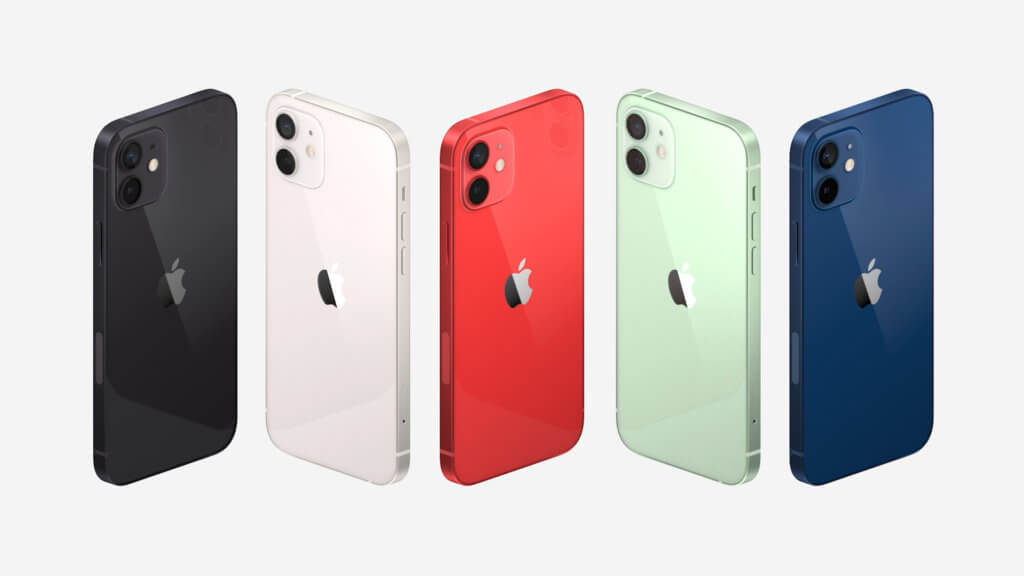 The presented iPhone 12 has been redesigned and offers - like earlier models of the phone - flat sides again. These enable a new arrangement of the antennas in order to be able to make the best possible use of mobile communications and, above all, 5G. Both the iPhone 12 and the iPhone 12 mini are available in black, white, red (Product Red), green and blue. So that you get a direct comparison, here are the most important data in comparison:
iPhone 12
iPhone 12mini
Dimensions (H x W x D)
146,7 x 71,5 x 7,4 mm
131,5 x 64,2 x 7,4 mm
Weight
162 g
133 g
Display diagonal
6,1 inch
5,4 inch
Display resolution
2.532 1.170 x pixels
2.340 1.080 x pixels
Screen protection
Ceramic Shield (4x harder than other display glass)
storage
64 GB, 128 GB or 256 GB
Cameras (rear)
Ultra wide angle ƒ / 2.4 and wide angle ƒ / 1.6 with 2x optical zoom
Price
from € 876,30
from € 778,85
Apple has also installed the A14 Bionic Chip in the new iPhone models, which is based on a 5 nm architecture. I already have information for you in the details of the iPad Air 2020 summarized. With regard to the iPhone 12, it was also said that there will be a function called "Smart Data Mode" that automatically switches off 5G when the corresponding data rates are not required. Then LTE (4G) remains active and 5G is switched on when the need for it is recognized.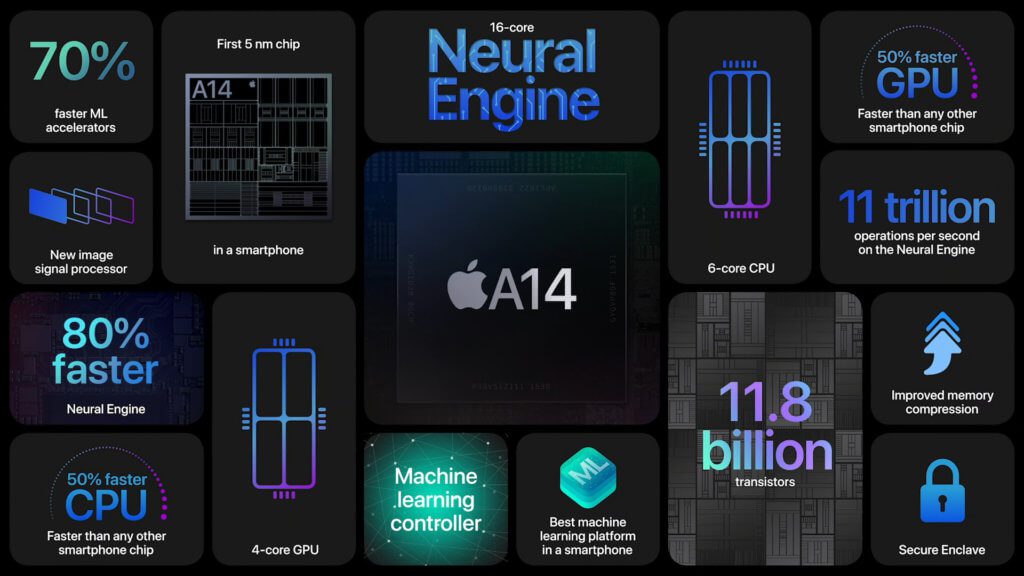 Thanks to the new, fast technology and the fast mobile phone standard, a special offshoot of the hit game "League of Legends" is also coming to the iPhone. League of Legends Wild Rift will feature exclusive heroes from the franchise - and 60+ gameplay fps. 5G should also offer many other advantages, such as sending and receiving large amounts of data for augmented reality, video, photos and more.
iPhone 12 and iPhone 12 mini will be released in November 2020.
iPhone 12 Pro and iPhone 12 Pro Max
For everyone who wants to get the best out of the iPhone's cameras, there are the new Pro models of Apple smartphones. Their telephoto camera, one of the three cameras on the back, now not only offers a 47% larger sensor, it is also used for image stabilization via "Sensor Shift". Up to 5.000 micro-adjustments per second should be possible in order to deliver a stable image. Speaking of hardware: the colors of the models are graphite, silver, gold and Pacific blue.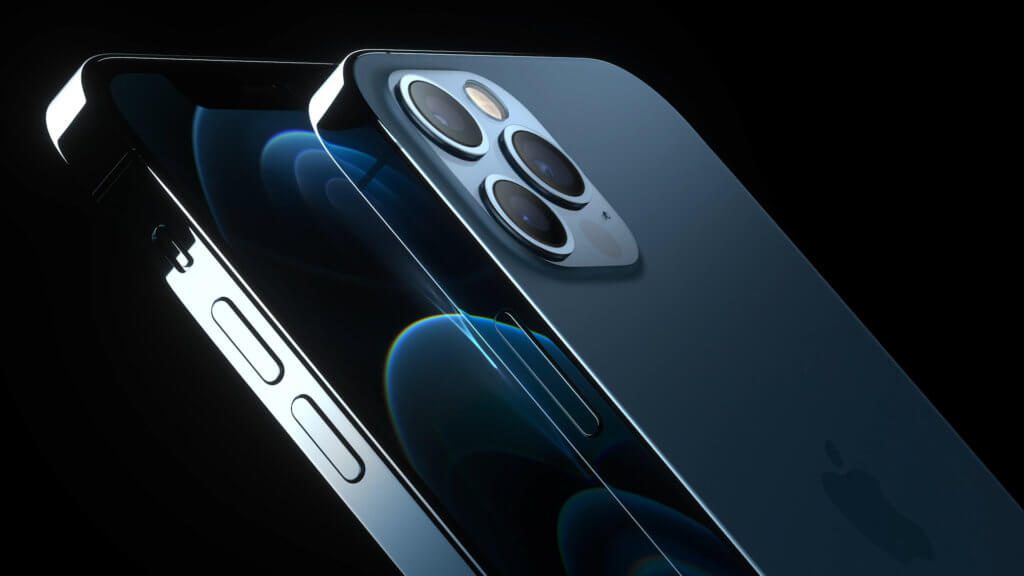 In addition, there is a new RAW format for photos with Apple ProRAW, which, however, will not be available for the introduction of the devices (in stores from next week). It will be released later this year and can be used to make the most extensive adjustments to photos. It was also emphasized and shown several times at the Apple October 2020 event that photos and videos are even better at night or in low light. Also thanks to the A14 chip.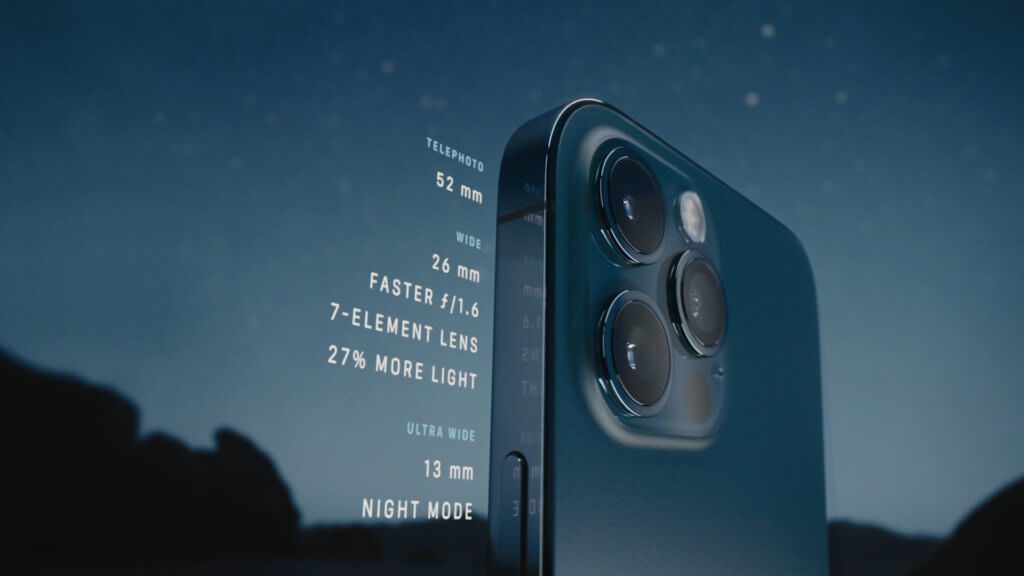 As for videos, the iPhone 12 Pro and iPhone 12 Pro Max are - according to Apple - the best smartphones for 4K recordings at 60 fps. Also for the reason that it is now possible to work with Dolby Vision using HDR video recording. Because not only the recording, but also the editing, viewing and sharing of the high-quality, cinema-like video standard is possible with the devices. This is where the performance of the A14 Bionic Chip (especially its CPU, GPU, Neural Engine and Image Signal Processor) comes into play.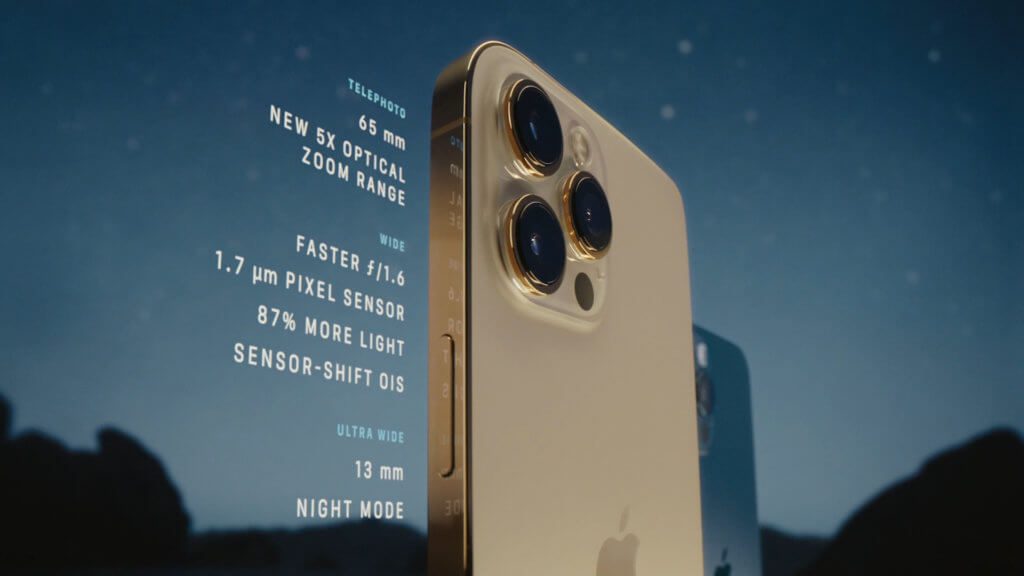 Also included is a LiDAR scanner that scans the 3D environment in front of the camera using light point measurement and thus makes the autofocus 6 times faster, for example. Even better photos can be taken, especially in low light. But the LiDAR scanner is also intended for video recordings and augmented reality (AR). Room planning, for example, can be done in just a few hours instead of weeks, compared to model assemblies. Up to 90% of the costs can be saved.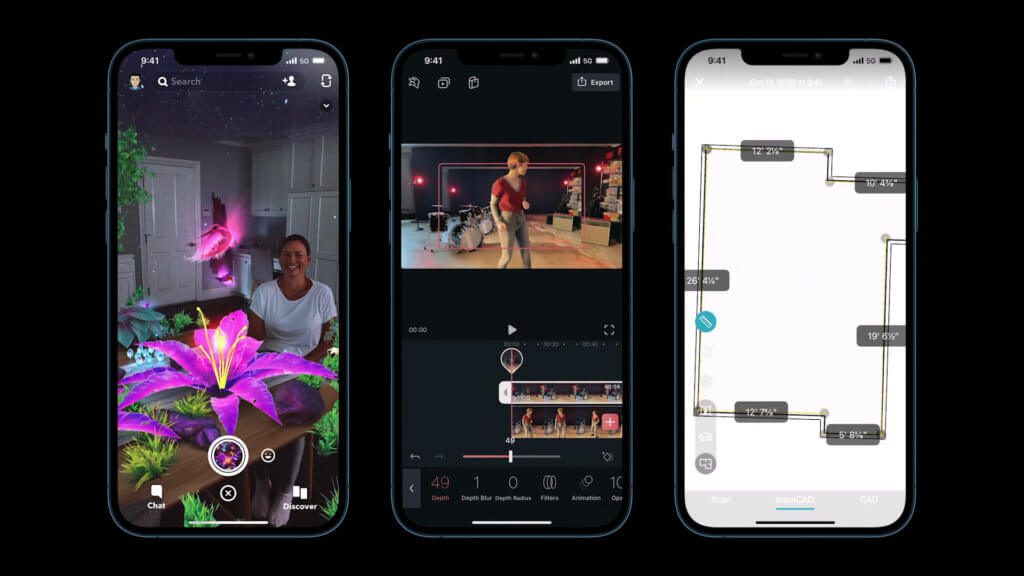 Here are the most important technical data of the two models so that you can get a direct comparison:
iPhone 12 Pro
iPhone 12 Pro Max
Dimensions (H x W x D)
146,7 x 71,5 x 7,4 mm
160,8 x 78,1 x 7,4 mm
Weight
187 g
226 g
Display diagonal
6,1 inch
6,7 inch
Display resolution
2.532 1.170 x pixels
2.778 1.284 x pixels
Screen protection
Ceramic Shield (4x harder than other display glass)
storage
128 GB, 256 GB or 512 GB
Cameras (rear)
Ultra wide angle ƒ / 2.4, wide angle ƒ / 1.6 and telephoto lens ƒ / 2.0 with 4x optical zoom
Price
from € 1.120
from € 1.217,50
No MacBook, no macOS Big Sur, no new Face ID
At today's event, not a single syllable was about a new Mac and also not about the (basically long overdue) operating system macOS 11.0 Big Sur. In addition, the rumors about an improved Face ID were not confirmed. Hopes that a Touch ID sensor will be used in the iPhone 12 series have also been dispelled. Face ID problems due to mouth and nose coverings will therefore also persist with the new Apple smartphones. It is unclear when the new Mac operating system will come. Most likely after a November event ...
Apple event from October 13, 2020 as video
While I was writing this summary, the video of this year's October keynote was also online on YouTube. You can watch the 71 minute long presentation on YouTube or watch with the following embedded player. More details and technical data of the individual new Apple devices will be available tomorrow. Good night.
After graduating from high school, Johannes completed an apprenticeship as a business assistant specializing in foreign languages. But then he decided to research and write, which resulted in his independence. For several years he has been working for Sir Apfelot, among others. His articles include product introductions, news, manuals, video games, consoles, and more. He follows Apple keynotes live via stream.