As of May 16, 2017, Apple held more than 55 patents from United States Patent and Trademark Office get awarded, which is why rumors about the iPhone 8, a new iPad, a new Mac Pro (perhaps star-shaped) and so on are now increasing everywhere. There are also more and more reports about a possible Siri device that is supposed to be a counter model to the Amazon Echo / Amazon Dot.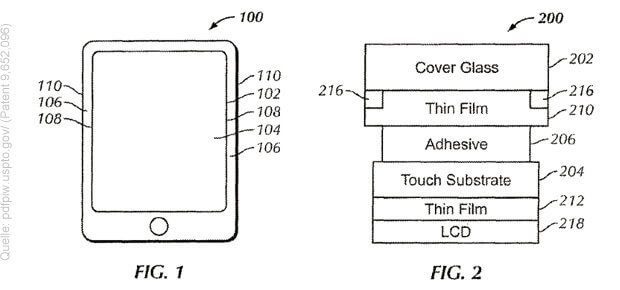 Touch ID on the iPhone or iPad display?
There have been some rumors about the Touch ID scanner. Perhaps it should be on the back of the new iPhone or in the display. The latter now seems to have been confirmed by patent 9,652,096. As you can see in the graphic above, the "touch substrate" and other layers ("thin film") should be placed between the protective glass and the LCD screen.
Edge to edge display and curved edge on the iPhone 8
Further pictures of the described patent show a rather vague drawing, but it certainly shows a display. This should end at curved sides (or continue to "flow" in them) and these sides also have elements in them. It all reminds a bit of that Samsung Galaxy S8 - Apple will certainly pack a few extras in the new iPhone / iPad to make it stand out from the crowd.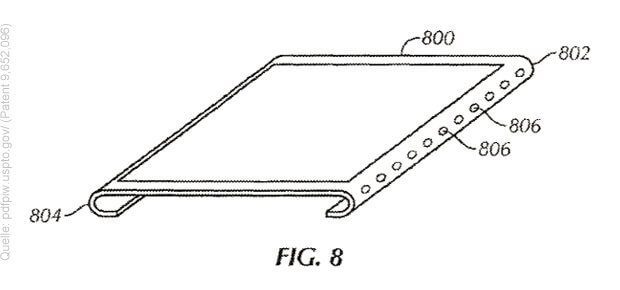 In the other sketches and pictures, as well as in the text of the patent application, it becomes clear that the aim is to maximize the display size while minimizing edge areas. In addition, touch elements should be explicitly integrated into the display. The new iPhone will probably be distinguished from the Galaxy S8 by a fingerprint sensor in the display - Samsung has placed the fingerprint sensor on the back.
More patents for the new Mac Pro and more
Some rumors about a Siri device that should come close to the Amazon Echo with Alexa as an assistant arise from the patent 9,651,999. This shows a round device, but mainly computers and laptops are used to derive it in the document. In addition, so many connections are shown that it can only be a new Mac Pro (in the shape of a trash can).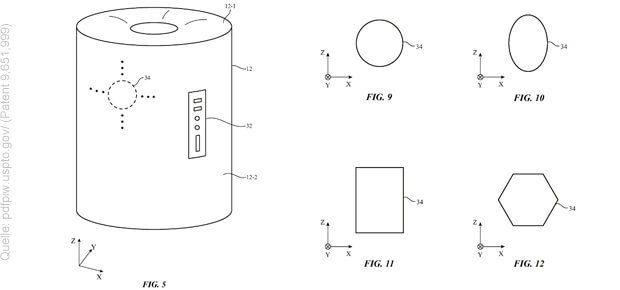 However, Apple could also say goodbye to the cylindrical shape with the next Mac Pro and try out other shapes. The patent application states, among other things, that internal and external components can support the shape. That is, covers can obscure interfaces and drives for the sake of shape retention.
In addition to the two listed patents, there are more than 50 others. Treating all of them (and looking through them beforehand) is beyond the scope of this blog. However, if you are interested in it, then take a look at PatentlyApple.com over - they have all the patents listed. Including that for a 3D scanner that detects the depth of the room. This could be used to control Mac and MacBook using gestures, or games such as "PlayStation Move".
Are you always up to date?
Are you interested in advance what the iPhone 8, the new iPad, MacBook, the new Mac and maybe completely new devices will bring? Or do you just wait WWDC, September Keynote and other events so that you can view the finished devices? Are you more interested in patents on hardware or also (yesterday richly represented) patents on software and network management? Feel free to leave comments;)
After graduating from high school, Johannes completed an apprenticeship as a business assistant specializing in foreign languages. But then he decided to research and write, which resulted in his independence. For several years he has been working for Sir Apfelot, among others. His articles include product introductions, news, manuals, video games, consoles, and more. He follows Apple keynotes live via stream.