In November last year, Apple launched the so-called Self service repair announced to users. The program is intended to make it possible to carry out repairs on selected devices yourself, especially on the current iPhone generations. MacRumors' Dan Barbera tried it out by swapping out the battery on his iPhone 12 mini. You can see how this happened in the form of a video at the bottom of this post. Juli Clover also has one English summary published by MacRumors. In the following I give you the most important information from it in German.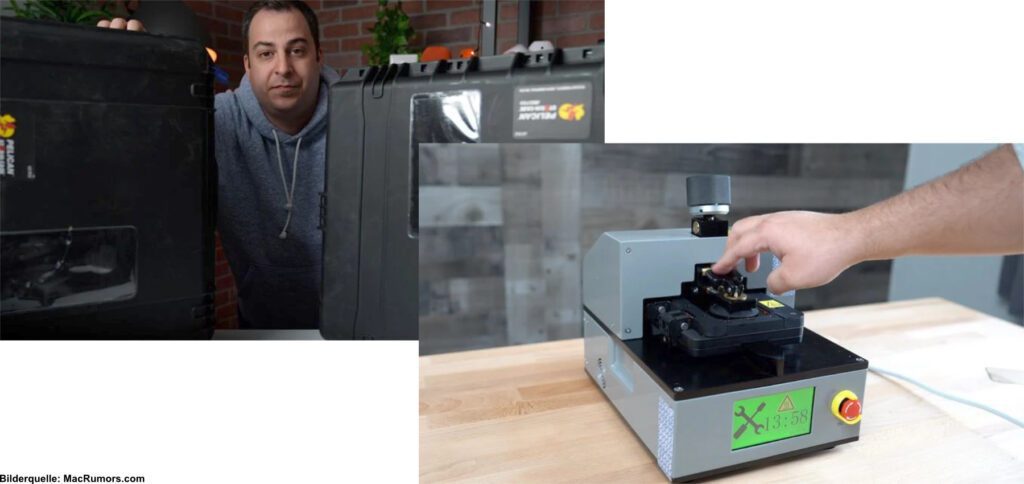 Apple Self Service Repair: Test shows problems and defects
The first criticism I meant by "too heavy" in the title of this post is the weight of the repair kits required. On the one hand, the tool comes in a heavy case. On the other hand, the replacement battery is supplied with the necessary accessories in a heavy case. Both together weighs almost 36 kg. Apple gives users one week to lug them into the apartment, unpack, inspect, repair, pack up and send them back, otherwise they will incur costs of 1.300 US dollars (the Self Service Repair Program can currently only be used in the USA).
The second point of criticism, which you will find in the article linked above or in the video embedded below, is based on the exchange process itself. Apple provides the necessary equipment, tools and instructions, but here and there you will probably come up against your own limits as a person who is not too handy. In addition, some of the required accessories are not included - such as heat protection gloves or tweezers. By purchasing additional accessories, the test procedure not only became more expensive, but also more time-consuming. That's what I meant by "too difficult" in the title.
Let's come to the point of criticism "too expensive". The above post calculates that the repair kit costs $49 and the iPhone 12 mini battery bundle costs $70,99. A $24,15 rebate can be expected by sending in the old, dismantled parts for recycling. So, all in all, it costs at least $95,84. While it's cheaper than a new iPhone, it's more expensive compared to the $69 battery replacement at the Apple Store. who AppleCare should be sent directly to the store for repair.
iPhone 12 mini battery replacement review – video by MacRumors
And here is the video, in which further insights and details are given:
After graduating from high school, Johannes completed an apprenticeship as a business assistant specializing in foreign languages. But then he decided to research and write, which resulted in his independence. For several years he has been working for Sir Apfelot, among others. His articles include product introductions, news, manuals, video games, consoles, and more. He follows Apple keynotes live via stream.