Anyone who knows the power supplies from Apple will know that a small plug serves as an adapter for various types of sockets. Exactly this small power supply plug now seems to be causing problems. Batches that were delivered between 2003 and 2015 are affected. The wording of a mail to me looks like this:
Apple has determined that on its two-prong power adapter plugs, intended for use in continental Europe, Australia, New Zealand, Korea, Argentina, and Brazil, on rare occasions, the prongs can break and present the risk of electric shock . These power adapter plugs shipped with Mac and certain iOS devices between 2003 and 2015, and as part of the Apple Travel Adapter Kit.

At Apple, customer safety is extremely important to us. We have therefore decided to replace each affected power supply plug with a new, revised power supply plug free of charge. We recommend our customers to exchange each affected power supply plug for a revised one.
More information about the exchange program and the possibilities of how you can order a new power adapter plug can be found on this subpage:
https://www.apple.com/de/support/ac-wallplug-adapter/
How do you recognize an affected connector?
So that you can determine for yourself whether you have an affected connector or not, Apple created a graphic:

In the affected models a number is printed in the thin slot, while in the unproblematic models a sign with "EUR" can be seen.
I just checked my connector and I have an affected connector. However, the number is extremely lightly printed or lasered and only very difficult to see. It was no longer recognizable on a photo, otherwise I would have built this into you.
Here again the list of the affected connector models in the overview: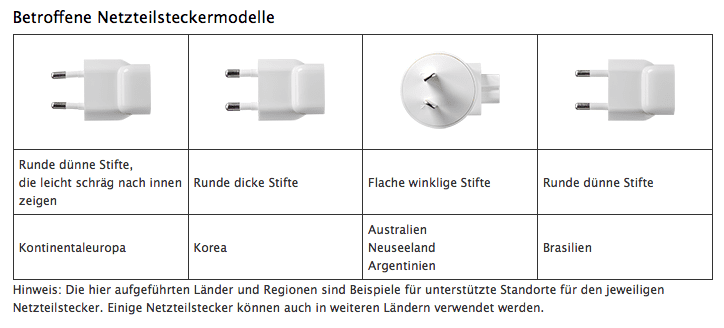 Jens has been running the blog since 2012. He appears as Sir Apfelot for his readers and helps them with problems of a technical nature. In his free time he drives electric unicycles, takes photos (preferably with his iPhone, of course), climbs around in the Hessian mountains or hikes with the family. His articles deal with Apple products, news from the world of drones or solutions for current bugs.