Sony announced yesterday in a blog post which media offers will be available on the PS5. This includes Apple TV including the option of using the Apple tv + streaming service. Other streaming providers are also offered as multimedia apps on the Sony PlayStation 5. On the media remote control, which can be purchased separately as a console accessory, some even have their own buttons. Further details and a list of all entertainment apps that should be available on the PS1 from day 5 can be found below.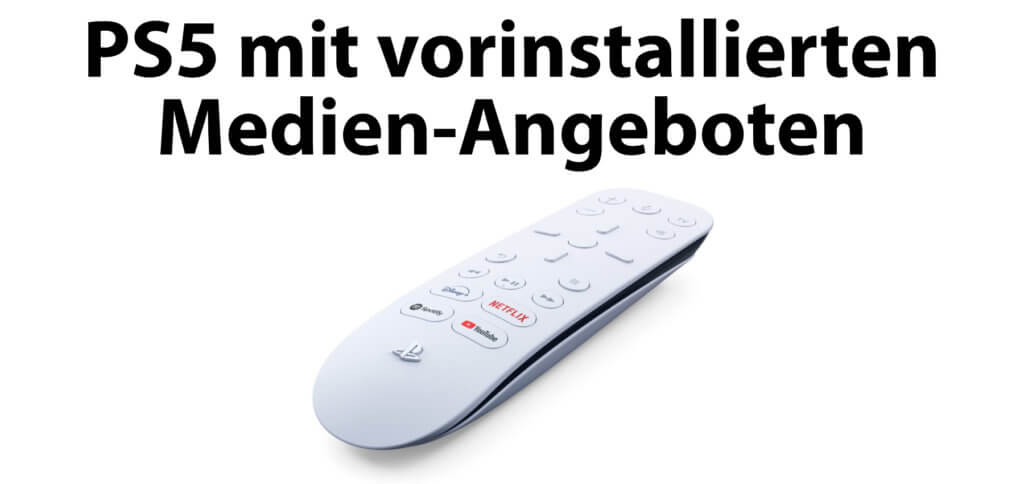 These entertainment streaming apps are coming to the PS5
The picture of the media remote control for the Sony PlayStation 5 already shows which streaming apps are considered the most important: Disney +, Netflix, Spotify and YouTube. But those aren't the only four that will be available through their system from the video game console's launch. In a corresponding Post PlayStation Blog lists these providers:
Apple TV
Disney +
Netflix
Spotify
Twitch
YouTube
With the Apple TV app comes the possibility to watch films and series on the PlayStation 5, to use Apple TV channels and to stream the content available there with Apple tv +. With Twitch, one of the most important live streaming portals is coming to the home console. Whether and when the music offering will be expanded so that Apple Music or Amazon Music can be used in addition to Spotify has not been communicated.
Sony promises a new "media experience" on PlayStation 5
The operating system of the Sony PlayStation 5 will offer two separate areas: the "Game Space" and the "Media Space". This way, video games and media offerings don't get mixed up. In addition, the media apps for films, series, documentaries, music, audio books and the like do not have to be downloaded first. They should wait for use directly pre-installed in the Media Space. A quick control of the music, the selection of tracks and the regulation of the volume should also be regulated via the quickly accessible control center. A deeper look into the PlayStation 5 system you get here.
After graduating from high school, Johannes completed an apprenticeship as a business assistant specializing in foreign languages. But then he decided to research and write, which resulted in his independence. For several years he has been working for Sir Apfelot, among others. His articles include product introductions, news, manuals, video games, consoles, and more. He follows Apple keynotes live via stream.