Christmas is over and some of you may now be looking for the right way to set up the Apple TV Box, pair devices with it and maybe switch between the connected audio devices. When it comes to bluetooth headphones, there are one or two practical tips and tricks. With these you can connect Bluetooth headphones to the Apple TV faster or switch the output sources - from speakers to headphones or vice versa.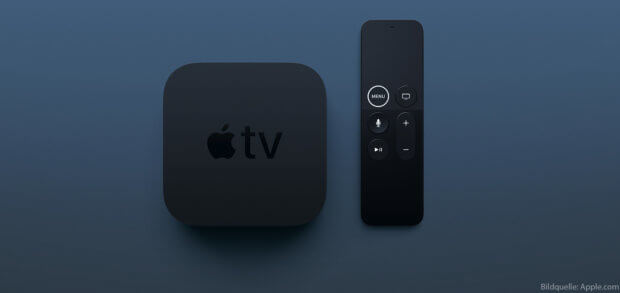 Apple TV for 4K content and Bluetooth headphones
The Apple TV Box is now also available for 4K content and even the Apple Prime Video app can now be used on the device. Therefore, one or the other will probably spend longer time in front of the television. So that the family, roommates or partner are not disturbed, the Apple TV Box also serves as an interface between Bluetooth headphones and the television. A big help, as not many TVs can be connected to Bluetooth headphones. But what's the fastest way and how do I switch between different headphones via Apple TV? If you have these questions, here are the answers ...
Use headphones with Apple TV and switch devices
In order to quickly and easily pair Bluetooth headphones that are nearby and switched on with the Apple TV, you of course have to call up the menu of the streaming box. There you follow this path to pair the headphones (or Bluetooth controllers) you want:
Settings -> Remote control and devices -> Bluetooth
Do you have several wireless devices with the Apple TV as a streaming box and App-Supplier coupled to the Smart TV and want to switch between them quickly and easily, then this can be done using the remote control. her too Siri Remote The called remote control has the Play / Pause button at the bottom left - press this until the menu with the output devices appears. There you can now switch from speakers and speakers to headphones and back. So if roommates or family come home or leave the apartment, then you are prepared for it with this little trick.
Pair game controllers with Apple products
If you want to individually control various incoming commands on the Apple TV or on the Mac or MacBook in addition to the audio output, then a gaming controller could be useful for you. For example, you can use a PlayStation 4 controller with your Mac, iMac or MacBook via Bluetooth. For example, the Nimbus from SteelSeries can be used for the Apple TV streaming box and its apps / games. You can find details on this in this post. With regard to the Smart TV, pay particular attention to the information in the comments! Or you can take a look right here: Which game controller works on the Apple TV 4K (4th generation)? Have fun ;)
After graduating from high school, Johannes completed an apprenticeship as a business assistant specializing in foreign languages. But then he decided to research and write, which resulted in his independence. For several years he has been working for Sir Apfelot, among others. His articles include product introductions, news, manuals, video games, consoles, and more. He follows Apple keynotes live via stream.