The Apple Watch is not only a practical smartwatch for measuring fitness and health data. By coupling with the iPhone, iPad and Mac, it also offers the option of operating across devices. With GPS, cellular network, WLAN, a comparatively large memory and other great features, it is also a practical companion as a stand-alone solution. And you don't even have to use your hands to use many functions. over Hey Siri voice commands can be given. Like you on the Apple Watch Hey Siri (de) activate, I have summarized that for you in this guide.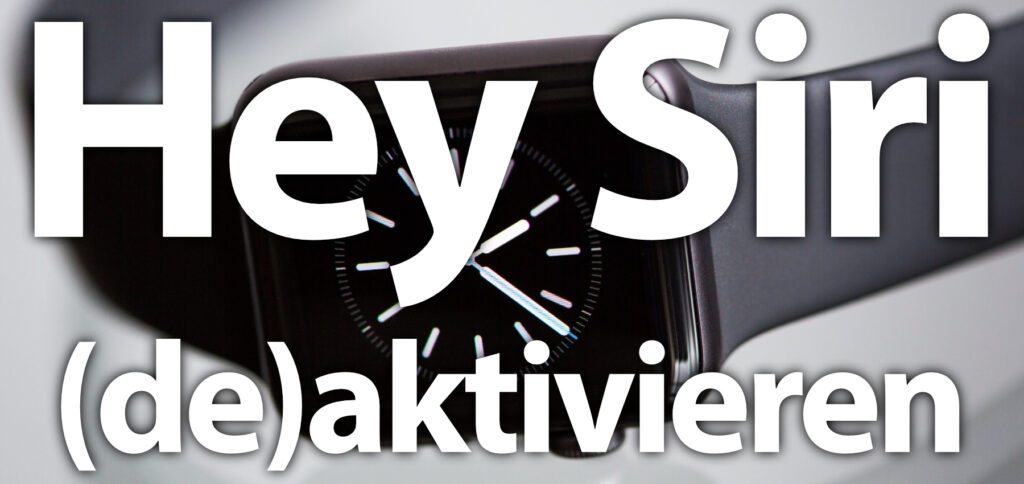 Use Siri on the Apple Watch: Here's how!
If you want to use the Siri voice assistant on your iPhone or iPad, just say "Hey Siri" and the digital helper will listen to you. This only works on the Apple Watch when the display is on. Therefore, the first way you can use Siri with the Apple Watch is to raise your arm so that the Apple Watch display wakes up. Then you can pronounce the Hey Siri command and then give your command. If the command can be implemented in watchOS, you will get a result directly.
If you want to call someone, start an app, play music or have a message read to you, there are other ways too. To wake up the display, you can tap it, for example. This procedure is useful when you cannot or do not want to move your arm to activate the watch - for example when driving a car, in bed or when the Apple Watch is lying down somewhere to be charged. Tap the display, say "Hey Siri" and then your command. Siri will already try to implement it.
As an alternative, and this is the last option, you can use the Digital Crown. If you briefly press the Digital Crown on the Apple Watch, the voice assistant is activated. This is useful if you do not want to or cannot use the Hey command as a voice input. But maybe Siri is not for you either - besides Mac, iPhone and iPad also not on the Apple Watch. That's why I've summarized the steps to deactivate Siri on the Apple Watch.
Apple Watch: Deactivate Hey Siri
If you don't want the Apple Watch to listen to you, to start an app after a voice command, to read news articles or to carry out other functions, then this can of course be set. This is especially important when you buy a new Apple Watch, because "Hey Siri" is activated by default. To turn off Siri on the Apple Watch you do the following:
Calls the watchOS on the Apple WatchSettings on
Tap in it General
Then select the point Crab from
Now you can drag the slider (highlighted in green) to the left (now highlighted in gray)
Activate Siri now only works by long pressing the Digital Crown
Of course you can Settings -> General -> Crab move the slider to the right again to activate Hey Siri on the Apple Watch. It works in a similar way under iOS on the iPhone and under iPadOS on the iPad. If you have any questions, please leave a comment or use this Sir Applerot Forum ;)
Apple Watch screen protector: Accessories tested from February 2021
After graduating from high school, Johannes completed an apprenticeship as a business assistant specializing in foreign languages. But then he decided to research and write, which resulted in his independence. For several years he has been working for Sir Apfelot, among others. His articles include product introductions, news, manuals, video games, consoles, and more. He follows Apple keynotes live via stream.