Apple yesterday introduced the Apple Watch Series 6 with watchOS 7. The new Smartwatch from Cupertino is available with a 44 or 40 mm case. There is also a choice between pure GPS and combined GPS cellular models. The most noticeable new feature of the Apple Watch Series 6 is the blood oxygen sensor with the corresponding app - with this aid, the oxygen content of the blood can be measured in just 15 seconds. Furthermore, of course, the pulse measurement and the EKG function are also included. I have summarized everything else you need to know about the new Smartwatch from Apple here.
Apple Watch Series 6 specifications
In the following list you will find the most important technical data of the Apple Watch Series 6. I already mentioned some special features in the introduction. Here you get them - supplemented with further data and information - presented again clearly:
Manufacturer: Apple
Model: Watch Series 6
Device type: Smartwatch
Case size: 40 mm or 44 mm
Housing material: stainless steel or aluminum
Display: Always-On Retina Display
Internal memory: 32 GB
Battery life: 18 hours (depending on usage)
System on Chip: Apple S6 (based on the A13 Bionic of the iPhone 11)
Ultra broadband chip: Apple U1 (first used in iPhone 11)
Sensors: EKG, SpO2, pulse, altimeter
Messages: high / low heart rate, irregular heart rhythm
Waterproof: tight up to 50 meters water depth
Radio / location: available as GPS or GPS + cellular model
Price: from € 418,15
Most expensive model: 1.539,85 euros
More info: Apple press release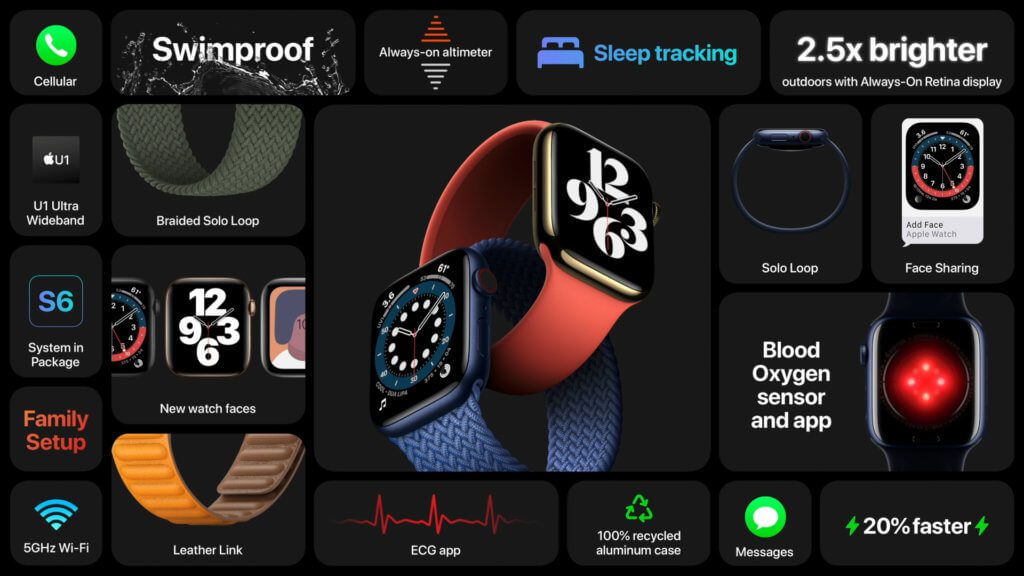 Apple Watch Series 6 in the video - "It Already Does That"
In the introduction video of the new Apple Watch Series 6, functions are listed or told that a smartwatch could have in the future. The reaction to this is always the same from those who wear the Apple Watch: It already does that. Are mentioned z. B. Sleep monitoring through machine learning, heart rate measurement through an optical sensor, alarm if the pulse is too high, alarm if the ambient volume is too high, EKG function, continuous height measurement, motivation for fitness, automatic emergency call after a fall and blood oxygen measurement through red and infrared light . Here you can Video look at:
Cheap alternatives to the Apple Watch Series 6
In addition to the new Apple Watch Series 6 with the above and some other content and functions, Apple also offers two cheaper models. These are the Apple Watch Series 3 and the new Apple Watch SE. The Apple Watch Series 3 has been around since 2017; it is available from EUR 213,45. The new Apple Watch SE was also yesterday as part of the annual September keynote presented. They are available from 291,45 euros. Both cheaper models have a retina display, but no always-on function. The SE model is available with cellular communications, the Series 3 is not. In addition, the latter is only available in the smaller sizes (42 mm and 38 mm).
Jens has been running the blog since 2012. He appears as Sir Apfelot for his readers and helps them with problems of a technical nature. In his free time he drives electric unicycles, takes photos (preferably with his iPhone, of course), climbs around in the Hessian mountains or hikes with the family. His articles deal with Apple products, news from the world of drones or solutions for current bugs.