This year's World Wide Developers Conference began today with the Apple WWDC20 keynote. For the first time, it will take place completely digitally (currently until June 26, 2020), which is due to the global coronavirus pandemic. Nevertheless, the kick-off event was able to convey a lot of new things about iOS, iPadOS, watchOS, tvOS and of course macOS in the usual manner. The developers as well as the trade press and of course all fanboys and girls were informed via stream of a video production in Apple Park in Cupertino. And here you can read the summary in German;)
Opening by Tim Cook, Apple's CEO
As usual, the opening of the recorded keynote by Tim Cook took place in the Steve Jobs Theater. This building in the Apple Park area was zoomed in after a virtual flight around the earth, during which memojis popped up everywhere to symbolize the current situation. Tim Cook then spoke to the camera in front of empty seats and addressed - before it came to Apple, operating systems and hardware - two of the current most acute problems: Racism in conjunction with inequality and injustice and the coronavirus pandemic. Cook mentions that Apple has already committed $ 100 million to Communities of Color. In addition, there will be additional Apple programs for dark-skinned people to compensate for disadvantages.
At Apple, our mission has always been to make the world a better place. - Tim Cook
iOS 14
After the introduction and the information that around 23 million developers and everyone else who is interested can follow the current WWDC worldwide free of charge, the presentation went to the first operating system of the presentation: iOS 14 for the iPhone.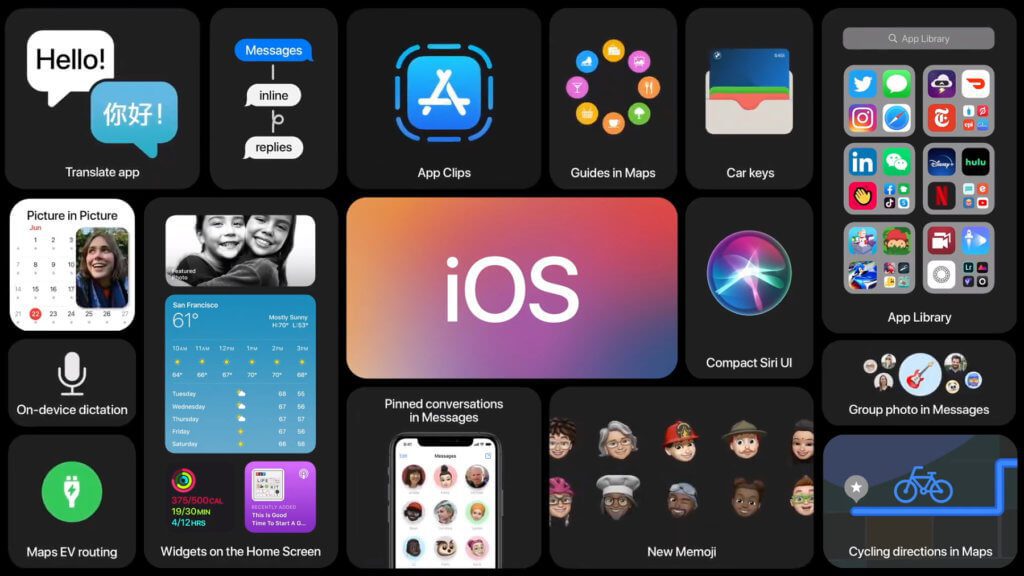 The new iPhone operating system will bring the following innovations and improvements:
New type of home screen: Anyone who installs a lot of apps and therefore has umpteen home screen pages will be happy, because now not only can pages be hidden, but apps can be grouped in new overviews in addition to folders
Widgets: Inspired by the Apple Watch, informative widgets that are variable in size are offered for the home screen; they can be placed directly via drag and drop from the Today Overview or the Widget Gallery
Smart Stack: Can be swiped through widgets and can be automatically adjusted depending on the time of day - e.g. B. the morning the news, during the day the appointments and in the evening the fitness results of the day
Picture-in-picture: Videos and streams can now be displayed as a picture-in-picture overlay in order to stay in the foreground when using the home screen, apps and the web - if you need the full screen, you can use it freely Slide the placeable player beyond the edge of the display (and thus hide it), but the video and its sound continue to run
Siri: Siri comes in a new, compact design and acts more as an animation and display similar to a notification, so that from iOS 14 the entire display is no longer blocked for Siri requests - Siri can now also send voice messages, dictation is better and there is the possibility of having spoken language translated offline
Translate App: The translator app is designed for dialogues and not only translates text, but also voice input; In addition to words and phrases, there are also entire sentences - so two dialogue partners can communicate with each other in their mother tongue, and even offline
Messages: Is increasingly becoming a messenger app with groups, pinning chats and mentions to address people directly in group chats (so-called mentions) - direct replies are also possible in groups, which then results in threads for a better overview
Maps: The version that was renewed last year will come to the UK, Ireland and Canada in 2020; In addition, there are new usage options with guides (a kind of travel guide), EV routing for e-mobiles, whereby only the charging stations that are compatible for the respective car are displayed, green zones and license plate registration for China, and route planning for cyclists including ascent - and slope display, use of stairs, etc.
CarPlay: In addition to new backgrounds, there are also more useful things such as looking for a parking space, charging stations for e-cars and ordering quick meals
App Store: The App Store itself remains the same, but from iOS 14 "App Clips" are available for apps, i.e. app versions up to 10 MB in size that can be loaded quickly in order to be able to use the main function of an app (e.g. for Paying, for car sharing or similar) - Registration is accelerated by signing in with Apple and Apple Pay
The iPhone as a car key (with shares for others)
You could already read it in some rumors, now it is certain: In the future, the iPhone should be able to be used as a car key by certain car manufacturers. For example, from 2021 it will be possible for the BMW 5 Series to unlock and start the car via NFC (two separate processes).
The whole thing can be deactivated via iCloud should the iPhone be lost. In addition, the key function can be shared with others, but also restricted. For example, usage restrictions can be set for children (important in the USA because you are allowed to drive there from the age of 16). The U1 chip is intended to ensure greater ranges (unlocking the car without taking the iPhone out of your pocket).
iPadOS 14
The same innovations and adjustments apply to iPadOS 14 as I have already listed for iOS 14. However, there are also innovations here that have been specially designed for the tablet operating system. IPadOS is moving closer to macOS, for example by implementing a sidebar (such as in the Finder) in notes, photos, calendars and files. This ensures a better overview and functionality. There are also menu bars with drop-down menus, just like with macOS.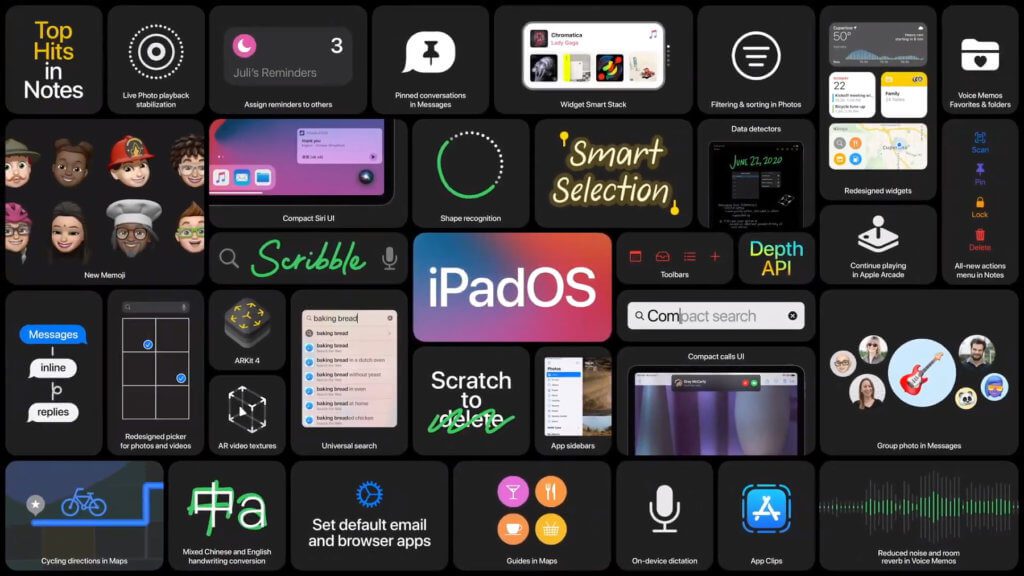 The music app will also have a sidebar and a full-screen player with lyrics and album covers. In both iPadOS 14 and iOS 14, incoming calls no longer take up the entire screen, but appear as a notification. The content of the search on the iPad has also been expanded, but graphically reduced. You can now think of it as SpotLight (known from the Mac) on the iPad, as apps, files, content, contacts and web content are all found equally.
Apple Pencil and iPadOS 14
New functions are now possible for handwritten entries. For example, handwritten text from iPadOS 14 can be marked, copied and used for other purposes just as easily as typed text. In addition, there is font recognition in text fields and the conversion of writing into a font.
Different languages ​​and fonts (English and Chinese were shown in the demo) can also be recognized and inserted in a text field. Between paragraphs with handwriting (e.g. in the Notes app) space can now also be made for new lines and paragraphs. Copied handwriting will be saved when pasted into Pages, text fields and Co. are automatically converted to the appropriate font.
AirPods software
There are two major innovations for the Apple AirPods, which were presented using animations and descriptions. On the one hand it is about the use with multiple devices, on the other hand it is about a more immersive listening to audio in films, series and other audiovisual productions:
Automatic switching: You are currently listening to music on your iPhone, but are you starting an Apple tv + series on the iPad? Then the audio source of the AirPods changes automatically. But now you have to attend a video conference on your Mac? Here, too, the change takes place automatically. And if a call comes in on the iPhone in between, you no longer have to switch to it manually.
Spatial Audio: This is a simulated surround sound with which an environment with sounds from the front, back, sides, bottom and top is created for films, series or video games on the Mac or iPad. The device position and head movement are also included in the algorithm so that the playback remains spatially exact.
Watch 7
There are now over 20.000 dedicated apps for the Apple Watch that contain all kinds of information. For this reason, from watchOS 7 onwards there is the option of using "Rich Complications" to create more individual and meaningful faces (dials). "Face sharing" can also be used to share your own combinations of information and elements - not only among individual users, but also in an app, on a website, etc.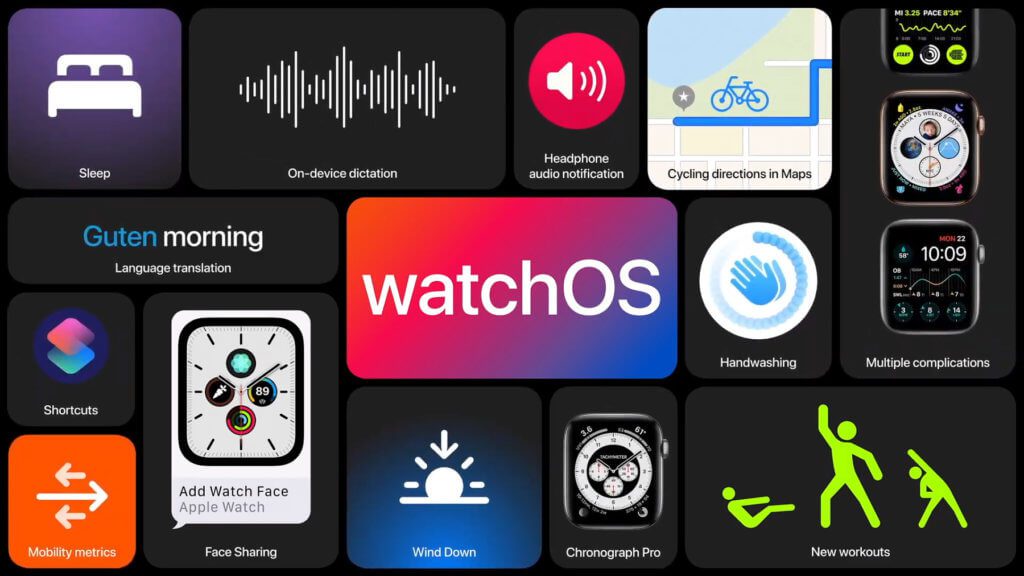 The map app for the Apple Watch is also getting an update under watchOS 7 - with the content already described above for more environmentally friendly transport by bike or e-car. When it comes to workouts, there is a great innovation with "Dance". Because instead of boring repetitions of individual training units, popular dance styles are used here to keep the body fit. The iOS app will also be renamed from "Activity" to "Fitness".
An often requested and now announced function is sleep monitoring. In addition to the sleep tracker, which is supposed to provide information about the length and quality of sleep, there is also the option of setting up a "bedtime routine" similar to bedtime on the iPhone. It offers a winddown with a dimmed screen and similar benefits for coming down. But it is important to note (with current watch models): The battery must be charged either before or after going to bed because it does not last 24 hours with average use.
A final innovation in watchOS 7 is the hand-washing monitor, which uses movements and noises (running water and foaming, slapping soap, etc.) to determine whether the hands are being washed. If this is the case, a countdown is displayed so that you wash your hands thoroughly enough to be as germ-free as possible.
Privacy and Home / HomeKit
Before the new macOS version came, there were two slots in the keynote stream at the start of WWDC20 on the topics of privacy and Home or HomeKit. For this purpose, those points were addressed that I will only briefly explain to you in the following:
Privacy: Currently more important than ever and driven by Apple through data saving, on-device intelligence, security options and transparency. Sign in with Apple is an example of a native feature. As an innovation, there is now the option of not only sharing your own location precisely (GPS), but also roughly (city or district). From iOS 14, access to the microphone and camera on the iPhone is indicated by an icon in the top right corner. Tracking must be agreed.
Home / HomeKit: Should become better and faster through cooperation with Google, Amazon and other companies. Adding and setting up new devices should become easier. Adaptive lighting ensures the right light in the morning, day and evening. Image sections can be defined for cameras so that monitoring is only possible there and a notification is triggered by activity. There are also picture-in-picture options for cameras, e.g. on the Apple TV.
macOS 11.0 BigSur
Yes, it's true, after 15 revisions of macOS 10, version 11 is now coming to the Apple Mac. It's supposed to be the biggest change since Mac OS X was introduced. But don't worry: while everything has been completely renewed and improved, the basic structure remains the same. Many of the app icons are also more or less the same in order to maintain the longstanding Mac experience. However, macOS 11.0 Big Sur now looks fresher and tidier.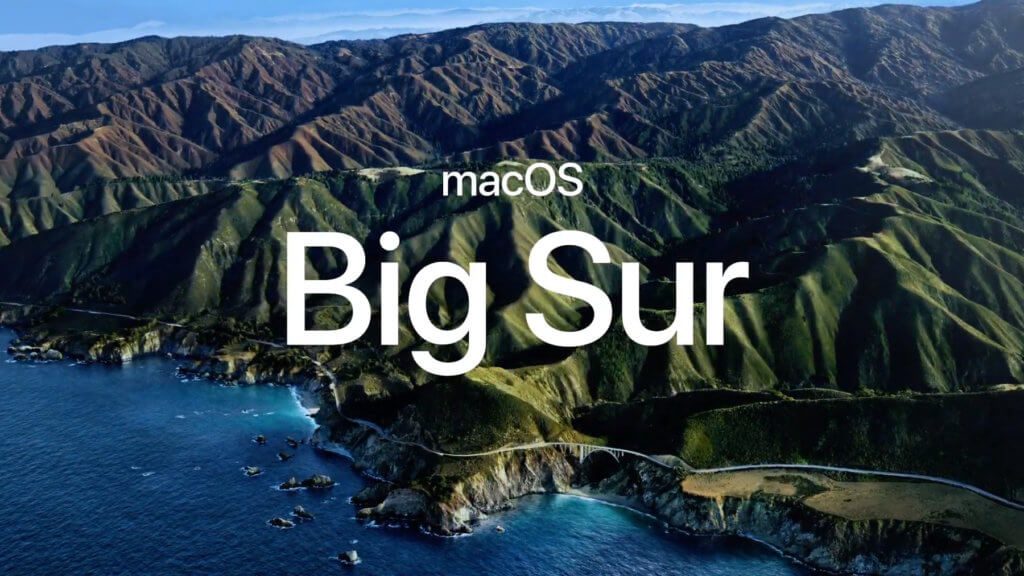 Here are the most important things you need to know about macOS 11.0 Big Sur:
Dock: The design of the dock and the app icons have been redesigned
System settings: There will be a control center like under iOS and iPadOS, from which individual setting functions can be dragged directly to the menu bar
Notifications: As on the iPhone, notifications can be grouped according to their source
Widgets: Widgets have also been revised for the Today sidebar and can be used in different sizes
Messages: macOS 11.0 Big Sur includes groups, pinned chats and so on, but also effects, photo stickers, memojis and a search function
Maps: Save and list favorites, create and view guides, use indoor maps of buildings, look around, shared positions of others on the map, bike functions and more
Safari: With a new privacy report button that shows the security settings of the website called up, the possibility of (safely) adopting extensions from other browsers, redesigned tabs, tab symbols and close functions (e.g. "All tabs to the right of this close ") And translation function directly in the address line
Mac Catalyst: iPad apps now come to the Mac with customizable window sizes, keyboard shortcuts, and menus
The developer beta goes out today, the first public beta will appear in July 2020, for users there will be the new macOS as usual in autumn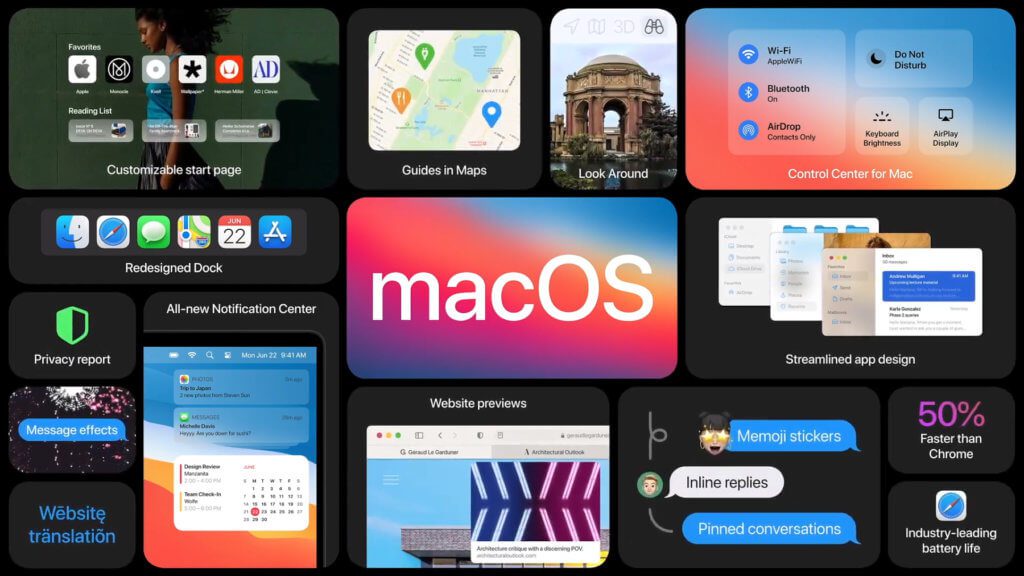 New SoC in the Mac: Apple Silicon instead of Intel processor
According to Tim Cook during the WWDC20 keynote, there were three major turning points in the development of the Apple Mac. The first was the move to PowerPC systems, the second was the introduction of Mac OS X, and the third was the use of Intel chips. Now Apple wants to replace the latter with a fourth turning point, which is based on the experience with its own chips in the iPhone, iPad and Apple Watch: Mac models with Apple Silicon, its own Intel-independent processor, which is available as a system on a chip ( SoC) also contains elements such as the Neural Engine, the Security Enclave and much, much more.
The use of proprietary chips with suitable software - everything from Apple and, so to speak, "from a single source" - should bring several advantages. One of them is performance, such as longer battery life with better performance on MacBook models. But there is also the advantage for developers that in two years' time all (new) devices should run with the company's own processors, thus simplifying the development of apps. In addition, iPhone and iPad apps can be emulated directly without any Mac adjustments.
According to Apple, it has learned from the past and has therefore implemented options for running apps on the new hardware that have not yet been optimized for it. Tools like Universal 2 and Rosette 2 help emulate apps and applications - even Linux in Parallels Desktop or games that are graphically intensive and actually use an Intel processor.
Special features of this keynote
The specialty of this WWDC keynote reflected the topic of "Social Distancing" in the context of the coronavirus pandemic. So only one person was shown in front of the camera and the handover to the next person only happened on request and not on the same stage or something. Rather, the presentations were scattered all over Apple Park - from the Steve Jobs Theater to the garage and fitness center to a secret place where research on new hardware takes place.
For example, the Apple Silicon Chip for the coming Mac generations was presented there - by three people, but spatially separated by panes of glass. At the end there was then a textual information that hygiene and distance measures were observed during the shooting of the keynote. In this way, the audience was once again made more aware of the topic.
Apple WWDC Special Event Keynote as video
While I summarized the stream for you, which lasted from 19:00 p.m. to about 21:00 p.m., Apple has already made the WWDC20 keynote available as a YouTube video. You either come to the video with this link or by using the embedded player below.
After graduating from high school, Johannes completed an apprenticeship as a business assistant specializing in foreign languages. But then he decided to research and write, which resulted in his independence. For several years he has been working for Sir Apfelot, among others. His articles include product introductions, news, manuals, video games, consoles, and more. He follows Apple keynotes live via stream.