Almost a year ago the Ataribox announced in a puzzling manner - no one was really sure whether it should be a fake, a fan project or really a new console from Atari. After a few months it was clear: there would be a new Atari console, with an open system, old preinstalled games and new titles. In the meantime the name has been changed to "Atari VCS". Since yesterday you can support the realization of the console, its production as well as the distribution on Indiegogo, and thus secure Atari VCS, controller and / or joystick. After less than 24 hours, the financing target has already been met by more than 2.000 percent.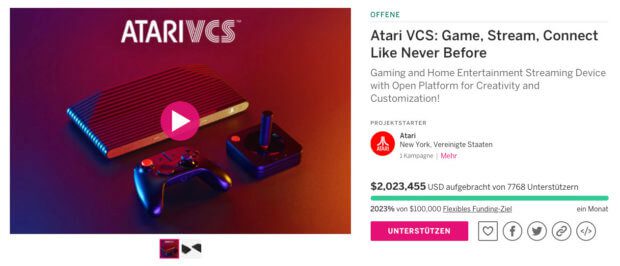 Atari VCS brings in more than 2 million euros before the sale
Atari's actual funding goal to produce the next prototype, make improvements, and then go into production was $ 100.000. The Campaign at Indiegogo started yesterday at 15:00 p.m. Central European Time. As of now (May 31, 2018 11:00 am) over $2.023.000 has been raised. And new backers, pre-orders, and other expressions of interest keep pouring in. And that although the console (with HDMI– and power cable as well as manual) is sold individually and you have to order the Classic Joystick and the Modern Controller separately.
What are the next steps?
On the linked Indiegogo page you will find extensive data and information on the Atari VCS console. In addition to the technical data, the games to be expected and other information, there is also a schedule for the further development and release of the game console for retro titles and new releases. This provides for the second prototype and various tests for the next quarter. Final tests should then be carried out at the end of 2018 and production should start. The first consoles are due to be delivered in early 2019, with pre-orders expected to arrive in the second quarter. Worldwide availability is expected in mid-2019.
After graduating from high school, Johannes completed an apprenticeship as a business assistant specializing in foreign languages. But then he decided to research and write, which resulted in his independence. For several years he has been working for Sir Apfelot, among others. His articles include product introductions, news, manuals, video games, consoles, and more. He follows Apple keynotes live via stream.