The Beko DPU 7306 XE heat pump dryer with energy efficiency class A +++ was approved by Stiftung Warentest with the grade "good" excellent. In this post I would like to briefly introduce you to the Beko heat pump dryer and show the differences between the three models that you can choose on the Amazon product page. By the way: the heat pump dryer is currently reduced by 51%, so you only pay 949 euros instead of 469 euros. (As of June 1, 2017)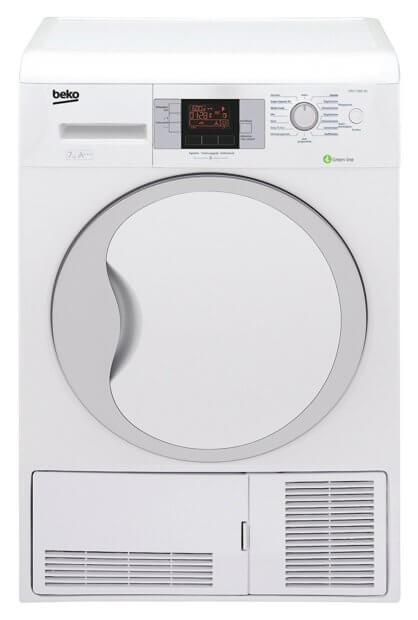 Beko heat pump dryer graded by Stiftung Warentest
The rating "good" shows that the Beko DPU 7306 XE heat pump dryer is a usable product. And the 60 reviews on Amazon, of which 42 are very good and 11 are good, speak in favor of the large electrical appliance. It is a front loader with a capacity of 7 kg. In addition to the 158 kWh / year variant with the price indicated above, you can also choose between two editions, each with 206 kWh / year and 268 kWh / year.
Buy Beko DPU 7306 XE heat pump dryer
When shipping directly from Amazon, you can book additional services; For example, delivery on the desired date, free disposal of old devices and more. The return if you do not like it or if it is defective is also free of charge. Here you get to the product and the device selection:
Recommended heat pump dryer
The Beko DPU 7306 XE heat pump dryer with the energy efficiency class A +++ holds 7 kg of laundry and dries the Stiftung Warentest and the customer reviews on Amazon very satisfactorily. There are three models in white to choose from.
Technical data of the dryer
The Beko DPU 7306 XE dryer has the following technical data:
Dimensions: 59,8 x 59,5 x 84,6 cm
Weight: 52 kg
Weight with packaging: 54 kg
Laundry capacity: 7 kg
Noise emission: 65 dB
Functions / settings: Acoustic signal, display, moisture sensor, child safety device, crease protection, short programs, remaining time display, special programs, start delay, drum lighting
Here is an overview of the dryer test winners
Which dryer do you recommend?
Do you have a heat pump dryer in use? Can you share experiences with the Beko DPU 7306 XE? Feel free to leave a comment on the topic;)
After graduating from high school, Johannes completed an apprenticeship as a business assistant specializing in foreign languages. But then he decided to research and write, which resulted in his independence. For several years he has been working for Sir Apfelot, among others. His articles include product introductions, news, manuals, video games, consoles, and more. He follows Apple keynotes live via stream.
The page contains affiliate links / images: Amazon.de