The jack socket for connecting headphones, loudspeakers and speakers has long been obsolete on the Apple iPhone. That is why the Belkin Lightning jack cable presented here was recently introduced. The 1,8 m long adapter cable in a simple design is designed for frequent use and provides audio signals via a 3,5 mm jack even for iPhone models that only have a Lightning port.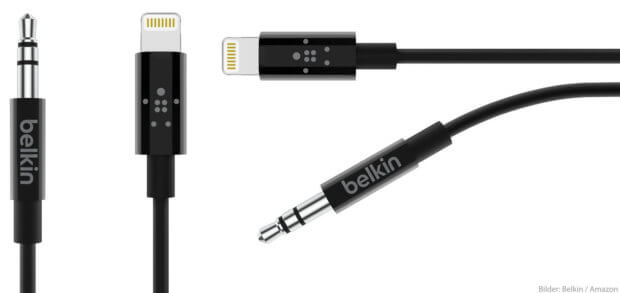 Belkin Lightning Jack Cable
The Belkin Lightning jack cable for audio output on the iPhone and iPad costs just under 40 euros, but it is MFI certified and should last a long time. As a companion in the car, backpack and suitcase as well as at home, you can use the Lightning / 3,5 mm audio cable extensively. The adapter cable is compatible for music, podcasts, audio books, phone calls and other audio content with the iPhone 7, iPhone 7 Plus, iPhone 8, iPhone 8 Plus and iPhone X.
2,42 EUR
Audio adapter cable for Apple iPhone
The Belkin Lightning jack cable serves as an adapter for the Lightning output of the Apple iPhone. The 1,8 m long cable is MFi certified and durable. This allows you to connect boxes, speakers, headphones, the car entertainment system and other output devices to new iPhones by cable.
Jack adapter with double input
If you want to connect headphones with the adapter cable, you still need a double coupling to connect plug to plug. An "Amazon's Choice" product from the category double jack clutch is this one from deleyCON:
Jack double coupling for plug connection
The deleyCON PREMIUM HQ stereo audio jack coupling connects two 3,5 mm plugs. The metal adapter has gold-plated contacts and very good reviews on the product page. Various customer questions and answers as well as customer reviews show you even more details from users.
More about audio adapters for the Apple iPhone
After graduating from high school, Johannes completed an apprenticeship as a business assistant specializing in foreign languages. But then he decided to research and write, which resulted in his independence. For several years he has been working for Sir Apfelot, among others. His articles include product introductions, news, manuals, video games, consoles, and more. He follows Apple keynotes live via stream.
The page contains affiliate links / images: Amazon.de