The Belkin Thunderbolt 3 Express Docking Station is equipped with a 1 meter Thunderbolt 3 cable and should ensure ideal compatibility with the Apple MacBook Pro. With DisplayPort, two USB-C ports, three USB-A 3.0 ports, two audio ports and one Gigabit Ethernet, a large number of devices can be plugged into the Apple notebook. On the new MacBook Pro with Kaby Lake processor, the Belkin Thunderbolt 3 Express Docking Station Can work real miracles - it currently is Can be pre-ordered at Amazon.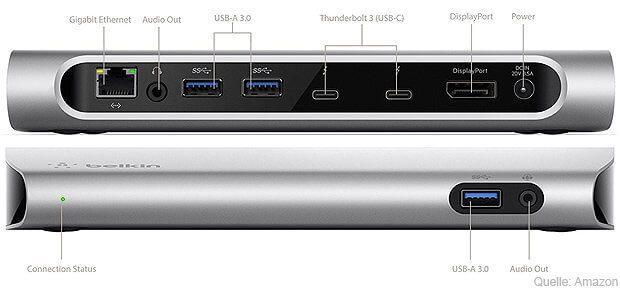 Technical details
The new Belkin gadget that offers a complete solution for the MacBook Pro from Apple, will be officially launched on July 5, 2017. In addition to the connection of two 4K monitors, there are many other peripheral options. The individual technical details of the Belkin Thunderbolt 3 Express Docking Station provide information about this:
170 W power supply for the docking station and 85 W power output via USB-C for the Apple MacBook Pro
2 x Thunderbolt 3 / USB-C ports
3 x USB-A ports (1,5 A each)
1 x DisplayPort connector
1 x audio input
1 x audio output
1 x Gigabit Ethernet port
Buy Belkin Thunderbolt 3 Express Docking Station
Belkin Thunderbolt 3 Dock for the Apple MacBook Pro
The Belkin Thunderbolt 3 Express Docking Station with 1 m USB-C cable for data transfer and charging of the Apple MacBook Pro 2017 is ideal for the use of two 4K monitors and other peripherals. The article will be released on July 5th, 2017. Pre-order now and secure the pre-order price guarantee.
The price guarantee from Amazon is well meant, but I think it will hardly be more expensive than 350 EUR. : D
If you look through the customer ratings on Amazon, then don't be surprised that it has such mixed ratings. These refer to the old model with Thunderbolt 2. The new one is not yet available and has no ratings yet.
First user opinion from a blog reader
Our reader Julian Mielke is already using the Thunderbolt 3 Hub and said this in a comment:
"Then I finally updated to the new MacBook Pro 15 ″ in full equipment! Great laptop !!!
Now I use 4k @ 60Hz plus a 2nd monitor (25 ″ 2560 × 1440 DELL @ 60Hz) for BootCamp and VM on the new Belkin Thunderbolt 3 Dock for my previous setup and only have one cable that charges the MacBook! ! PERFECT!!!"
After graduating from high school, Johannes completed an apprenticeship as a business assistant specializing in foreign languages. But then he decided to research and write, which resulted in his independence. For several years he has been working for Sir Apfelot, among others. His articles include product introductions, news, manuals, video games, consoles, and more. He follows Apple keynotes live via stream.
The page contains affiliate links / images: Amazon.de