You can find free software for data recovery on Mac here. I have also listed a few alternatives for you under the list of five free apps for data recovery. Because in addition to the restoration of deleted files and folders, there is also the option of getting them back in some other way. But let's start with the apps for restoring data on the Apple computer - they have various features, advantages and disadvantages. Do you still have additions, hints and other data recovery software for macOS in stock? Then leave a comment;)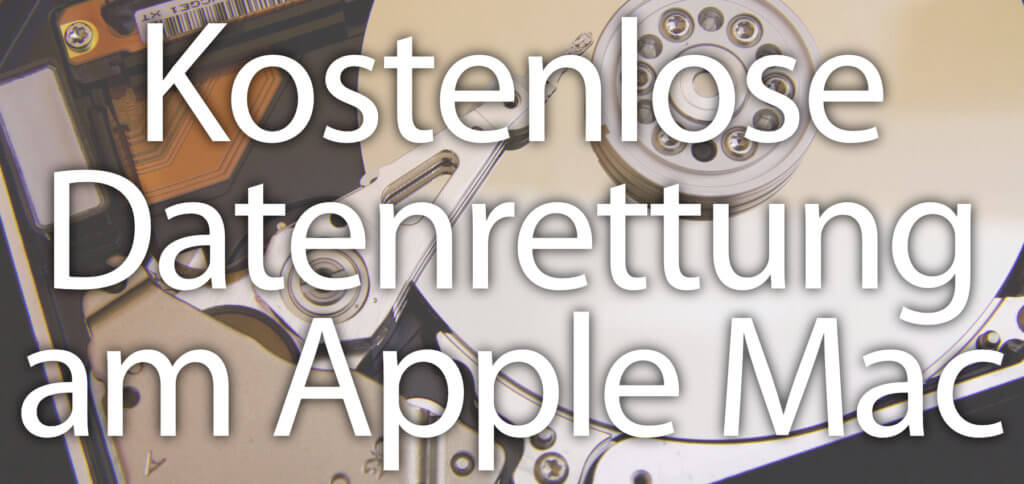 PhotoRec
PhotoRec is an open source data recovery software for OS X, macOS, Linux, Windows and BSD systems. The app can recover various file formats on Mac, including commonly used ones such as images as JPEG, audio as MP3, documents from OpenOffice or Microsoft Office apps, PDF documents, archives in ZIP format and more. The work area goes beyond the Macintosh HD and extends to external hard drives, USB sticks and CD-ROMs as well as the memory of digital cameras, their memory Cards, etc. This is how comprehensive and free data recovery on the Mac is possible.
The so-called "File Carving" technology is used for this, which helps in two steps to restore folders and files. The first step is to determine the size of the data block or cluster; either via the file system, if not damaged, or via the analysis of individual files. The blocks or clusters found are then compared with the file signatures contained in the software in order to identify individual files and put them together. PhotoRec is definitely worth a try. The download will at CGSecurity offered in a double pack with TestDisk.
Soft tote Mac Data Recovery
Mac Data Recovery from Softtote (not to be confused with Mac Data Recovery from MiniTool described below) is a completely free offering for Mac data recovery. The app works with macOS 10.13 High Sierra and 10.14 Mojave as well as with various file systems: HFS +, HFS, HFSX, NTFS, FAT32 and FAT. Here, too, in addition to the internal hard drive of the Mac, external hard drives, USB storage devices, cameras as well as Kindle devices, memory cards, CF and SD cards can be accessed. In addition, a wide variety of file formats such as BMP, JPG, PNG, MP3 and so on are recognized. Download and instructions Is there ... here.
If you have a look around the Softtote website, you will find other products - such as "Data Recovery Mac", which is more than just a twisted name for the program described in the last paragraph. This version works from OS X 10.7 and offers different versions. The demo is free, the full version costs $ 69,99. Another offer: the "Photo Recovery" app, which is specially designed to restore videos, photos and image files. As a free demo or full version for $ 39,99, it helps with cameras from Canon, Kodak, Nikon and Fuji, among others.
EaseUS Data Recovery Wizard
EaseUS 'Data Recovery Wizard is a free trial version of the Mac app for data recovery. The program is also available for the Windows operating system and the associated file systems. The demo can be used from OS X 19.9 to macOS 10.15 Catalina; Supported file systems on hard drives, USB sticks, etc. are APFS, HFS +, HFS X, FAT16, FAT32, exFAT, and NTFS. According to the developers of EaseUS, more than 1.000 file formats are restored; in addition to HDD and SSD also on digital cameras, memory cards, video players, etc. The only drawback: Mac data recovery is limited to 2 GB. The comparison between the free and pro version you can find here.
Recovering 2GB doesn't sound like much. But if you want to save an accidentally deleted photo folder, a video, lost documents, text files, PDFs or the like quickly and free of charge, 2 GB can be enough. If you want to save the whole hard drive or simply want to get more data back, then simply try the programs mentioned above or the "Disk Drill" described below as an inexpensive alternative. The paid version of the Data Recovery Wizard costs a bit much at $ 89,95 ...
Mac data recovery
Mac Data Recovery is offered in different versions by the MiniTool developers. In addition to the free, personal and business version for the Mac from OS X 10.5, there are also versions for Microsoft Windows. The trouble is, Mac Data Recovery Free can only recover 1MB. Why is it on this list anyway? Because you can use it to restore at least a few accidentally deleted Office documents, PDFs, small photos and system files. By the way, there is an enterprise version for companies and a technician version for IT people.
A comparison of the individual versions, their functions and prices can be found on the MiniTool website. At least one of the versions is free that you - like Disk Drill Basic described below - can at least use to find recoverable files at all. This saves you having to buy an expensive program when nothing can actually be saved in the end. Mac Data Recovery isn't the very best software on this list, but it's worth a mention;)
Disk Drill (Basic)
Disk Drill is free in the basic version. Without having to pay a cent, the app shows you which files and folders can be restored. This is useful for checking bad hard drives, a directory with accidentally deleted folders, and other problems; for example with a striking USB stick. Because Disk Drill also works with external storage. In addition to USB sticks, these can be external hard drives as well as iOS and Android devices connected to the Mac. The scan algorithms are described by users as being fast and effective.
Only actually restoring files and folders on the Mac is not included in the free app. The necessary pro version costs $ 100, which can be quite expensive for a few files. However, you can sign up for a month for a one-time use SetApp- Get a subscription, which includes dozens of other apps as a full version in addition to Disk Drill Pro for just 10 euros. This is worthwhile in several ways, as you will certainly find other apps in the SetApp package that can help you.
Here is a single contribution: Trick - data recovery with Disk Drill Pro on the Mac for 10 euros instead of 100 euros. In it you can read again in detail how the data recovery works for only 10 euros and how SetApp was able to help a reader of this blog save;)
This makes data recovery unnecessary: ​​Make backups regularly
Do you save using Time Machine, a cloud service like Backblaze or special (free) apps regularly back up your drive, then data loss is less serious. With most programs, you can even create a bootable copy of your Mac, which allows you to continue working quickly after the Apple computer crashes. Here are a few posts with my suggestions and recommendations:
Video recommendation: Self-attempt data recovery - Ctrl_F reveals rip-off
After graduating from high school, Johannes completed an apprenticeship as a business assistant specializing in foreign languages. But then he decided to research and write, which resulted in his independence. For several years he has been working for Sir Apfelot, among others. His articles include product introductions, news, manuals, video games, consoles, and more. He follows Apple keynotes live via stream.