I have dealt more intensively with the topic of thermal compounds in the last few days and recently wrote an article with one Comparison of the Thermal Grizzly thermal pastes written. I came across various other manufacturers such as Alpenföhn, Coollaboratory (yes, with two L!), Arctic, Innovation Cooling, Phobya and thought to myself which would be the best thermal paste.
Paste with and without liquid metal
There are basically two product groups here: On the one hand, the usual heat-conducting pastes, which are non-conductive and have a consistency between skin cream and toothpaste. On the other hand, there are the newer thermal pastes that are based on liquid metal and for this reason often have the term "liquid metal" in the product name. These are already liquid at room temperature and have the problem that they are electrically conductive due to the metals, which entails a certain risk if you "blot around" the motherboard or graphics card with the thermal paste.
Liquid metal paste not compatible with aluminum heat sinks
A very important warning at this point: While normal thermal paste has no problem with metals in the computer, liquid metal thermal paste only gets along with "more noble" metal, which unfortunately does not include aluminum. If the gallium from the paste comes into contact with an aluminum heatsink it will decompose and form an alloy on the surface, which is an insulating layer even worse than not having a heatsink attached. If you want to see what just a few drops of gallium can do to an aluminum heat sink, you can watch it in the video here. A screenshot from it is included here: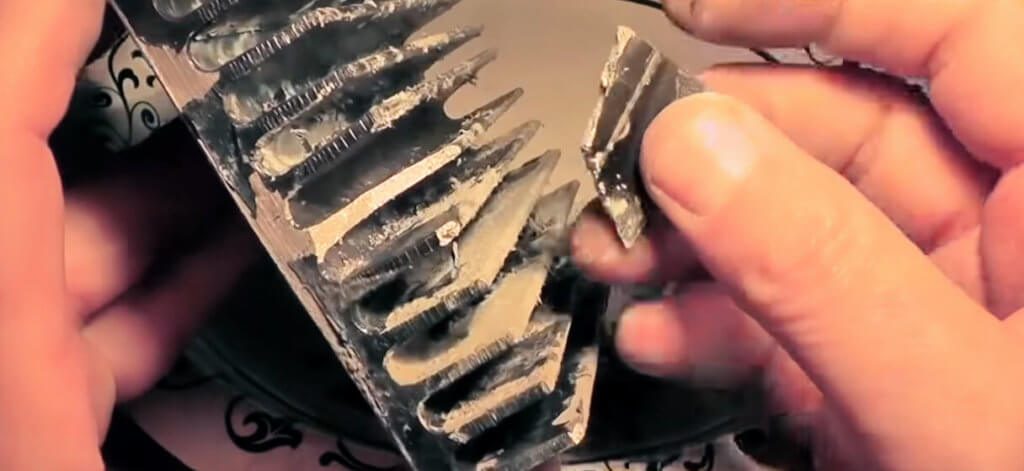 Do not use liquid metal paste with the GPU
The use of liquid metal thermal paste is usually not a problem on the CPU, since the heatsinks of the same are almost always nickel-plated or have a copper base. Gallium does not attack these metals. In the case of the GPU (graphics card processor), however, the processor is exposed and it is often not clear what metal the heatspreaders are made of. Applying the liquid metal paste can damage the processor and make the graphics card unusable.
The great advantage of liquid metal pastes
With so many disadvantages and risks, there must be an advantage of the liquid metal thermal paste: They improve heat dissipation compared to a normal thermal paste by a factor of 5 to 10. For this reason, these pastes are particularly popular with hobbyists who like theirs Want to massively overclock computers. For users who only want to put fresh thermal paste under their CPU heat sinks, it is rather less recommended.

Tests on thermal paste
In order to find the best thermal compound, I read through some tests that I could find on the internet. Many of the pages are not tests, but just present some Top10 list, where one wonders how the order came about here.
The pages that I evaluated for the comparison are linked below as a source. I would like to break down the test results into thermal paste with and without liquid metal, because I think you either want to use a paste from one or the other group.
If you look at the two real tests and, in particular, the very extensive test of Tom's Hardware, you can see that the test is broken down into areas of application. This makes sense because different cooling methods have different requirements.
The test of Hardware-Inside is much less extensive and may also have a few problems with the test structure, which is why I am concentrating on the results of Tom's Hardware. As a source, however, I wanted to name all pages that I consider worthy of mention.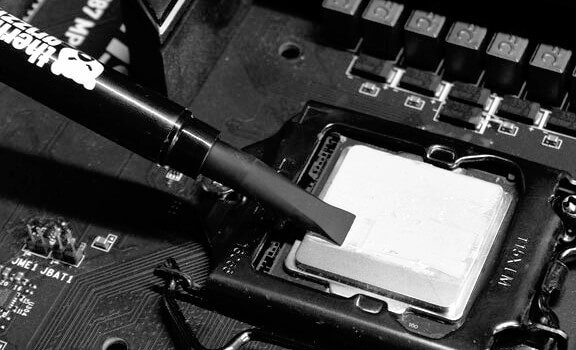 The best thermal paste without liquid metal
Here in the list I'll tell you the area of ​​application and then the three best thermal pastes from the test by Toms's Hardware with a link to Amazon.
water cooling
Air cooling (large tower cooler)
Air cooling (boxed cooler)
Graphics card cooling (GPU)
The best liquid metal thermal paste
If you look at the test results, you will of course find pastes with liquid metal in the front two to three places, as these have a very high heat transfer coefficient. However, these thermal pastes are also significantly more expensive and difficult to process.
water cooling
Air cooling (large tower cooler)
Air cooling (boxed cooler)
Graphics card cooling (GPU)
not specified
Placement and classification of the Amazon bestseller "Arctic MX-4"
Just as a supplement: If you search for the top products mentioned above on Amazon, you will also come across thermal grease through massive advertising Arctic MX-4. This was also taken into account in the big test by Tom's Hardware, but it only came in between 10 and 20. One should not allow oneself to be influenced by grandiose advertising promises such as "Better than liquid metal".
The technical data usually shows where the rabbit is headed: While the Arctiv MX-4 (2019 version) only has a thermal conductivity of 8,5 W/mk, the Thermal Grizzly Kryonaut already has 12,5 W/mk. The thermal conductivity of the liquid metal variant "Conductonaut" from Thermal Grizzly is 73 W/mk, almost 10 times the thermal conductivity of the Artic MX-4. It is therefore better to stick to the "test winners" mentioned above instead of starting experiments with products that simply stir the advertising drum and therefore end up among the bestsellers on Amazon.
Update April 02.04.2021nd, 4: Note from two readers about Arctic MX-XNUMX and Mastermaker
I got a hint in the comments below that with two readers the Thermal Grizzly did not have as good values ​​as this one Arctic MX-4 or the Cooler Master (Master Gel Maker or MasterGel Pro V2). I cannot verify this statement, but at least I wanted to have it mentioned here because I was already assumed that I would receive payment for my item from Thermal Grizzly (it would be nice!).
Sources:
Jens has been running the blog since 2012. He appears as Sir Apfelot for his readers and helps them with problems of a technical nature. In his free time he drives electric unicycles, takes photos (preferably with his iPhone, of course), climbs around in the Hessian mountains or hikes with the family. His articles deal with Apple products, news from the world of drones or solutions for current bugs.