The surveillance camera Blink mini from Amazon not only offers 1080p resolution, but is currently available for 27,99 euros. Actually, the price is 39,99 euros, but directly on the product page the discount of 12 euros is granted. So you don't need a discount code or coupon, which makes buying the camera at a low price particularly easy. For Prime members, not only are there no shipping costs, thanks to Prime shipping, there is also fast delivery. This also applies to the Blink Mini double pack, which you can buy on the linked product page for 55,98 euros.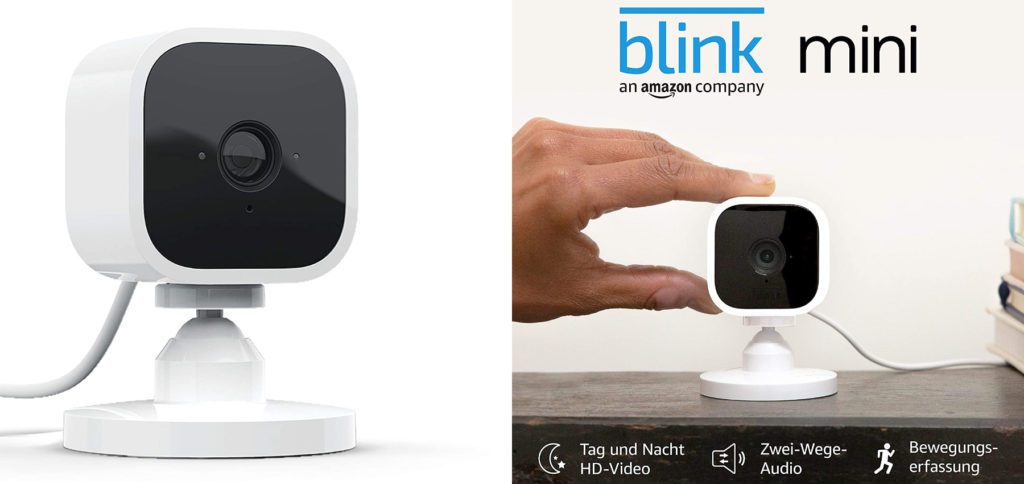 Blink Mini - details about the surveillance camera with full HD resolution
The Blink Mini is cheap, but has a good range of functions. In addition to the camera with Full HD resolution, it can also be used for two-way audio. This means that you can hear and record audio using the built-in microphone, and at the same time you can play audio from the camera. The wired camera is mainly made for indoor use and therefore the two-way audio is not intended for the front door and communication with people in front of it.
Thanks to a WiFi connection, you can monitor your home via a smartphone app and also receive a notification when movement is detected. Movement zones can be defined for this, so that z. B. Pets do not trigger an "alarm", only people moving through the house or apartment. Thanks to the Blink Mini, it is possible to keep an eye on your home from a distance - day and night. The app can also be used to listen in and speak to those present.
Pair Blink Mini with Alexa and Echo devices
If you use an Echo device with a screen, you can have the camera image displayed live on it. So the Blink Mini z. B. use it as a camera baby monitor. Simply say "Alexa, show me the camera in the nursery" to see if the offspring is already asleep. Another example would be use in the garage or in the conservatory. Whether burglar or animal, you can keep an eye on everything with the surveillance camera, access the video transmission via app and / or voice control and also use audio in both ways.
After graduating from high school, Johannes completed an apprenticeship as a business assistant specializing in foreign languages. But then he decided to research and write, which resulted in his independence. For several years he has been working for Sir Apfelot, among others. His articles include product introductions, news, manuals, video games, consoles, and more. He follows Apple keynotes live via stream.
The page contains affiliate links / images: Amazon.de