If you don't know Blinkist yet, you can briefly my experience report to view this book-read-in-record-time service. There I explain how the Blinkist works, what the apps for iPhone and iPad can do and roughly how many new books you can expect per month. This short article is about the question of what costs you will have to pay if you choose Blinkist.

What does the service cost?
On the Blinkist website you will find the link to the menu items "Prices" and "Prices for teams" at the bottom in the footer. For most people, the normal "Premium Access" hidden behind "Prices" should be of interest.
This means that you can read all the books (English and German) in the apps and on the website and, of course, listen to the audiobook versions (if available) of the books in the apps for iPhone and iPad.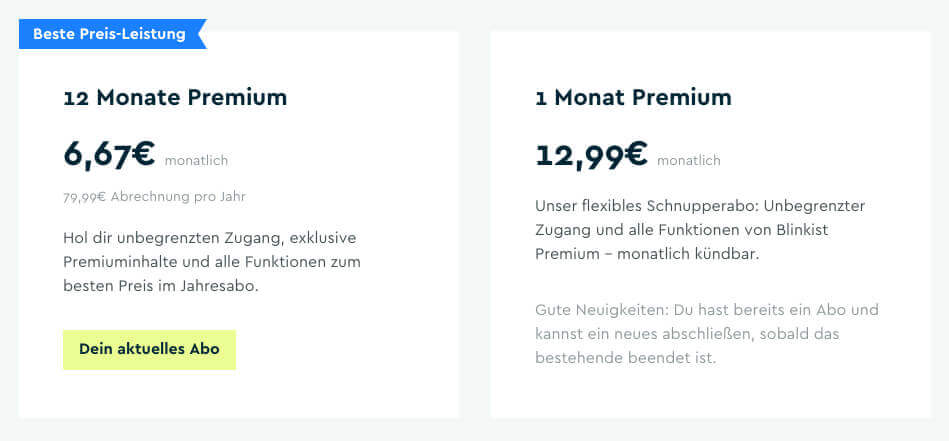 This premium access is payable either per month at a price of EUR 12,99 or annually at an annual price of EUR 79,99, which, when calculated down, results in EUR 6,67 per month. The savings for an annual subscription are very clear and, from my point of view, an annual subscription also makes perfect sense. If, after the 14-day trial period, you realize whether you are using Blinkist or not, then you can, if you like book the annual subscription directly.
I have booked the annual package and use Blinkist regularly when I am driving or when I mow the lawn in summer, for example. Incidentally, this works perfectly with noise-canceling headphones like this, despite the loud petrol lawnmower Bose Quite Comfort QC35 IIthat I am using in the first version. The Bose QC34 attenuates the noise of the mower so much that I can use the Blinkist audiobooks at normal volume. With one round of mowing, for which I need a good two to three hours, I can use it to manage a number of Blinkist books.
Access for teams and companies
Access for teams and corporate customers depends on the number of colleagues with whom you want to share access. There is no monthly payment for teams and only an annual subscription. Here are some example prices that can be found on the Blinkist website:
10 members> 549 EUR per year
20 members> 999 EUR per year
30 members> 1399 EUR per year
40 members> 1799 EUR per year
50 members> 1999 EUR per year

From my point of view, the idea of ​​giving your employees a Blinkist account is a far-sighted thing. A large part of the books is located in the self-improvement area or otherwise promotes the physical and mental well-being of the readers or listeners. I am fairly certain that this investment is a worthwhile investment for a company.
Jens has been running the blog since 2012. He appears as Sir Apfelot for his readers and helps them with problems of a technical nature. In his free time he drives electric unicycles, takes photos (preferably with his iPhone, of course), climbs around in the Hessian mountains or hikes with the family. His articles deal with Apple products, news from the world of drones or solutions for current bugs.