I suppose I'm a bit out of line with this blog parade, because Henrik from mobilethings.de shares several screenshots in his blog parade "Show me your homescreen". On the other hand, I only have one screen on my iPhone 5. But I'll take part anyway, because I think the idea is really funny. So here is my screen: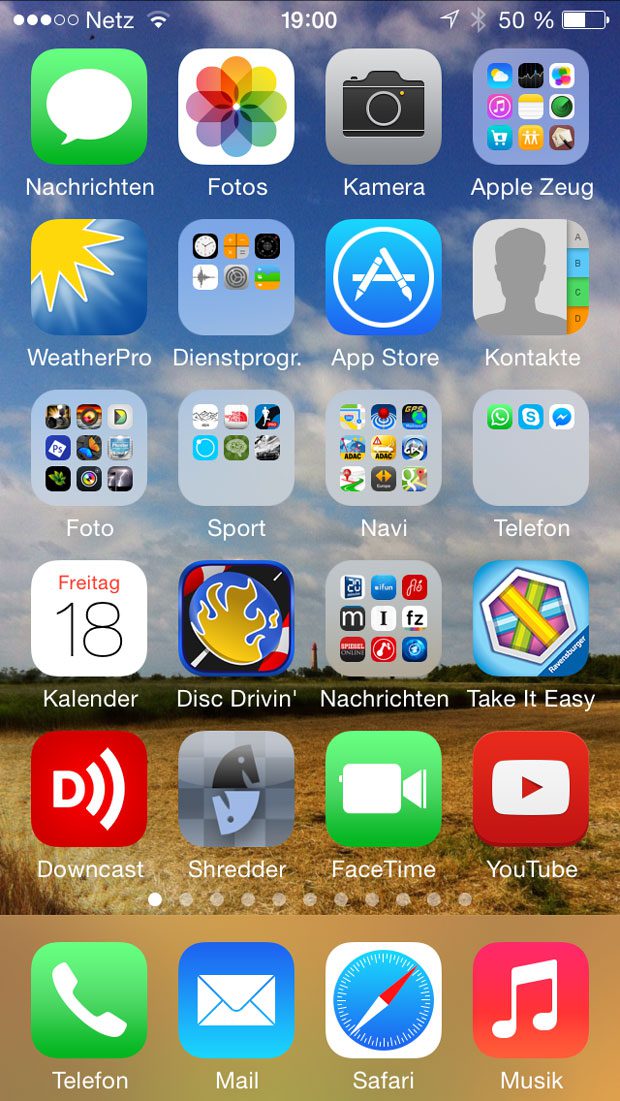 First of all, I would like to say that I don't put too much emphasis on my homescreen. Some people make it a relegion, but most of the apps I use can be found using the app switcher or search. What is used daily is already represented on the home screen.
I think most apps don't have to be explained: Messages, Photos, Camera, AppStore, Contacts, Calendar, Youtube, Telephone, Mail, Safari and Music should be self-explanatory. I present the rest here briefly (from top left to bottom right!):
Apple stuff
This is where I end up with these pointless apps from Apple that simply cannot be deleted. I don't read any eBooks on my iPhone and I don't need any share prices either, and I also find the Yahoo weather completely unexciting. Accordingly, these apps have ended up in this folder, which I could actually banish on page 85 of the home screen. ;-)
WeatherPro
After trying several weather apps and now I also needed one that shows me the wind in gusts (important for the Multicopter flight), I ended up with WeatherPro. The forecasts are quite good and the wind conditions for the next few days are also useful because you can see the maximum speed.
Utilities
For me, this includes apps like the alarm clock, system settings, calculator, voice memos and the like.
Gallery
It is getting interesting now. There are a few interesting things in the photo folder: The ProHDR app always takes great vacation photos of landscapes in HDR format (much more spectacular than the HDR setting of the camera app). Diptic makes nice photo mosaic pictures. Photosynth is a nice panorama program and Camera + is a really cool camera app with many features that I unfortunately use far too rarely. I was recently able to test LightningCam during a thunderstorm. This allows you to take pictures of lightning, which is quite a success.
Sport
Here are little delicacies like PeakFinder - an app that can name the peaks in the Alps if you point the camera in a certain direction. Runtastic is my jogging choice and I installed the rest of it at some point, but never used it again. I should really clean up ... ;-)
The map app from Apple and a couple of GPS trackers can be found here. In addition, Google Maps and my frequently used Navigon, which has often shown me interesting (very friendly) routes through the most beautiful pampas in Germany.
Phone
Here you can find Whatsapp, Skype and Facebook Messenger. Explaining is probably unnecessary, right ?!
Disc drivin '
An absolutely brilliant game. You only sail across various tracks with other small discs, but I've been playing it with friends for years. Anyone who likes will find me as a user "jensos". I hope I still have a race slot open. Most of the time, all 20 slots are occupied because the game is just awesome. Oh, I see, it's my turn again!
News
This folder contains the apps with which I cover my news needs: 20 minutes from Switzerland, iFun News for the Apple nerd and Spiegel Online. I don't use the rest.
Take it easy
It's a great Ravensburger game that I've played for a while. The look and the sound are so good that even our 4-year-old daughter likes to use them to assemble chopsticks and is happy when they start to sparkle! A recommendation for people who like to do puzzles and puzzles!
Downcast
After the Apple podcast app disappointed me so often, at some point I dared to switch. I ended up with Downcast, which does everything right for my taste. You can set a lot and the app always has a few new episodes of my favorite podcasts ready. I do not need more! :)
Shredder
With the last app we come to a little hobby: chess. Shredder is a chess program for iOS that always adapts its skill level to the player. So you can win here and there, but in the next game the computer has to do something for your silicon ego and knocks you back into the pan - checkmate in 3 moves, I just say. :)
But the program also offers a puzzle option in which you are presented with positions. You then have to say what is the best move in the current case for the player whose turn it is. Here you learn quite well to quickly adapt to new circumstances.
By the way, the killer feature of this chess app is that you can switch sides with one click. So if the computer thinks it has to get on your nerves, then "click" you are back on the winning side! ;)
I hope my little homescreen introduction was interesting - even if some Android readers come from Henrik's blog. Some apps are certainly also available for Android and so one or the other may find something helpful or entertaining!
Jens has been running the blog since 2012. He appears as Sir Apfelot for his readers and helps them with problems of a technical nature. In his free time he drives electric unicycles, takes photos (preferably with his iPhone, of course), climbs around in the Hessian mountains or hikes with the family. His articles deal with Apple products, news from the world of drones or solutions for current bugs.