A Blu-Ray burner for Mac, iMac, MacBook and the MacBook Pro 2016 from Apple ensures that you can save backups of the system and individual data, private copies of films or series, photos, videos and more on a Blu-Ray disc. In addition, the BD drives are mostly multifunctional, so that you can also use them to play Blu-Rays and burn or play CDs and DVDs. If Data Backup or Private copy, disc burning is also in the age of Cloud not completely out yet.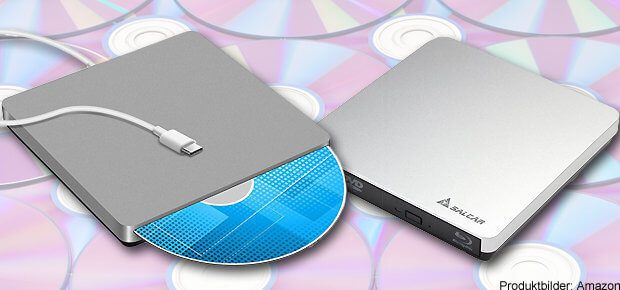 Blu-ray burner for Mac, MacBook and Co.
Depending on the number of storage layers and other factors, different numbers of GB can be stored on a Blu-Ray disc. 25 GB can be accommodated on a conventional Blu-Ray with one layer (single layer). If you want to burn more onto the Blu-Ray, then a double layer disc with 50 GB might be right for you. With Blu-Ray XL (BDXL) you can use a professional type of data archiving and save up to 128 GB on one disc.
There are different models for burning Blu-Ray discs on an Apple computer or Windows PC. Here are the two best that are very positive on Amazon:
Salcar BD burner for Apple computers and PCs
This Blu-Ray burner for Mac, iMac, MacBook and Co. is connected via USB 3.0 and is backwards compatible with USB 2.0 and USB 1.0. Compatible with macOS 8.6 or higher, Windows 98 SE and higher or Windows Server 2003 and higher.
Archgon BD burner with USB 3.0
This Blu-Ray burner is compatible from macOS 10.5.8, from Linux 2.4 and from Win XP. The Blue Ray Disk XL burning technology up to 128 GB is supported. Reading and writing of BD, DVD, CD and M-Disk possible.
CD and DVD burner with USB-C for MacBook Pro 2016
We have been writing the year 2017 for a few moons, but a Blu-Ray burner with USB-C for the current MacBook Pro from Apple as well as other systems with USB-C resp. Thunderbolt 3 haven't come across me yet. The following model is available for this, with which you can at least play and write DVDs and CDs:
Biscon Tech USB-C burner
The following discs can be read and written to: CD, CD-R, CD-RW, DVD-RW, DVD ± R, DVD ± R DL, DVD ± RW and DVD-RAM. Can be connected to the new MacBook Pro with USB-C directly and without an adapter. Different colors on the product page.
Adapter for USB-C to USB-A
If you don't want to wait for a BD burner with a UBS-C connection, you will need an adapter / dongle when using the MacBook Pro late 2016. A selection of different models at small and large prices you can find here. Details and connections of the Satechi ST-CMBPM USB-C hubs for the Apple laptop is available with this link.
After graduating from high school, Johannes completed an apprenticeship as a business assistant specializing in foreign languages. But then he decided to research and write, which resulted in his independence. For several years he has been working for Sir Apfelot, among others. His articles include product introductions, news, manuals, video games, consoles, and more. He follows Apple keynotes live via stream.
The page contains affiliate links / images: Amazon.de