If you want to buy Bluetooth headphones or speakers, you stumble across cryptic abbreviations here and there. The abbreviations aptX, aptX HD, aptX LL and LDAC are intended to provide information on the sound quality. But who knows exactly what's behind the letter salad? The readers of this article! Because in the following I will explain to you what is behind the so-called codecs and what are the requirements for use.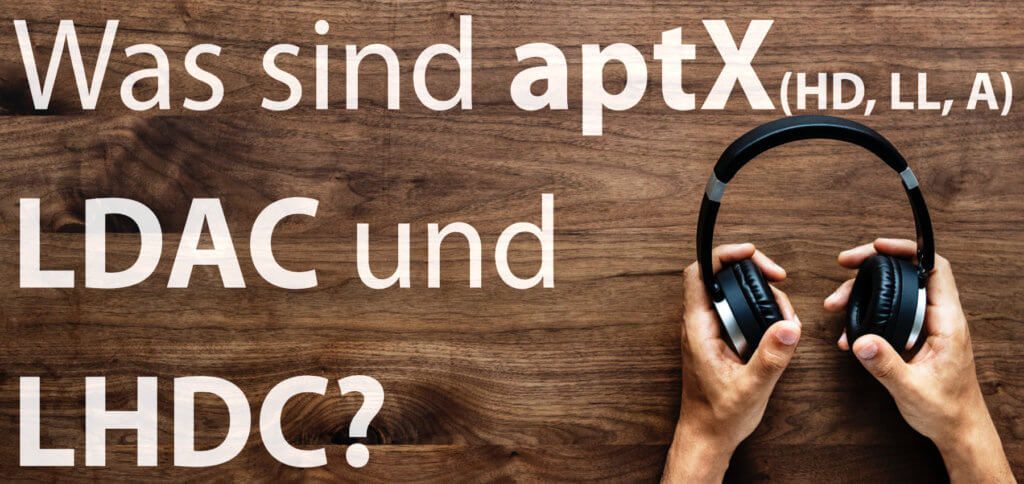 What is an audio codec (and what is a container)?
Let's start with the primordial slime. A codec is a pair of algorithms that is so named because it consists of an encoder and a decoder. These are called coder and decoder in English - if you pull the first two syllables together, you get "codec". The task of the combined algorithm is to digitally encrypt data or signals for transmission (for example via Bluetooth) and to decrypt them again. So if you transmit audio signals from your smartphone or computer to a Bluetooth speaker or headphones, no MP3 or AAC is transmitted, but compressed data packets.
Little addition: In video files, such as AVI, in addition to the audio codec, namely MP3, there is also a video codec, e.g. g. MPEG-4 or H.265. Since two of these compressing helpers are used for the combined content in the video file, the format is also known as a file container. Other video file container formats besides AVI include MOV or QT (both QuickTime), FLV (Adobe Flash Video), etc.
What is Bluetooth A2DP?
A short preview before it comes to the abbreviations given above. Because they are all based or developed for Bluetooth A2DP. The combination of characters stands for "Advanced Audio Distribution Profile" and is used for stereo transmission of audio signals from a source or transmitter to a receiver. The latter is usually also the output device. The technology has been supported by Apple since Mac OS X Leopard and iOS 3.
A2DP has been supported under Windows since Windows 8, and Android devices are usually equipped with it from version 1.5 of the operating system. Other mobile devices are e.g. B. equipped with it if you have Windows Phone 7 or the latest Symbian systems from Nokia. You can find more details on the topic in the Wikipedia article on the subject.
What does bluetooth aptX mean?
Now we come to aptX. This audio codec was developed back in the 1980s; Research used to create it came from Queen's University Belfast. By the way, until 2010 the codec was still called apt-X, but was then taken over and renamed by CSR plc. The chip manufacturer Qualcomm has owned aptX since 2015; as well as the further developments aptX HD, aptX LL and aptX Adaptive.
The oldest version aptX is characterized by the fact that it has a sampling rate of 48 kHz and a sampling depth of 16 bits. In German this means that the analog sound for digitization is sampled 48.000 times per second (48 kilohertz). The individual measurements are then stored digitally as 16-bit information. The maximum transfer rate of aptX is limited to 352 kbit / s. That is enough for MP3 files (up to 320 kbit / s), but not for CD quality (1.411 kbit / s) or even high-resolution audio (9.216 kbit / s). Sony shows, among other things here .
What does bluetooth aptX HD mean?
You probably already know the abbreviation HD. It stands for "high definition", that is, a large resolution. With regard to the codec for the radio transmission of audio aptxHD, this means: 24 bits instead of 16 bits for the packaging of the audio signals sampled at 48 kHz. The bit rate is 576 kbit / s, the dynamic range is 120 dB. As already shown above, this is still not CD quality, but it is a good step forward compared to its predecessor. In addition, aptX HD should be lossless.
What does aptX LL / Low Latency mean?
Written out, "LL" means low latency. With this technology, the end-to-end latency should be reduced to 32 ms via the Bluetooth wireless connection. This is interesting for the transmission of the audio track of films, series, video games and videos or streams. Because with these, the latency is between +40 ms and -60 ms. aptX Low Latency is also recommended for musical instruments due to the fast transfer / real-time transfer; for example when listening to electric guitar or electric drums through wireless headphones while playing.
What is bluetooth aptX Adaptive?
The fourth development in the league, which Qualcomm, among other things, on the specially created Website aptX is Adaptive. The technology is downward compatible, also uses 48 kHz at 24-bit and is therefore not primarily designed for better audio quality, but for the best possible audio experience with the available resources. The codec adapts automatically (it is "adaptive") and offers the best synchronization with the highest possible transfer rate and lowest latency for the source, output device and media type (audio, video, video game, stream, etc.). The compression factor is between 1: 5 and 1:10; the data rates range from 276 kbit / s to 420 kbit / s.
What does Bluetooth LDAC mean?
LDAC is also a technology for audio transmission via Bluetooth, but comes from Sony and is therefore a product that competes with the aforementioned examples. Sony's Bluetooth LDAC offers a sampling rate of 96 kHz and a data size of 24 bits. This should ultimately result in a transmission rate of 990 kbit / s. This is known as Hi-Res audio, but it doesn't come close to CD quality either. The technology should also be adaptive, i.e. also support 330 and 660 kbit / s.
The nerds from the AV Hub have also questioned the lossless transmission of audio via Sony LDAC. Much too much compression and / or a great loss of information is necessary for this, it is said in the post from 2015 updated in 2016 and 2017. The magazine's experts contacted Sony Australia, among others, and received a variety of information in response - on the one hand that there could be losses, and on the other that this is not the case. I didn't really understand the very long explanations. But the bottom line is: Sony LDAC offers better audio quality than Qualcomm aptX HD / LL / Adaptive.
What does Bluetooth LHDC mean?
Neither Qualcomm nor Sony, but HWA (Hi-Res Wireless Audio) comes with the latest codec in the group: LHDC. The abbreviation stands for "Low Latency and High-Definition Audio Codec"; the technology should therefore deliver low latency with high-resolution audio quality. Similar to Sony, HWA specifies 96 kHz and 24 bit here; and at the end of 900 kbit / s.
If you look at the Homepage In terms of technology, the products that are currently compatible with it are mainly used by Huawei smartphones and a Bluetooth amplifier; no headphones or speakers. In addition to its Xperia smartphones, Sony offers at least Walkman products, headphones and sound bars for TVs.
Important for using the codecs!
So far, that has been a lot of information, figures and notes. The most important thing is actually: aptX HD, LDAC and LHDC are the best options in terms of sound quality for compatible devices. The aptX further developments ensure lower latency (LL) and the coupling of different standards (adaptive).
Most important of all for use, however, is that both the source (smartphone, tablet, computer, etc.) and the playback device (headphones, speakers, soundbar, sound system, etc.) support the same standard. If the broadcaster can only use aptX, then earplugs with aptX HD do not provide any added value. In addition, the technologies from Qualcomm, Sony and HWA are not compatible with each other. So take a look at the technical data of your output devices before buying accessories;)
Bluetooth headphones and speakers tested by Sir Apfelot
Here in the blog you will find numerous reviews and comparisons of Bluetooth headphones and some speakers with wireless connection. So if you are looking for recommended over-ear, in-ear and sports headphones, then you've come to the right place. In the following I have listed a few test reports with experiences with the respective model. We also have a few guides on everything to do with headphones and speakers. Also in the following the appropriate links:
Current news and developments
In addition to the websites and publications of the companies mentioned, as well as Wikipedia and technology magazines as sources, you will learn everything important about radio technology on the official website. This is the site of the Bluetooth SIG, a global association of over 36.000 companies. The aim of the collaboration is to unify the Bluetooth experience and to escape the clutter of different standards and technologies. You can find all information with the link given. The good thing about it: the site can be used in German, English and other languages. So take a look;)
After graduating from high school, Johannes completed an apprenticeship as a business assistant specializing in foreign languages. But then he decided to research and write, which resulted in his independence. For several years he has been working for Sir Apfelot, among others. His articles include product introductions, news, manuals, video games, consoles, and more. He follows Apple keynotes live via stream.