A few days ago I was asked whether I would know a Bluetooth speaker with a lot of bass. In fact, I've already had a number of BT speakers here for testing, but the smaller models in particular are simply not to be taken seriously when it comes to bass. Even if you have the View a list of BT speakers that advertise "Bass"., you will find a number of models among them that are just so small that they cannot have a real bass - and from my previous experience when testing various models and manufacturers, they also do not have it.
So don't rely on the name and the great bass amplifiers that are advertised there, but spend a little money and buy something reasonable - i.e. speakers that not only "boom" but also have a balanced sound.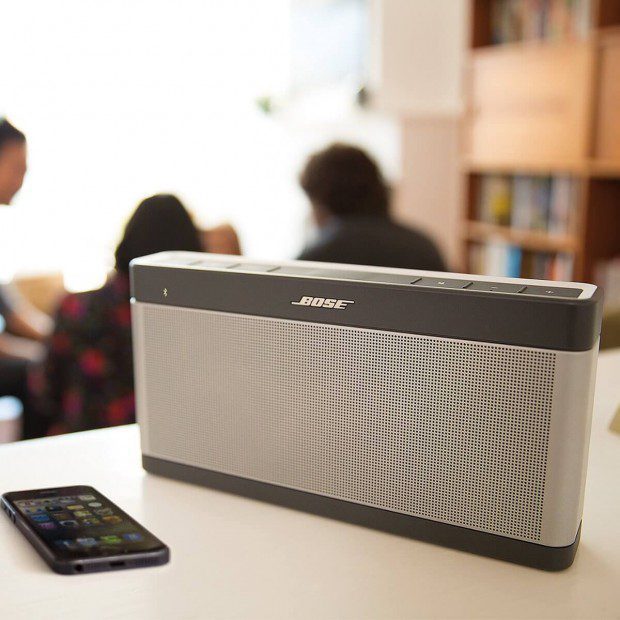 My recommendation - don't buy too cheap
There are a few models that I've used myself (for example the jam box) and which I can recommend with a clear conscience to people who like to listen to bass-heavy music. I would like to briefly introduce the small but fine selection here:
Bose Soundlink III
I heard the Bose loudspeaker at a friend's house. I stood in the room and searched for the thing for 20 seconds that would create this insane sound atmosphere. You don't trust the small speaker, but it really has a crisp bass! At just under 250 EUR, however, it is not super cheap either. The Soundlink Mini is smaller, but due to the lack of volume, I would assume that it doesn't have that much bass.
No products found.
16,02 EUR
Sonos Play 1
This wireless loudspeaker from Sonos had also been in use for a few days. The sound and bass are impressive for the size of the box, but unfortunately the Sonos system does not offer a Bluetooth connection, but uses its own network, so you have to use the Sonos apps to control the boxes. I sent her back for that reason. But if you have always flirted with Sonos, let me tell you that their sound is really nothing to worry about. Even larger rooms can be filled with sound with the Play 3 or Play 5 without any problems.
And another recommendation from a reader: The JBL Xtreme. I haven't tried this box myself, but heard it from a group of people next to us while climbing. The volume that the music has has been impressive and the technical values ​​of the mobile box are also good. That's why she's on the list:
124,01 EUR
Jbl xtreme
With its 10.000 mAh battery, this loudspeaker is designed for up to 15 hours of running time. Because it is splash-proof, you don't have to worry about the technology, even at humid garden parties. JBL Connect is a special feature. With this function, several of these speakers can be interconnected to distribute the sound even more.
My shopping tip for BT speakers: Size matters!
So, lastly, let me give you a little shopping tip: Pay attention to the size! As a rule, larger loudspeaker boxes also offer more space for the sound and, thanks to larger loudspeaker diaphragms, can also bring out better bass. Of course, that's not a 100% recipe for success, but with the small Bluetooth speakers that I had here for testing, the bass was usually never really great.
Jens has been running the blog since 2012. He appears as Sir Apfelot for his readers and helps them with problems of a technical nature. In his free time he drives electric unicycles, takes photos (preferably with his iPhone, of course), climbs around in the Hessian mountains or hikes with the family. His articles deal with Apple products, news from the world of drones or solutions for current bugs.
The page contains affiliate links / images: Amazon.de