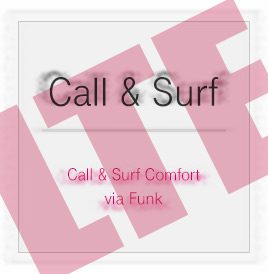 I have been living in the country for a few months now and am dependent on the Telekom LTE solution "Call & Surf Comfort via radio". No question about it - the network is really super-fast and I'm happy that there is this option, but the volume limit of 30 GB per month gives me a hard time. I have various techniques to reduce data consumption (see my tips for LTE users and Trip mode), but in most cases I can't get there with the 30 GB and then I either have to live with the throttled LTE (384 Kbit / s in download and 64 Kbit / s in upload) for the remaining days up to the first of the month - which is really painful prepared if you just want to surf - or you have to book the SpeedOn from Telekom. This will give you your normal monthly contract quota again for this month.
Check current LTE data usage
A little tip for all Telekom newbies: I only found out the following URL after a phone call from a Telekom employee, but it should actually be much better known, because with this address you can (if you are online with your LTE access) check how much data you have already used for this month.
The display that you see there is a kind of progress bar, with the color magenta showing how much of the current data quota has already been used. Incidentally, the display is not accurate to the second, but it is updated every few minutes. And this is what it looks like when you have completely used up your data volume:
Book LTE SpeedOn - but where?
I've already played the game with "Book SpeedOn" several times. Every time I look for the button to place the order. And as if the Telekom customer center weren't enough punishment, you have to with throttling wander through the menus. It always upsets me that Deutsche Telekom is unable to stop the throttling at least for its own website so that you can get to SpeedOn quickly. Well, if it were easy, I would have lacked the motivation to write this guide! ;-)
But now for instructions ...
This comes here short and sweet, so that you don't have to look any further. The instructions refer to the Telekom LTE, which you get with the landline contract "Call & Surf Comfort via radio" and NOT to the LTE cellular network that comes with the SIM card for the mobile phone!
Important: The button "Book SpeedOn", which I mention in the 3rd step, ONLY appears if you have already used up all of the data volume. If you think that as a precaution you could possibly book the SpeedOn quickly with the last 100 MB, then you unfortunately did the bill without the Telekom.
Calling up the "Call and Surf Comfort via radio" contract (with LTE): https://kundencenter.telekom.de/kundencenter/anschluss-tarif/index.html
There you will find a box under "My inventory" with your phone number and the "Call & Surf Comfort via radio" contract. Click here on "Manage connection".
The following page loads for a while when you are throttled - so be patient. The text "Call & Surf Comfort via radio ... you are surfing at reduced speed because you have reached the volume limit" appears relatively high up under "My tariff". The button "Book SpeedOn" can be found below. You click on it.
Now you come to a page on which you have to confirm again that you want to order SpeedOn for a fee. Immediately afterwards the speed is "normal" again and you have the entire data volume free again.
Screenshots: SpeedOn step by step
In order to help you a little bit, I have listed the individual screenshots that I took during the booking. My personal data is pixelated.
-

Jens has been running the blog since 2012. He appears as Sir Apfelot for his readers and helps them with problems of a technical nature. In his free time he drives electric unicycles, takes photos (preferably with his iPhone, of course), climbs around in the Hessian mountains or hikes with the family. His articles deal with Apple products, news from the world of drones or solutions for current bugs.