Today I received the first macOS Catalina manual (a list of the Catalina books here). The macOS standard work by Anton Ochsenkühn has now been updated for the new operating system and has a special surprise: It combines the classic form of manuals with explanatory videos. You will soon find out how this works in practice. It's a lot less complicated than it sounds at first. If you are interested in the book, you will find it here at Amazon.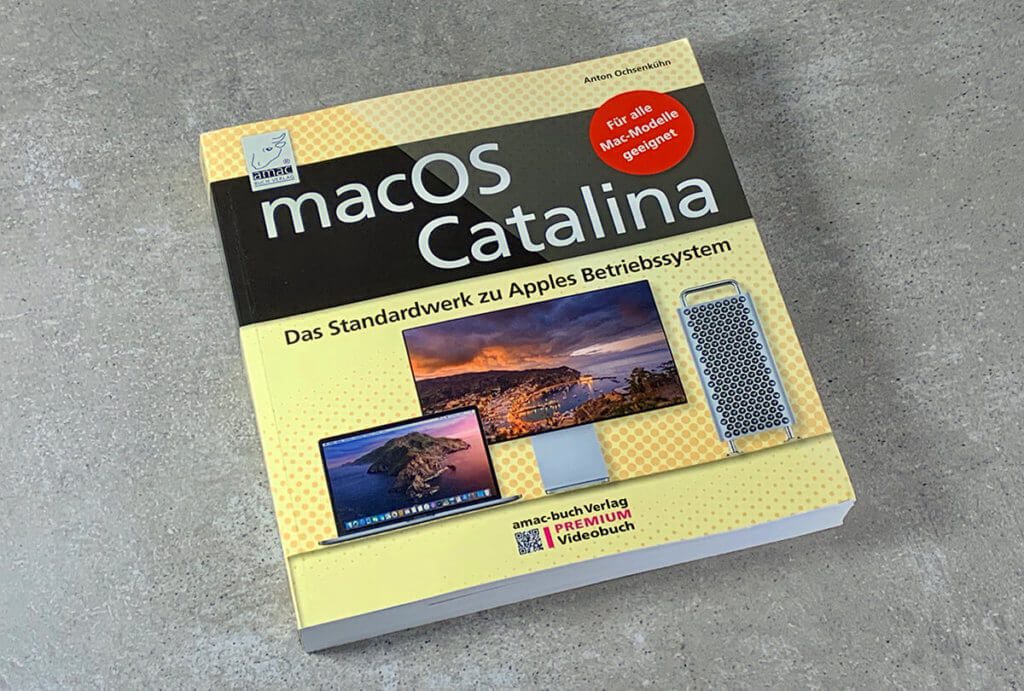 Technical data of the book
To give you a small impression of the book, I would like to mention a few technical details in bullet points:
Form: paperback
Scope: 576 pages
ISBN-10: 3954310783 / ISBN-13: 978-3954310784
Size: 21,3 x 3 x 22,6 cm
Weight: 1418 grams
Print: completely 4-colored
Compared to macOS Mojave manual, which I had in my hand a good year ago, the Catalina book by Anton Ochsenkühn offers over 100 pages less content, but in return you get over 4 hours of video material to compensate.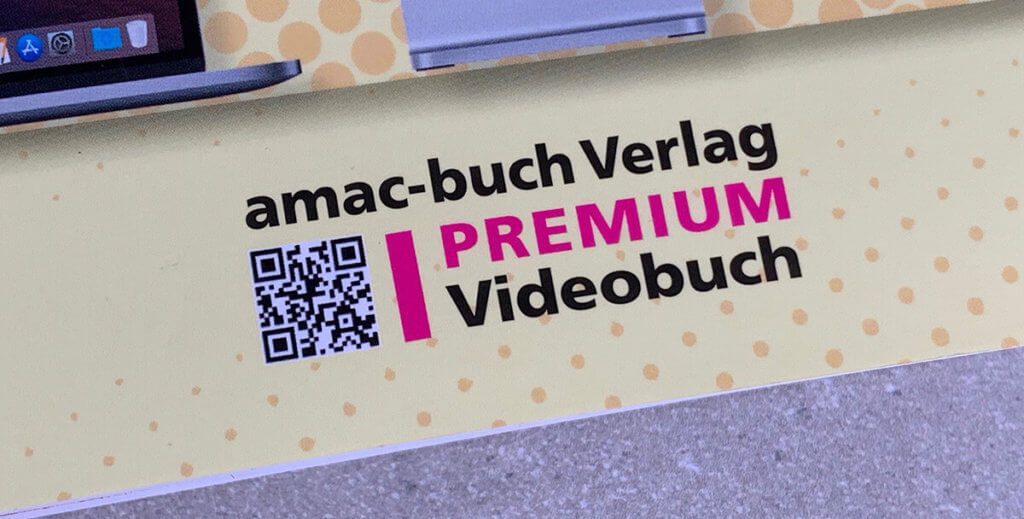 This was the first variant of a manual that was flanked by explanatory videos that can be accessed via QR codes in the book iPad teacher's guide for iPad-based teaching. For me it was an exciting innovation that has obvious advantages, because some things can be conveyed well in text form or as screenshots, but with others a moving image is a much better choice.
The amac-buch Verlag has now changed its manual concept and converted both the macOS manual and the iOS 13 books for iPad and iPhone into such premium video books.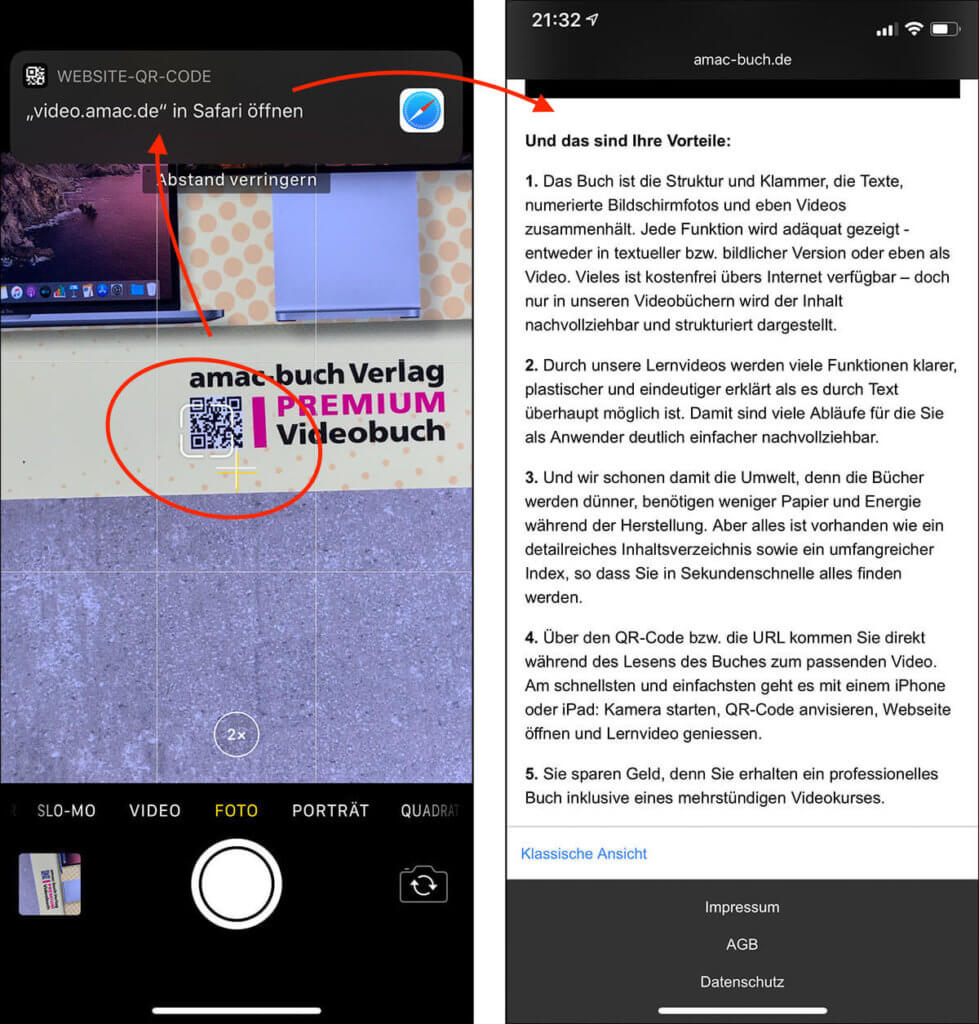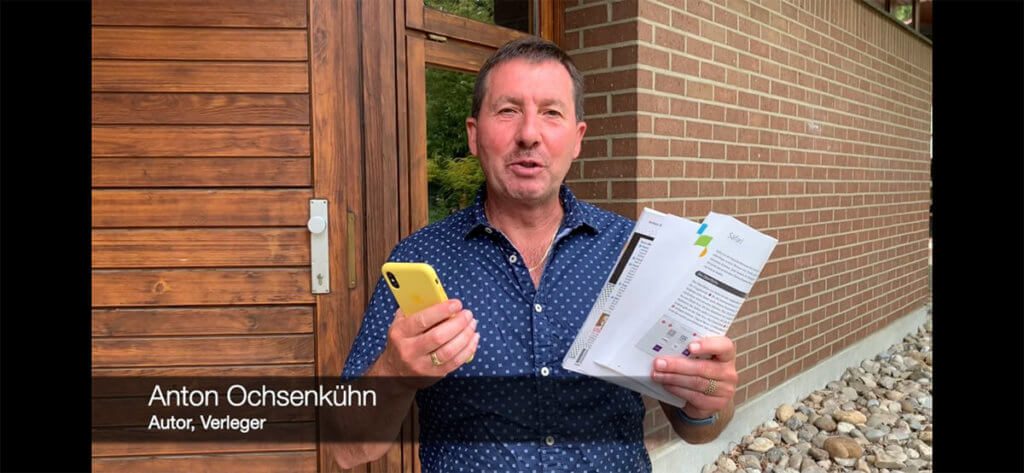 Access the videos via iPhone or iPad camera
Basically there is a URL that is mentioned in the book, via which you can call up all videos from any browser. However, if you have an iPad or iPhone at hand, you can make life even more comfortable and scan the QR codes directly with the camera app. A small message will then appear in the app, stating that you can now open this URL in Safari.
With a touch-tip on this note you get directly to the subpage at amac-buch Verlag, on which the corresponding video is listed. You can then start this and receive further explanations in the form of screencasts.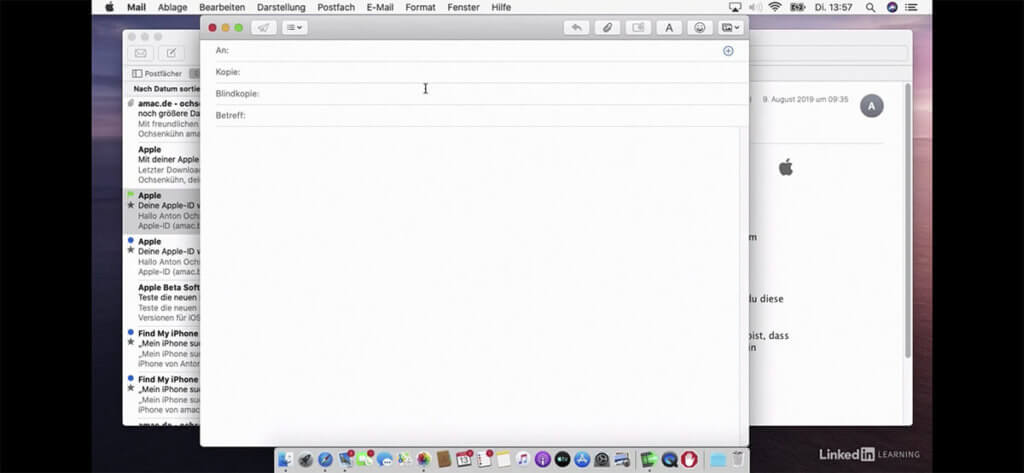 The screencasts allow you to track exactly when the author clicks where and thus work directly on your own Mac in order to use certain functions or change settings.
Advantage of the video deposits
The advantage of the explanations about such screen recordings is especially given when it comes to complex sequences of commands in apps or to navigation in various menus.
A practical example is the "Spaces and Desks" section: if you have to describe in text form how to set up several Spaces and how they are used, you quickly realize how complicated things are getting, even though the concept of desks is quite simple.
Now you can either fill many book pages and explain when you have to click where and print screenshots of system settings in the book or you can simply make a 7-minute video in which you show the reader how it works and the advantages of this function in the has practical application.
Personally, I find it much more entertaining and understandable when I see in the screencast how Anton Ochsenkühn moves through the system settings and shows the use of spaces in an example. I think beginners in particular, who cannot begin with terms such as system settings, mission control, spaces and the like, understand more quickly how something works when they see which menus they have to call up and where they have to press which button.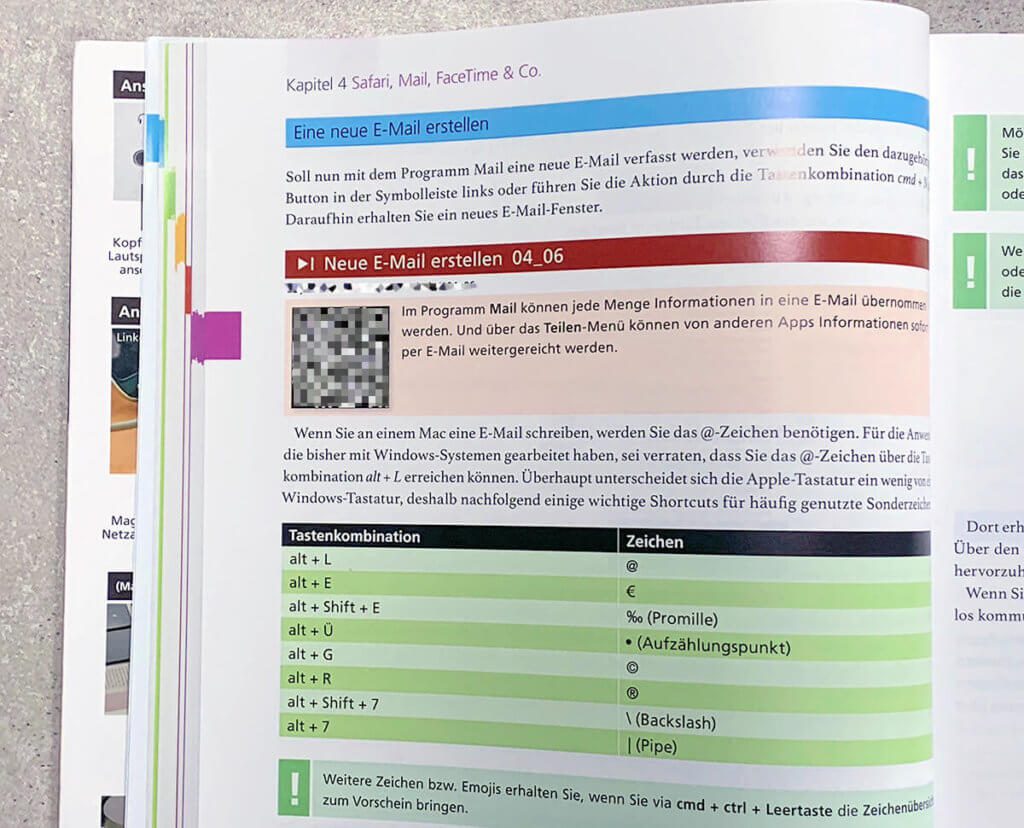 Disadvantages of the explanatory videos
What I personally find a bit of a shame - but technically understandable - is the inability to watch the videos offline. I understand why this is not so easy to do with an app and why it is easier to use the amac-buch website, but in the event that you really do not have a network, you cannot access these videos.
The second point of my criticism is that the videos explain many parts better than a text, but I would have liked the most important information to always be available as text in the places where videos are used in the book.
There is a 7-minute video for the spaces mentioned above, but the information in the book only deals with specifics about spaces, but does not describe such important points as creating a new space or switching between spaces .
My suggestion for the next premium video books would be to mention the most important information in text form here in bullet points. In some areas, such as creating a new mail, the text already contains information such as opening the new mail with CMD + N, but it is not the case in other chapters.
Content and visual presentation
In terms of content and appearance, there is nothing to improve on the book. The manual is very extensive and covers all topics that one could wish for. With a 10-page table of contents and a comprehensive index, you can quickly look up information on a wide variety of topics. The colored markings on the front cut ensure easy access to the relevant chapters.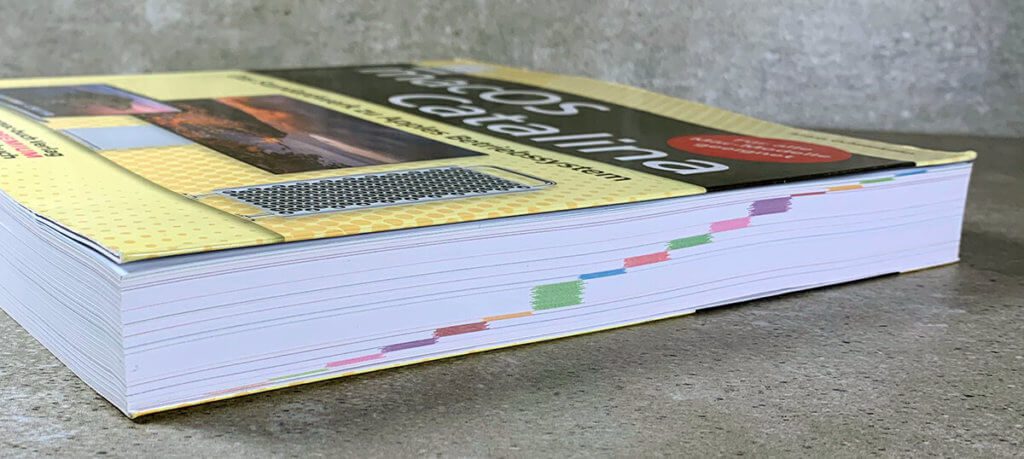 So that you can get an impression of how the book is structured, I would like to briefly name the main chapters:
Install macOS Catalina
(Requirements, update, system assistant)
The first impression
(User interface, dock, desk, menu bar, menulets, window operation, switch on, switch off, hibernation)
With the Mac on the Internet
(Access, security)
Safari, Mail, FaceTime & Co.
Work with programs
(Dock, Notifications, Mission Control, Spaces, Trackpad and Mouse Gestures, Touch Bar and Touch ID, Force Touch, Launchpad, Spotlight, Siri, installation of programs)
Of files and folders
(Navigating through folders, Finder tabs, user folders, folder structure of macOS, display options, tags)
Smart functions in macOS
(Stack, Sidebar, Toolbar, Spotlight, Time Machine, Split View, Clipboard)
Create and store files
(Folder structure, file extension, recycle bin, compress files and folders, information window, automatic backup and versions)
Useful programs
(Calculator, lexicon, cards, calendar, reminders, notes, contacts, handoff, books, music, TV, podcasts, preview, text edit, screen recordings, setting up a printer, hard disk utility and much more)
User
(Create user, Apple ID, iCloud, folder and permissions, guest, directory services, root user)
System Settings
(Security, monitors, energy saving and much more)
Contact with network resources
(Shares in the network, AirDrop, iCloud Drive, screen sharing)
Troubleshooting and fitness training (Program no longer responds, kernel panic, Apple hardware test, problems starting and much more)
Expert help in a Mac emergency
Once again, praise for the "Troubleshooting" chapter. Inside are really helpful tips that every Mac user should know. If your Mac won't boot or crashes with a kernel panic, here are the tips to get the device up and running again. You should buy the book for that alone. :D
Clear, content structure
Visually, the book - like all books that I have held in my hand from amac-buch Verlag - is clearly structured, tidy and provided with many screenshots and info boxes. This makes it pleasant to read and conveys the information in a very appealing way.
Mention of third-party tools
One thing that struck me is the mention of software that was not penned by Apple. For example, Anton Ochsenkühn recommends the System helper OnyXwho have favourited remote controls VNC and Teamviewer or indicates the possibility of running a Windows PC on your Mac with Parallels Desktop or VMware Fusion.
I welcome the fact that Anton Ochsenkühn makes recommendations here, even if this is unfortunately rarely the case with other manuals. Without a doubt, however, the author has a lot of knowledge through his long experience with Macs that goes beyond the pure Apple programs, so that the readers benefit from such references.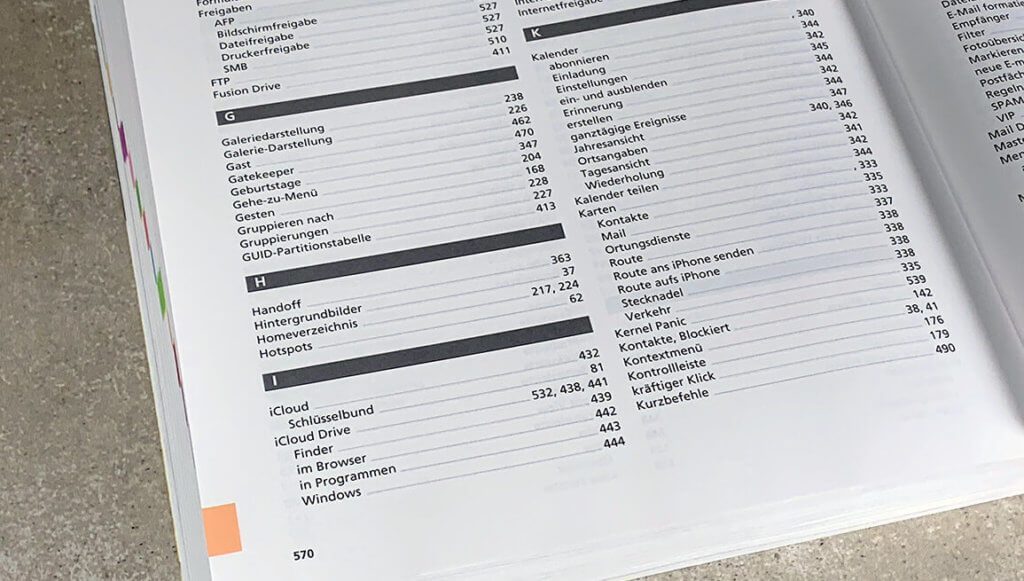 My conclusion: Very good for macOS Catalina beginners
Personally, I think the idea of ​​premium video books is very good. Of course, there is still room for improvement, such as naming the most important video content in the text as bullet points, but the explanatory videos are especially useful for beginners who have not been working on the Mac for long.
The instructions in the book are very practice-oriented, which can already be seen from the presence of the help pages in Chapter 13 "Troubleshooting". Even if one likes to say that Macs never crash - every now and then one or the other reader comes to me who can no longer get his Mac to run. With the tips in the book, many readers would be able to solve the majority of their Mac problems without outside help.
The bottom line is that the book is a reference work that you can safely put next to your Mac. Even I found some system functions that I knew by name, but didn't know how to use them (for example the versioning of documents). This shows how comprehensive the manual is.
If you want to buy it, you will find it here via the link on Amazon or via the following product box:
In the printed version, the book costs around 30 euros. Those who prefer the Kindle edition can save a lot, because they are available here for just under 10 euros on Amazon.
The book can be found in the iBook Store ("Books" app on the iPhone, iPad or Mac). here also for about 10 euros.
Jens has been running the blog since 2012. He appears as Sir Apfelot for his readers and helps them with problems of a technical nature. In his free time he drives electric unicycles, takes photos (preferably with his iPhone, of course), climbs around in the Hessian mountains or hikes with the family. His articles deal with Apple products, news from the world of drones or solutions for current bugs.
The page contains affiliate links / images: Amazon.de